Green and growing
Popular north-side restaurant and food truck Green & Grilled is expanding to Edmond this spring with a new location at 1389 E. 15th St.
Owner Juan Suarez said the new store is in response to customer requests.
"We believe our food is a healthier option for people who are looking for better ways to live their lives," he said. "Lots of people have been asking for a location in the area, so I think this is the perfect time for this new challenge."
The original location at 8547 N. Rockwell Ave. will remain open.
Green & Grilled's menu focuses on lean proteins, flavorful and healthy sides and portion control.
Artwork by Skip Hill above wine racks and other decor, at The Waters Edge Winery in Auto Alley. mh
Thunder wine
Waters Edge Winery, 712 N. Broadway Ave., joined artist Ray Tennyson to create a limited-edition collection of six wine bottles featuring portraits of Thunder players.
The wines are available at the store during this month's Auto Alley Shop Hop, which runs 6-9 p.m. Thursday at venues along Broadway Avenue between NW Fourth and 10th streets.
"We make all of our own wine," said Waters Edge co-owner Sarah Edwards. "We use international grapes, which we bring in to make our wines."
Edwards said the idea was to pair personalities with players, so the Kiwi Sauvignon Blanc features noted kiwi Steven Adams. When winery owners discovered that Kevin Durant was a fan of Moscato, they made his version using that grape.
"Sometimes when people come in and see an artist, they can't afford to buy anything," she said. "This time, they can get some original art on one of our wine bottles." The wines cost $21 to $33 per bottle, or a six-bottle set is $175. For more information or to reserve bottles, contact Edwards at 232-9463.
Learn more about Auto Alley Shop Hop at downtownokc.com/auto-alley- shop-hop.
Hog wild Think raccoons are bad? Langston University and the USDA aim to head off something scarier: feral pigs.
In conjunction with the United States Department of Agriculture, Langston holds its Wild Hog Damage meeting at 6 p.m. Friday in the E.L. Holloway Agriculture Center on the university's main campus, 701 Sammy Davis Junior Drive, in Langston. Area landowners will complete a survey that will help the USDA develop a strategy to reduce damage caused by feral swine, which are present in all 77 Oklahoma counties.
"They are vectors for viral diseases, including several strains of influenza," said George Luker, Langston aqua- culture specialist. "They're a menace."
For more information, call Luker at 466-3077.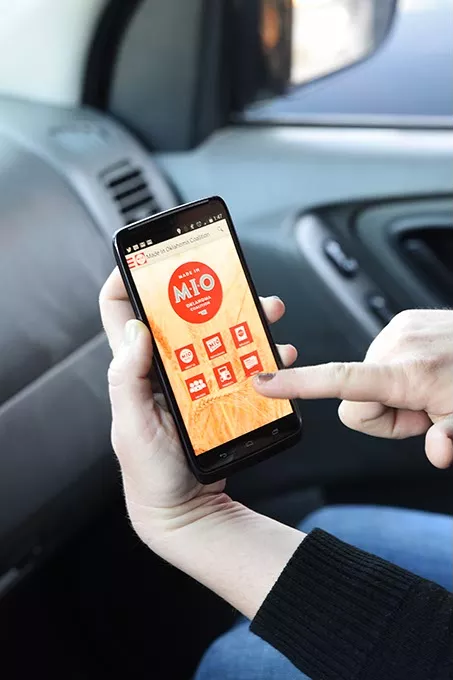 Made it!
Made in Oklahoma (MIO) Coalition celebrates 15 years of promoting local goods with its updated smartphone app.
The Made in Oklahoma app helps users find nearby restaurants that use MIO products in their menu items, grocery stores featuring MIO foods and recipes to prepare them. So far, the free app has been downloaded more than 2,500 times.
Since forming in 2000, the coalition has seen membership climb to nearly 50 members with more than $4.1 billion in sales and 28,000 employees.