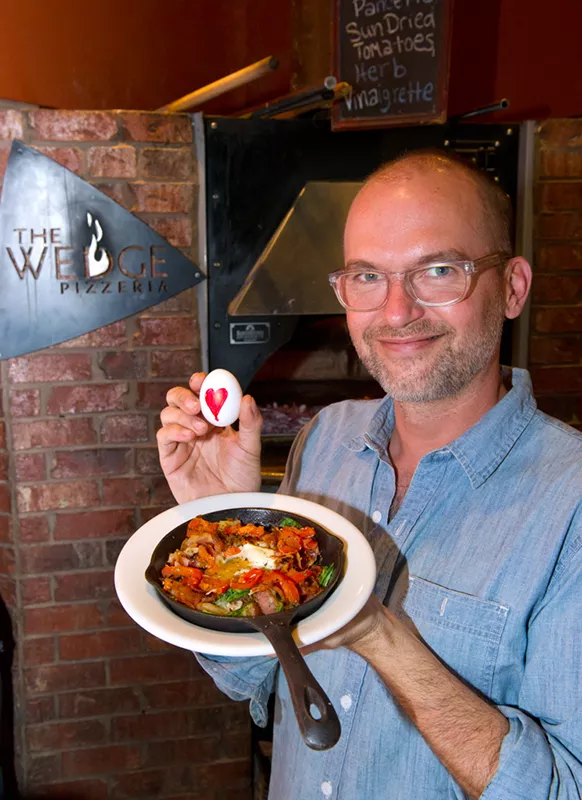 Shannon Cornman
Jeff Longstreth names The Wedge's new breakfast sensation "Jeff's Heavy Metal Skillet"
Heavy metal breakfast
The Wedge Pizzeria, in addition to its grab-and-go breakfast, is now adding breakfast skillets to the mix. For those who would like to take a little more time in the morning, manager Jeff Longstreth has formally rolled out something he has been doing here and there for a while. Jeff's heavy metal skillets offer a sit-down alternative to grab-and-go, and the price is nice. For $8, you get a skillet, a veggie side and a drink.
"When I was a kid, I used to eat at places that had these, and you don't really see them anymore," he said. "Since ingredients are good, produce is good, I thought it would be cool to bring them back."
One special last week was roasted potato, pancetta and spinach. There is always a veggie option, and of course, some substitutions are possible. You know what they say: it's the most important meal of the day. Make it metal.
Mark Hancock
Summer is a riot of color at your local Farmers Market
In bloom
As we move into the dog days of summer, fresh produce continues to display its seasonal rainbow on the way to inevitable autumn. Do you know why it's called "dog days"? It refers to the fact that Sirius, the dog star, is brightest in the night sky in our hemisphere. The Romans believed that Sirius' rage was the cause of the hot weather.
This month, while you peruse the local farmers market, you'll see the summer showing off with peaches, cucumbers, okra, peppers, eggplant and tomatoes. Check out any of the fabulous farmers markets in the metro, such as Brooks Farmers Market, 1205 SW Second St.; OSU-OKC Farmers Market, 400 N. Portland Ave.; or Edmond Farmers Market, 26 W. First St., in Edmond.
2014 Champion of Agriculture Rep. Frank Lucas, Third district, Oklahoma.
Winner!
Local representative Frank D. Lucas (R) from Oklahoma's third congressional district received a "Champion of Agriculture" award from American Agri-women (AAW).
American Agri-Women is a national coalition of women dedicated to preserving the interests of agricultural America. During its 2014 meet-up, called Fly-In to Washington, the group awarded Lucas for his dedication to agricultural interests in Oklahoma, including his position as chair of the House Committee on Agriculture. For more information about American Agri-women and its mission, please visit americanagriwomen.org.
Print headline: Heavy metal breakfast
The Wedge recently added more variety to its morning menu.