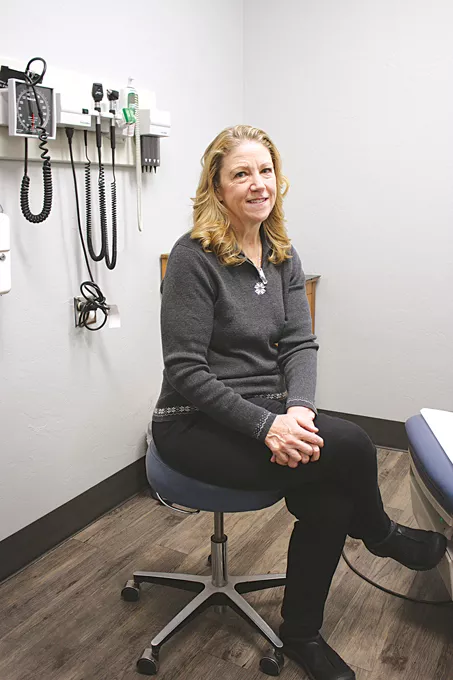 Laura Eastes
Nurse practitioner Toni Pratt-Reid leads the Association of Oklahoma Nurse Practitioners' push for full practice authority in the Sooner State.
In an era of shrinking federal and state health budgets, shortages of primary care doctors and a growing public concern about access to affordable and quality health care, a long-running debate over granting nurse practitioners greater autonomy returns to the Oklahoma Capitol in February.
For the third consecutive year, state lawmakers will consider legislation that seeks to expand the role of advanced practice registered nurses by allowing them to write prescriptions without doctor supervision. Last regular session, House Bill 1013 gained approval in the House but never received a hearing in the Senate. It remains eligible to be considered for passage next regular session, which begins Feb. 5, 2018.
An Association of Oklahoma Nurse Practitioners' (AONP) leader predicted 2018 as the year the bill becomes law, placing Oklahoma among more than 20 states authorizing nurse practitioners with "full practice authority" defined by the American Association of Nurse Practitioners as allowing advanced nurses "to evaluate patients, diagnose, order and interpret diagnostic tests, initiate and manage treatments — including prescribe medications — under the exclusive licensure authority of the state board of nursing."
"This is a standard of practice across the United States," said Toni Pratt-Reid, AONP president and Yukon nurse practitioner. "What we have seen in the states that have moved forward and made this change in their laws is that health care is better. Access to health care is better. Economic growth has returned to rural areas where there might not have been access to care."
Physicians are lining up against any legislation changes. Groups including the Oklahoma State Medical Association and Oklahoma Psychiatric Physicians Association have stated they see no reason to alter the current law, which they view as encouraging nurse practitioners to work in a team-based setting under the supervision of a medical doctor.
Physicians like Dr. Art Rousseau question whether nurse practitioners can offer the same level of care.
"Some say this is a turf war or a financial issue," explained Rousseau, chair of the Oklahoma State Medical Association's council on state legislation. "That's not the issue we are addressing at all. It really is about the highest quality of care that can be provided to the patient. The concern is that it will become accepted that the lower level of care is the standard. This will be driven by the insurance companies or hospitals, who can get a nurse practitioner for a lesser cost and bypass the physician. The bottom line is that it will affect the care of the patient."
The debate over giving nurse practitioners greater autonomy has gained traction across the nation in recent years. In 2015, Nebraska lawmakers passed legislation authorizing nurse practitioners to order and interpret diagnostic tests, prescribe medications and administer treatments. Earlier this year, South Dakota's governor signed a similar bill into law and the federal Veterans Administration granted full practice autonomy to certified nurse practitioners, nurse midwives and clinical nurse specialists. It's likely that Oklahoma's legislation will get plenty of attention in the coming months.
Meeting a need
In the Sooner State, nurse practitioners can diagnose and treat patients without the oversight of a physician; however, their prescription authority is tied to a supervising physician, who is contracted and can charge thousands of dollars each month for an agreement. Under Oklahoma law, there is no requirement for supervising physicians to review a nurse practitioner's patient charts or even practice nearby.
Most often, collaboration between the physician and nurse practitioner doesn't take place, Pratt-Reid said.
"It doesn't mean that the physician oversees the plan of care or ever has contact with the patient or any patient," Pratt-Reid said. "It just means they have an agreement that they will be available, should we have a concern."
In Oklahoma, nurse practitioners who have master's degrees or better carry national board certifications and are licensed and regulated by the Oklahoma Board of Nursing. The board reports there are more than 2,840 advanced nurses supervised by a physician for prescription authority with 3,572 licensed advanced nurses in the state.
Full authority for nurse practitioners is particularly important in rural states, which often face large shortages of medical professionals. In Oklahoma, where the state Health Department reports only one of the state's 77 counties is not designated as a Health Professional Shortage Area, proponents of full authority argue it increases access to health care services, especially in rural areas.
"We have a difficult time finding [physicians] in rural areas to work with us," said Pratt-Reid, who stated that many nurse practitioners are from rural communities and desire to return.
With some rural hospitals recently closed or operating with restructured departments, there is a real shortage of physicians. In Oklahoma, physicians can only supervise two nurse practitioners at a time.
"We would be able to practice within our scope of education," Pratt-Reid said. "I think when full practice authority opens up in Oklahoma, we will see a broader range of insurance coverage and accessibility."
Physicians, because of their advanced training and education, should remain at the top of the medical team to provide the best care and safety for patients, Rousseau said. When the law was first crafted, it was designed with flexibility, allowing physicians to use their judgment when overseeing prescriptions.
"By the guidelines, the physician is just there to monitor in regards to prescription authority," said Rousseau, an Oklahoma City psychiatrist. "Of course, that sets up a little bit of a problem. If I am a supervisor to a nurse practitioner with medication, I need to make sure the diagnosis is correct. It becomes tricky if you say you are just there to supervise the prescriptions, as you are also supervising the diagnosis as well, or should be."
It is "illegal, unethical and inappropriate" for physicians to profit from an agreement but not provide any supervision, he said.
"If that is happening ... they need to turn the name into the board and action is to be taken against those doctors," Rousseau said.
Medical associations, including the Oklahoma State Medical Association, point out advanced nurses' training of two to three years postgraduate education doesn't compare with a physician's seven or more years of postgraduate education and more than 14,000 hours of clinical experience.
"The question is, Can they do the same thing a physician can?" Rousseau said. "Basically, they are saying they want to do everything a medical doctor can do but without the supervision and without any further training. There is a saying I've heard many times that [nurse practitioners] want the privilege. It truly is a privilege to practice medicine. They want the privilege, not through education, but legislation."
Print headline: Expanding care; Nurse practitioners seek full practice authority in Oklahoma.