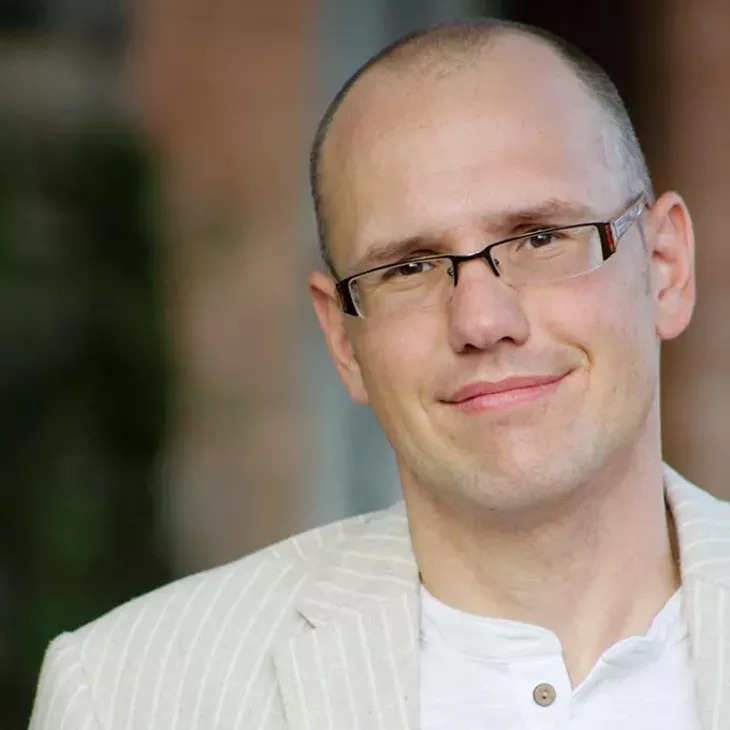 Gov. Mary Fallin has appointed Oklahoma native Dr. Ben Myers as Oklahoma's State Poet Laureate for 2015-2016.
"For me, it's about the most meaningful honor and opportunity I could receive as a writer," Myers said.
Born and raised in Oklahoma, Myers is from Chandler and is a literature professor at Oklahoma Baptist University (OBU) in Shawnee.
"Oklahoma is more to me than just the place I live; it is my home, my homeland. The opportunity to combine my deep love for this land with my love for poetry is an opportunity I am very thankful for," he said.
Myers is excited to promote poetry in Oklahoma any way he can, and he is enthusiastic to share his passion for the art form by traveling to Oklahoma schools to talk with students about poetry.
"Often, people think poetry is about puzzling out hidden messages ... It's not a secret code," he said. "It's about experience and energy and life. I want to share that with people."
To bring home his point, Myers draws inspiration for his poetry from real people and real lives. He writes about rural life in Oklahoma, his family and the challenges of manhood, adulthood and fatherhood.
"Some people think poetry is meant to be all about highfalutin things or Greek gods, and I like to write about farmers and mechanics and people I've known," he said.
He is the author of two books of poetry. Elegy for Trains, his first book, is primarily about his father's death, but it's also about moving back to Oklahoma and resuming life here. Elegy won the 2011 Oklahoma Book Award for Poetry. His second book, Lapse Americana, is about living in Oklahoma today and negotiating the constant collision of past and present.
"When you live in a place where you have roots and family history going way back, there is this constant sense of the melting of the past and the present together," he said.
Myers especially enjoys teaching mid-20th-century to early 21st-century literature. He finds himself coming back to these authors not for their messages but for their craft.
"It's more the spontaneous technique, the influence of jazz on their writing, the kind of exuberance, that sometimes almost brutal honesty that creates a unique blend of joy and sorrow that I think very well captures the actual experience of life," he said.
He has been teaching at OBU for 10 years. He teaches literature courses in the English program, general education literature courses and fiction workshops in the creative writing program.
He attended Washington University in St. Louis for his graduate degree and University of the Ozarks in Clarksville, Arkansas, for his undergraduate degree.
Some of Myers' favorite poets include John Berryman, Robert Lowell, Allen Ginsberg, Robert Hayden, Jane Kenyon, Walt Whitman and Chinese poets like Du Fu.
Myers doesn't have all of his poet laureate appearances scheduled yet, but he will read and participate in a roundtable discussion Friday at Cameron University in Lawton for its Big Pasture Reading Series at CETES Conference Center, 2800 W. Gore Blvd., in Lawton. Learn more at okhumanities.org.
Oklahoma Arts Council works with the state poet laureate to coordinate further events and appearances.
To request Myers to visit your school to talk about poetry, email him at ben.myers@okbu.edu.
To learn more about Oklahoma Arts Council, visit arts.ok.gov.
Print headline: Major lit, Poetry shouldn't be a mystery, says Ben Myers. For him, it's autobiographical and blends his Oklahoma upbringing with influences like Allen Ginsberg and Walt Whitman.