Provided, Oklahoma Christian University
Sphero's Corey Earwood and Jon Carroll hold their company's toy version of the BB-8 droid from Star Wars: Episode VII – The Force Awakens.
It was not the first time Sphero participated in Disney's annual program for innovative tech and entertainment startups in Los Angeles. It was, however, the most impactful.
Along with mentoring by none other than Disney's chief executive officer Robert Iger, the robotic toymaker received a request during 2014's Disney Accelerator program to develop a scaled-down version of the newest droid to enter the Star Wars family, BB-8.
"They were looking to really commercialize the character and bring it to life off the screen," said Claire Tindall, Sphero's director of marketing and communications, "something that people could own in their own homes."
Sphero began in 2010 with an app-controlled, robotic ball toy of the same name. With that background, the company was a logical choice to develop the spherical, rolling companion droid that made its premiere in Episode VII – The Force Awakens.
The company's BB-8 project received key contributions from two Oklahoma Christian University graduates: Jon Carroll, director of product, a 2008 graduate, and Corey Earwood, director of core technology, who graduated in 2007.
"Anything with spaceships in it I'm a huge fan of," Carroll said. "I was always a little more of a Trekkie, but I always loved Star Wars, too. I think it's impossible not to be a Star Wars fan."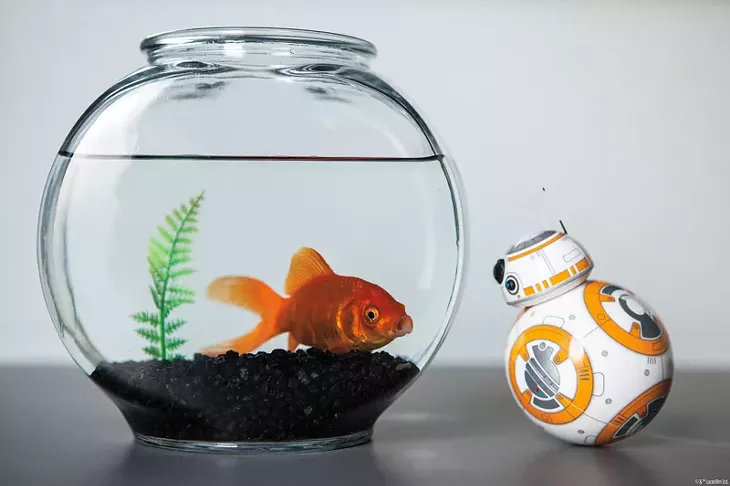 Sphero / Provided
Sphero's BB-8 toy
Personal development
Sphero's BB-8, roughly baseball-sized, is more than a typical remote-controlled toy. Carroll refers to its technology as "connective play." Yes, BB-8 can be guided through the house or elsewhere via an app, but it can also be set loose to patrol on its own. It reacts to its owner's voice, records and displays holographic images through "augmented reality" and freely responds to the environment surrounding it.
The project was packed into a condensed timeline. BB-8 had to be completed in about 10 months. Carroll said the company usually takes 12 to 18 months to take a product to market. BB-8 became available for purchase in September 2015 after work began on the project in the last quarter of 2014.
Another tricky part in the development was creating the droid's personality. Tindall said the crew was provided with film stills and little else.
"It was kind of like a game of 20 Questions that we played with the Lucasfilm team," she said. "Is he curious? Is he mischievous? Is he bad? Is he evil? And their answers were usually a simple yes or no response, and we had to go from that."
Despite some limitations in development of the product, Earwood said he is pleased with the outcome and what's still to come for BB-8. Also pleased are the many people who were gifted the droid during the most recent holiday season.
"I gave a couple of BB-8s out for Christmas, and in terms of people's reaction to it, it's just really awesome to see people just light up and smile," Earwood said. "I gave some to some of my friends who are 30-something who were just giggling, smiling and laughing like little kids."
Sphero's BB-8 may be purchased for $149.99 on its website, store.sphero.com. Earwood said it should also be available at Brookstone, Best Buy and the Apple Store.
Print Headline: Trinket tech, Two Oklahoma Christian University graduates help build a popular Star Wars toy.