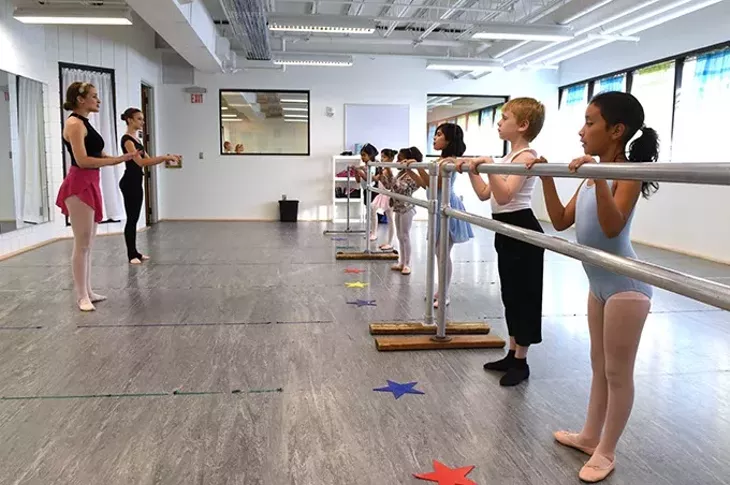 5 to 7 year olds learn to dance, instructed by Katie Dudzik, left, in O.C.U.'s Community Dance Center. mh
A special Oklahoma City University (OCU) dance program pairs students aspiring to become dance teachers with young protégés from the community in a pas de deux that benefits both.
OCU's Community Dance Center can usually be found alive with spinning 4-year-olds or teens learning to tap ­­— all taught by dance pedagogy students headed toward gradation.
The scholars hone their teaching skills while students, primarily from low-income homes and benefiting from OCU-generated grants, attend the classes.
Jo Rowan, founder of the university's world-renowned dance program, said the dance center allows the university's Ann Lacy School of American Dance and Arts Management to meet two critical needs.
"First, we are providing the opportunity for our undergraduate pedagogy students to teach in pragmatic learning situations," Rowan said.
"Second, and most importantly, we are providing a safe place where kids from our community experience many different styles of dance while learning important values such as teamwork, discipline and self-confidence."
Dance pedagogy senior Gwynn Loud said her teaching opportunities there have led to valuable insights.
"I'm an only child, and during my first year of teaching, I realized that I needed to learn how to approach children and how to talk to them," Loud said. "I also learned that kids sometimes need to have a push with their self-confidence. That doesn't always come in an academic setting. It was like getting to know little brothers and sisters and that was a really fun experience."
Originally from New Hampshire, Loud began dancing at age 3. She knew she wanted to teach dance by age 5. Her goal is to become a master dance teacher.
Teaching at the dance center has given her a "chance to instill a safe space for children to expand their creativity, gain self-confidence and improve their physical health."
"The children here learn about musicality and self-expression in a non-academic and family-friendly setting," Loud said.
Parents benefit from the opportunities, too, because the studio has two viewing windows where parents can watch their child grow and gain technical skills, Loud said.
Another important benefit is that students at the center can't tell who is on scholarship and who isn't.
Students in the national free or reduced-cost lunch program can qualify for grants and scholarships. About 70 percent of students now at the center receive such scholarship support. Martin L. O'Gwynn, vice president for OCU's University Advancement and external relations, said the Oklahoma City Community Foundation recently awarded an $18,000 iFund Opportunities for Children grant to the center. He said it will enable OCU to provide vital educational opportunities for local children.
"They alleviate the financial constraints on families and allow for additional relief as parents know their kids are in a safe place, taking part in dance classes that will be both challenging and rewarding," he said.
For more information, call the center at 208-5508 or visit okcu.edu/community-dance-center.
Print Headline: Born to dance, OCU's Community Dance Center lets students hone their teaching skills and gives children from low-income families a chance to dance their hearts out.