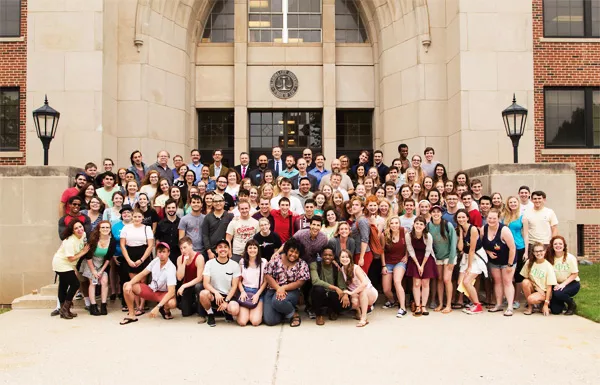 For the first time in the recorded history of Oklahoma City University (OCU), Wimberly School of Religion established its permanent home in the iconic Gold Star Memorial Building.
It came 60 years after school leaders intended. In 1953, administration unveiled the facility constructed in tribute to fallen World War II soldiers.
Despite the words "School of Religion" sketched in stone on the front, OCU's law program claimed the structure as its home for decades.
This August, students and faculty began discourse on religious and theological studies in the facility, which stands 286 feet tall and features a 200-pound gold star at its spire.
The school made the move from neighboring Bishop W. Angie Smith Chapel to Gold Star Memorial Building, which can be spotted from afar when driving around OKC.
While OCU's history is ambiguous on which departments occupied the building in earlier years, some OCU faculty members recall alumni and a former staff member sharing stories of religion classes meeting in Gold Star Memorial Building before the chapel's dedication in 1968.
Sharon Betsworth, school director, said classes now meet on the first floor; offices are located on the first and second floor, which is also shared with the School of Theatre.
"The funny thing is … the School of Religion was not established until 1981. We were a department of religion before. They must have had a vision of it becoming a School of Religion," Betsworth said. "It is neat to be back in the building where our name is."
OCU's nationally recognized theater program now resides in the basement, second and third floors.
Mark Parker, theater and music dean, said the new space allows faculty and staff to meet the needs of a program that has grown by 521 percent over the past 11 years.
"This is allowing us to spread our wings and be able to have the space that the students have needed for a number of years," he said.
Some theater courses, makeup, costume and lighting design will maintain residency in Kirkpatrick Fine Arts Center.
In addition to the sizable classrooms, the school designated space for production meetings, casting rooms, a prop room and rehearsal room.
Faculty has its own rehearsal quarters for professional productions in which they are involved.
In the basement area, there is a design studio where students can create and store unfinished set projects. An acting studio will be added on the bottom level following further renovations.
Parker said the new residence allows OCU to launch a new major starting next fall, a Bachelor of Arts in theater, in addition to its bachelor of fine arts programs.
The new degree focuses on theater business and is ideal for students who wish to pursue careers in fine arts management and administration.
"A lot of people have said that the law school move was great for the law school and downtown Oklahoma City," said Parker, "but it was certainly great for those of us who remain on the main campus."
---
Print Headline: Stars align, OCU's Wimberly School of Religion and School of Theatre find a new home in the historic Gold Star Memorial Building.