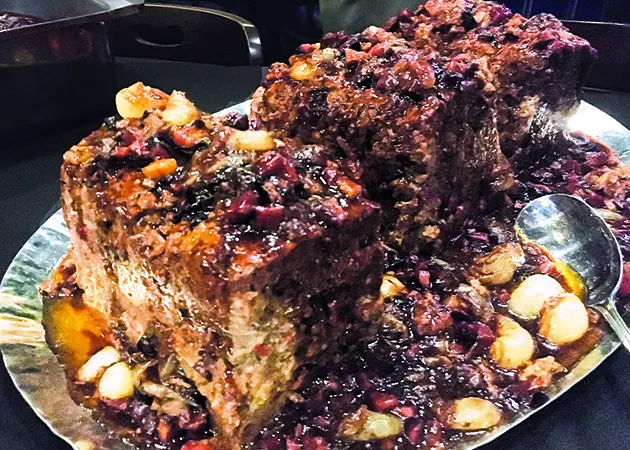 Jacob Threadgill
Chef Ryan Parrott's competition-winning meatloaf stood more than a foot tall.
Besides fruitcake, I can't think of a more derided food item at the butt of jokes in popular culture than meatloaf, but I'm a fan of the savory loaf.
Much how everyone used to hate Brussels sprouts because they'd only eaten them steamed, I think poor preparations have created generations of meatloaf haters. My wife refuses to eat another bite after being scared by bland, gray slabs of meatloaf as a kid, and I can't convince her otherwise.
When I first started cooking as an early teenager, meatloaf is the first thing I learned to cook, using my mother's recipe that featured oats as a binder, saltine cracker topping and lots of Worcestershire sauce in the mixture.
The biggest problem I think a lot of people have with meatloaf is its consistency. It's either overcooked and covered in ketchup to cover up its dryness or filled with too many ingredients — the kitchen sink method.
Using different cuts of meat can rectify the first problem. Different levels of fat content add moisture to the final product. Even if you want to keep it all-beef, mix it up with 80/20, 73/27 and a leaner variety. My favorite recipe for meatloaf comes from Food Network's Bobby Flay. It calls for equal parts beef, pork and veal. I understand if you have problems using veal, and it can be hard to find. I usually go with pork and 80/20 ground beef. Flay's recipe includes chopped zucchini and red and yellow peppers sautéed before being added to the mixture. Zucchini is a great addition because it complements the texture of the meat very well. The mixture also includes panko breadcrumbs, lot of grated Parmesan, balsamic vinegar and a spicy balsamic-ketchup glaze.
Finding the right balance between finely chopping and dicing the vegetables into large squares is key. I like to discern different ingredients without them being so big that they're not cooked evenly.
Meatloaf showdown
Imagine my joy when I was invited to attend a meatloaf challenge organized by Brigade 405 — an informal collection of local chefs — last week hosted at The Hamilton Supperette & Lounge, 12232 N. May Ave. (located on the backside of Shoppes at Northpark).
Sixteen area chefs submitted three loaves (two for voting and a third for donation to Homeless Alliance) for a blind taste-testing voted on by their peers. The winner agreed to add the item to their menu for at least a month.
Chef Ryan Parrott (Picasso Cafe, Frida Southwest and Oso on Paseo) took home bragging rights, $250 from Oklahoma Beef Council and a $200 gift card for Shoppes at Northpark.
Parrott said his creation will be on the Picasso Cafe menu as a special for the month of March. It was truly astounding, standing more than 12 inches in height, and had lots of flavor.
"I was inspired by my mother's meatloaf," Parrott said. "As much as most people hated their mother's meatloaf, I actually looked forward to it. She would cook it and then, at the end, put thick slices of sharp cheddar on it to melt over the top. It was so good. I took this to another level by putting aged white cheddar into the mix. She also used cracker crumbs and canned vegetable soup for the meatloaf. I wanted to up the game as well, so I used demi-glace, roasted bell peppers, caramelized onions, roasted garlic and breadcrumbs. As for the sauce, I didn't want to go traditional tomato route, so instead, I caramelized ciopillini onions, fresh jalapeños and applewood smoked bacon, then finished with whiskey, molasses and demi-glace."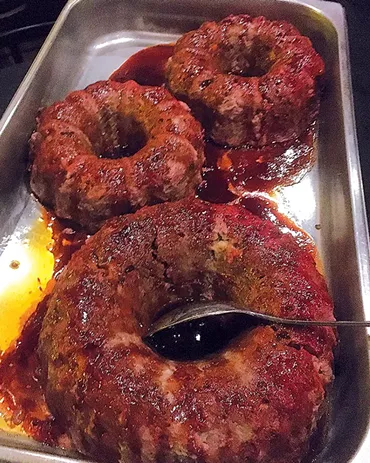 Jacob Threadgill
Meatloaf cooked in a Bundt pan by David Egan of Cattlemen's Steakhouse
Finishing second in the competition was Michael Paske of The Hamilton and Dave Egan of Cattlemen's Steakhouse. I liked Paske's version, but it was a little too uniform in texture for my taste. Egan's submission was also a show-stopper. He cooked the meatloaf in Bundt pans for a beautiful design. He also used a Hasty-Bake Grill, which is an Oklahoma staple, as the Tulsa-based product allows users to grill, smoke and bake all in one contraption.
"Everyone likes the outside crust, and I wanted something with a maximum amount of crust, so I came up with the idea of using the Bundt pan," Egan said.
Egan used trimmings of rib-eye, tenderloin and top sirloin from Cattlemen's and studded the beef with pieces of Italian sausage for a nice surprise along with onions, carrots and celery. After the mixture cooked in the Bundt pans, he took it out, exposed it to smoke and finished with a hot and sweet Asian glaze for some extra zip.
Cattlemen's runs regular meatloaf as a Monday lunch special, and Egan said he was glad he didn't win so he didn't have to replace a customer favorite with something they might not like. He is proud of his creation and said he'd be happy to make it for a banquet on special request.
Other participating chefs in the meatloaf challenge included Melissa Aust (Stella Modern Italian), Candace Gideo (Papa Dio's), Coliman Uribe (Oak & Ore), Scott Snow (Pearl's Restaurant Group), Bruce Rinehart (Rococo), Kevin Ward (St. Mark's Chop Room), Clayton Farhook and Stephen Bradley (Nunu's Mediterranean Cafe) Loretta Barrett Oden (formerly of The Corn Dance Cafe), Matthew Johnson (The Jones Assembly), Joel Wingate (Sparrow Modern Italian), Jesse Farmer (The Hutch on Avondale), J Mays (The Hamilton) and Eric Cooper of Davis, Oklahoma.
Be on the lookout for a public event at Parlor OKC food hall (11 NE Sixth St.) later this spring that will raise money for charity and have more chefs pitting their meatloaf recipes against each other.