Provided
Mike Hunter (center, pictured with Brock Hunter, Cheryl Hunter, Rachel Hunter and Barett Hunter) is the Republican candidate for Oklahoma attorney general.
The incumbent
Mike Hunter is a serious man. That's a description that can be expected from someone whose job tasks include handling criminal and civil prosecutions, enforcing the laws of the state, overseeing a $38.4 million budget, managing over 100 employees and proposing legislation that would protect citizens. Hunter will be the first to admit that his responsibilities as Oklahoma's attorney general are not ones he takes lightly.
"This job is important and complicated," Hunter said. "You have to have a broad understanding of Oklahoma's government to make it work."
That being said, it doesn't take long for Hunter to reference one of his favorite movie lines mid-conversation.
Hunter is a self-proclaimed movie fanatic. When the professional 62-year-old smiles, one can't be sure if he's in the moment or recalling one of his favorite movie scenes.
When the topic is family, smiles are plentiful.
"My mother was a special woman," Hunter said proudly at his campaign office in Oklahoma City. "She was an artist, a poet and a voracious reader. We had books tumbling out of our house."
Hunter grew up on a cattle and wheat farm near Enid. His father died in 1986, and his mother died a few years ago. The fondness his siblings had for life on their farm allowed Hunter the opportunity to explore options outside Garfield County.
He initially had his sights set on a career in nuclear engineering but changed his mind upon learning about the safety risks of the industry brought to light after the death of Crescent chemical technician Karen Silkwood in 1974.
Hunter studied his favorite subject, history, at Oklahoma State University.
In college, he found heroes in the great figures of U.S history. Among those, he said, are Theodore Roosevelt, John F. Kennedy and Ronald Reagan. He added Frank Keating to the list when he began working as the former governor's secretary of state in 1999. Hunter said his mother has always been first on the list.
He later earned a law degree from University of Oklahoma, where he met his wife Cheryl, an attorney and former member of the Oklahoma State Regents for Higher Education. The couple has two sons.
Before serving as Oklahoma's secretary of state under Keating, Hunter was elected to the Oklahoma House of Representatives.
He served as J.C. Watts' chief of staff from 1995 until 1999, during which time he lived and traveled between Washington D.C., Norman and Lawton. Last year, he was appointed attorney general after Scott Pruitt was confirmed administrator of the U.S. Environmental Protection Agency.
In his brief time as attorney general, he is most proud of attacking the state's opioid crisis head-on.
"Eighty percent of opioid addictions begin with a prescription," Hunter said. "When I learned that, I used it as a starting place."
An even greater heartbreak came when he learned that over 800 infants in Oklahoma were born addicted to opioids last year.
In May, he helped create and pass seven opioid addiction prevention- and treatment-related bills to the governor, who signed each one into law.
In August, he vowed to support the Chickasaw and Choctaw nations' lawsuits against the country's leading manufacturers of opioids.
"Opioid manufacturers are the root cause of the ongoing epidemic," Hunter said. "These companies knew the addictive qualities of opioids and still preyed on the suffering of Americans for decades."
He also sees improving Oklahoma's incarceration system as a priority.
Hunter beat Republican rival Gentner Drummond in the primary election by an estimated 300 votes. He will face off against democrat Mark Myles on Nov. 6.
The underdog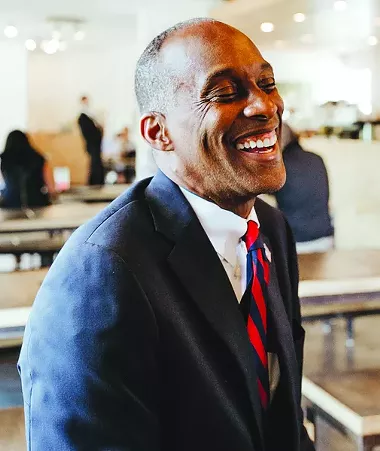 Alexa Ace
Mark Myles is the Democratic candidate for Oklahoma attorney general.
If 62-year-old attorney Mark Myles wins Oklahoma's general election race in November, he will become the state's first black attorney general. The opportunity to make history, he said, is exciting. And the chance to change Oklahoma for the better is even more so.
"There's enormous opportunity here to make a difference in the lives of Oklahomans," Myles said.
As attorney general, Myles said he would make changes in the state's prisons, health laws, environment, schools and streets.
He was born in Germany, where his father was stationed in the U.S. Army.
The family moved to Lawton when Myles was in the sixth grade. He spent his youth immersed in books and basketball, football and track.
"I was decent," Myles said of his athletic abilities.
His campaign manager, Daniela Busciglio, tagged along to a local coffee shop where Myles met with Oklahoma Gazette for an interview.
"He's being modest," she said. "He had several letterman jackets."
Myles smiled and shrugged.
"They're gone now, but that's OK," he said.
Myles' letterman jackets, along with other sentimental items like a congratulatory letter he received from his former boss at IBM, were stolen from his Mesta Park home a few weeks ago in a burglary he believes was political in nature.
"It seems that way," Myles said. "Why wouldn't they take my wife's jewelry, the furniture, our fine dining ware? But it's just stuff. Life goes on."
Myles, the only Democrat who chose to run against Hunter, said he doesn't have any enemies and has experienced nothing but kindness during his 77 Strong Tour, his mission to visit and campaign in all of Oklahoma's 77 counties before election day.
After high school, Myles attended Oklahoma State University, where he studied economics and engineering. Following college, he enjoyed 21 years with IBM until April 19, 1995, when the Oklahoma City Bombing changed his life.
Myles' office was not far from where the bombing occurred, and the YMCA building that was impacted by the bombing was where his daughter was scheduled to attend daycare.
"Just a few weeks before the bombing, we decided to keep her home a little while longer," Myles said.
All of it, he said, hit too close to home.
"I didn't understand how that could happen or why," Myles said.
He poured himself into volunteer work with the Red Cross and felt closer to Oklahomans than he'd ever felt in his life.
"I was around these people whose lives were all about service," Myles said. "I walked away from the Red Cross wanting to be more like the people I volunteered with."
Myles left IBM and went to law school at University of Oklahoma.
After working as a prosecutor and defense attorney, Myles said, he is ready for the job he has dreamed of for years. As Oklahoma's attorney general, Myles said he would bring some much-needed change to the state.
His four priorities would be ensuring public safety, improving public health, gauging public trust and looking out for the public's interest.
Specific goals he hopes to achieve include ensuring prison time for violent criminals while rehabilitating and releasing nonviolent criminals. He would redirect the money that would otherwise be used to house nonviolent criminals to fund teachers and schools.
Election day
The term of Oklahoma's attorney general begins the first Monday in January and runs parallel to the term of the state's new governor. Hunter or Myles will serve as state attorney general for four years.
The general election is Nov. 6. The deadline to register to vote is Oct. 12.