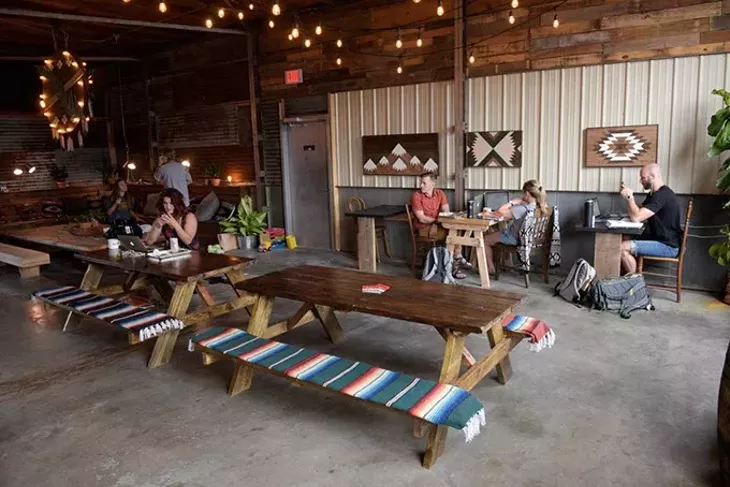 Garett Fisbeck
Okay Yeah Co., Wednesday, Sept. 7, 2016.
Chad Grubbs wants his coffee shop to be the bright spot in customers' days.
After just a few weeks in business, he makes that happen inside Okay Yeah Co. Coffee & Eatery, 705 W. Sheridan Ave.
Tucked away inside The Plant Shoppe, Okay Yeah displays its motto Cheers to the Day on the wall, employees' shirts and customers' cups.
Garett Fisbeck
The Plant Shoppe/Okay Yeah Co., Wednesday, Sept. 7, 2016.
"We want to instill upbeatness," Grubbs said.
No matter what the day holds, it's better when you start with a good cup of coffee and a tasty breakfast, he said.
Okay Yeah embraces nostalgia with a menu of hand tarts that bear a striking resemblance to that fondly remembered morning pastry, the Pop-Tart.
"We want to bring back the excitement that used to come with opening up a Pop-Tart," he said.
While rectangular pastries tap into customers' memories, Grubb knows diners hunger for something better than mass-market treats, so he brought in baker Elizabeth Davis-Macias, owner of Oklahoma City bakery Güdbytes.
Though Güdbytes keeps her nights booked baking cookies for special events, Davis-Macias was excited to give her savory side a try with hand tarts at Okay Yeah.
"When I heard Chad was interested in serving homemade tarts, I dropped off a batch," she said. "We kind of started meeting last December for jam sessions with food."
Garett Fisbeck
Elizabeth Davis-Macias hands Chad Grubbs pastries at Okay Yeah Co., Wednesday, Sept. 7, 2016.
They've refined the menu since then with a slate of four savory and four sweet tarts that change weekly.
Recent options included apricot, peanut butter fudge, strawberry, cactus and pear, pulled pork, ham and cheese, sweet potato and chocolate-strawberry. Davis-Macias takes care to decorate the tarts, making them as much a feast for the eyes, too.
They are made fresh daily and sell out quickly, as evidenced by the eraser marks on the chalkboard menu.
The eatery also serves specialty tarts. Open-faced on puff pastry, these hearty treat options change daily and are only available later in the morning and into lunch until they sell out, Davis-Macias said.
The crisp, flaky edge of a specialty tart served recently hid a mix of chorizo and potato under a fried egg with a spicy sauce. One could hold it in one hand and eat it, but it would get messy quick, so Okay Yeah serves it with a knife and fork.
Before the first two weeks of business passed, the venue's tables and chairs had already seen plenty of action. Morning clientele arrive in waves, Grubbs said, and the crowds are growing.
The early morning folks are in and out quickly, but as the hours pass, more tables are occupied by laptops as writers and web developers create content and small business managers meet up over iced lattes.
That is not far off from how Grubbs met his partner Jen Semmler, with whom he owns The Plant Shoppe.
Okay Yeah had been in the works for years as Grubbs and Semmler explored ways to drive more traffic to the shop and make the area a hub of activity.
"We wanted to create an environment, and we got lucky and found out that people enjoy what we enjoy," he said.
The spacious shop has an airy, wide-open quality that is relaxing and inviting. It has a rustic feel, featuring natural wood surfaces and touches of comfort and color. The building benefits from the design sense of Semmler, who is known locally for creating plant arrangements.
"She's going to start doing to-go arrangements here," Grubbs said. "It just makes it feel more like a community."
Okay Yeah is only getting started. In upcoming weeks and months, Grubbs plans to start Saturday brunch service with live music and other events.
"Basically, we're going to do the things we enjoy," he said.
Print headline: Pop in, With handcrafted coffee and a gourmet variation on Pop-Tarts, Okay Yeah Co. feeds Film Row.