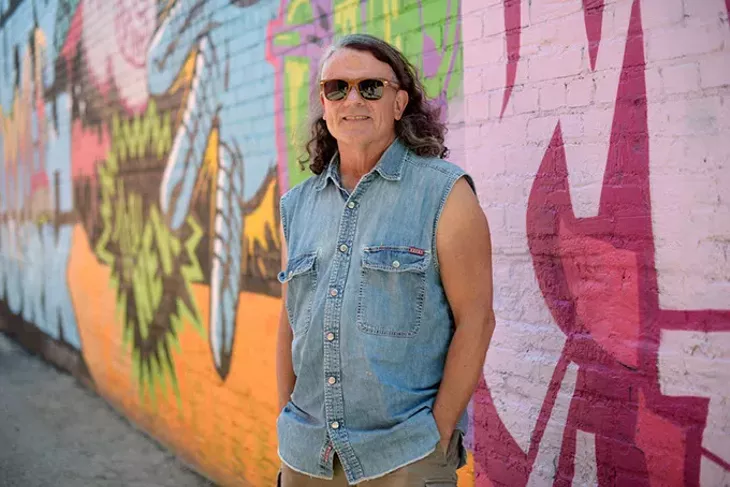 Garett Fisbeck
Stephen Kovash poses for a photo in the Plaza District, Friday, July 7, 2017.
From an early age, Stephen Kovash has taken his art and life into his own hands. The Oklahoma City Arts Commissioner left a chaotic home life at age 12 and was legally emancipated from his family when he was a young teenager.
For a while, he slept in buses and abandoned cars and with people on the fringe of society before finding semi-steady but rotating homes within the city's underground arts community.
Kovash's youth might read like a lost one, but he was incredibly focused. He lied about his age so he could get a job when he was 14 years old and always remained resolved in his art and schooling. He was an excellent student but was so independent-minded that he sometimes conflicted with his teachers.
"I generally got kicked out of [art classes] because they were so boring," Kovash said during a recent Oklahoma Gazette interview. "It was all make kitties and paste things, and I was making signs and drawing EPA (United States Environmental Protection Agency) posters."
Kovash is locally known for his yearslong presence in the art community and as owner of now-closed Istvan Gallery in Midtown.
Few know about his lengthy career writing grants for the EPA.
One could characterize Kovash's pursuits as a double life, but the truth is that he is the same person in the studio as he is in the office. He does not try to put on a public face, and Kovash is comfortable with letting his EPA colleagues in on the real him.
"I've always had the long hair and the sort of bohemian thing going on," he said. "They actually kind of liked it."
Career focus
Kovash's artistic style has always been informed by the darkness in his past. He said he has endless stories from his experiences as a homeless teen, many of them sad. His work today is still fueled by themes of homelessness, depression and melancholy.
Art, over time, has become a coping mechanism.
These days, Kovash focuses more on helping other artists and local gallery owners and does not have as much time to create his own art. When he does find the time to sit down and create something, he still channels his troubled past.
"It ends up becoming something I don't want to sell," he said, "but it always ends up selling because it ends up touching somebody else."
Despite an unstable youth, Kovash always believed he'd graduate high school and go to college. He attended Central State (now the University of Central Oklahoma), first pursuing an art degree before switching to political science.
He quickly got a job with the United States Air Force. His duties included ordering materials to construct bombs and other weapons. The task did not sit well with Kovash's conscience.
"It was horrible," he said. "I lost sleep over it."
Kovash's karate instructor worked with the EPA and convinced his pupil to join the agency.
"A lot of the people who came on board were from the Peace Corps or they were hippies or hippie scientists," he said. "There was a real sandals-and-flannel attitude, and we had some of the best scientists in the world there."
He began his EPA job in the early 1990s and worked in Washington, D.C., specializing in helping foreign countries establish their own environmental regulations and conservation programs.
It was around the time of the Soviet Union's dissolution. Kovash worked with and wrote grants for several new Eastern European nations that needed to develop their own environmental and sanitary standards. He said they had a big gap to close.
"Under Soviet rule, everything was sacrificed to produce products," he said. "I mean, they had lakes up there that you could dispose bodies in. It was frightening how bad it was."
Creative balance
Kovash still works writing grants for the EPA, but he now lives in Oklahoma City. He enjoyed his time on the East Coast and was heavily involved in the Washington, D.C., and Baltimore, Maryland, art scenes. But over time, he found fewer and fewer reasons not to return to his home state.
"The politics in D.C. are insane," he said. "Working there is really hard. I got married while I was there, and that went bad, so there was nothing that I wanted to stay there for."
If there is an aspect of art or creativity out there, there is a good chance Kovash has involved himself in some way. He participates in Oklahoma City University's Red Earth Masters of Fine Arts (MFA) creative writing program. In the early- to mid-'80s, he was part of the group that opened the Bowery bar and music venue in downtown's Plaza Court basement at NW 10th Street and Walker Avenue. The historic club has since closed.
The punk and new-wave music venue was known for bringing in heavyweight acts like the Red Hot Chili Peppers and R.E.M. Kovash would sometimes act as security for acts passing through and was once a bodyguard for Exene Cervenka, vocalist for the pioneering punk and rockabilly band X.
Kovash reminisced that X's visit came around the time of Cervenka's break-up with band vocalist/bassist and husband John Doe. He said tension between the two was palpable.
"It was really funky working that night," he said.
Kovash has enjoyed a long career following many artistic pursuits, but he said few things could ever top his Bowery days, though he worked there just two years, '82-'84.
"I wouldn't go back, because that would be insane," he said, "but those were some of the best times."
Local growth
Kovash now spends most of his time assisting young artists and helping new galleries establish themselves in the city. His Istvan Gallery, though now closed, blazed the way for a new trend of local galleries that offered platforms for emerging artists.
Today, Kovash uses his experience to help guide new gallery owners and stresses the importance of establishing a business plan and not juggling too much on their own.
The local art scene has experienced major growth in recent years but seems to have hit a plateau due to a saturated art market. It's also challenging to inform the general public up about the progressing art community and its many shows.
"If you're not in the bubble, it's almost like you're going to a petting zoo with exotic animals," he said. "People don't know about the arts — they're scared of them."
Still, the arts commissioner is enthusiastic about what the city's future might hold.
"We're getting more and more young people to continue to move to Oklahoma City, so they're going to be able to continue to support the arts scene," he said. "I don't see it going away anytime soon."
Visit facebook.com/istvanart.
Print headline: Aesthetic versatility, OKC art and music stalwart Stephen Kovash balances creativity with his work for the U.S. Environmental Protection Agency.