Oklahoma City's Festival of the Arts is many things. It's a showcase for artists across the country. It's a hub for creativity and community to meet. It's where you get a giant roasted turkey leg, a plate of Indian food, some shaved ice and a gyro and eat them all like you're training to be a monster.
Oklahoma City Arts Council communications director Christina Foss said that wasn't always the way. The festival is a feast for many, but when it began 50 years ago, the focus was decidedly less culinary.
"The first year, we had volunteers making sandwiches for people," she said. "Now we have 30 food vendors."
The festival, 11 a.m. to 9 p.m. Tuesday-April 24, has grown in leaps and bounds over the last half-century. Returning to Bicentennial Park, 500 Couch Drive, presents new challenges, Foss said.
"We've had to rebuild all of the infrastructure we'd developed over the last 30 years in that location," she said. "Redeveloping all of that in one year is a major feat."
For the last few years, the festival has put more emphasis on culinary arts demonstrations. With the ability to redesign the layout, organizers put the demonstration tent right in the center of the park, adjacent to the artists.
"We added three new demonstrations a day, so now we have 34 participating chefs," she said. "This is the fourth year we've done it, and people are really starting to take note."
Demonstrations are free, take about 45 minutes and include information on how to prepare food with a sample taste at the end.
Participating chefs — including Scotty Irani doing a grilled flank steak and romaine salad with petits pois a la française, Bill Kamp showing how to brine and smoke meat and Victoria Kemp from Florence's Restaurant preparing ham, cabbage and cornbread — will work under a giant mirror to let audiences follow along with each step.
But for those who would rather just eat, the much-loved International Food Court has been split into two rows of booths on either side of Civic Center Music Hall, running up Couch and Colcord drives. Foss said the new flow is different, but still pleasing.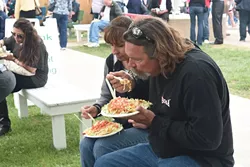 "Logistically, we had to do it, but we hope it leads people to walking and looking around more, maybe seeing some areas of the festival they wouldn't see otherwise," she said. "And by splitting up, it might clear some congestion from food lines."
Indian tacos and corn on the cob are back, of course, but this year's festival has newcomers Sara Sara Cupcakes and VZD's Restaurant & Bar serving hoisin-glazed chicken wings ($9) and signature cupcakes ($4). The Meat Market Refectory is helping raise money for deadCENTER Film Festival with brioche and crème ($8) and lobster sliders ($12), which Foss said has everybody at the council buzzing.
It's a long way from volunteers making sandwiches, after all.
Print headline: Arts feast, Oklahoma City Festival of the Arts returns to Bicentennial Park with a renewed focus on food.