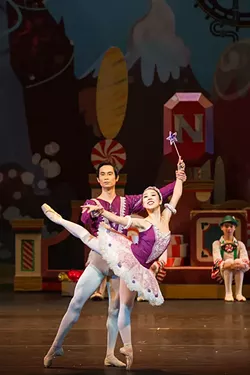 Oklahoma City Ballet continues its 45th anniversary season with The Nutcracker. Each year, the company adds more opulence, athleticism and attentiveness to the holiday favorite.
Artistic director and Nutcracker choreographer Robert Mills spoke to Oklahoma Gazette about reviving stories and creating traditions.
"The original Nutcracker Russian debut in 1892 was a total flop," Mills said. "Not many people realize this ballet only gained acclaim starting in the 1950s because it has become such an American tradition every Christmas."
Thanks to renowned choreographer George Balanchine's mid-20th century New York City revival of The Nutcracker, thousands of reproductions dominate American stages each Christmas season. Through Mills, in recent years, the show has been reestablished as an Oklahoma City tradition.
"Every year, I slightly tweak and change something about the choreography, even if it's only something I notice in the performance," Mills said. "This year, however, I've stayed pretty true to what we established a few years ago."
If there are few noticeable production changes, it's because Mills spent years enhancing the classic for local audiences.
"I developed this show over 12 years in different companies," Mills said. "In 2014, we debuted The Nutcracker with new performers, sets and costumes. For people who haven't attended the ballet in the past two years, they need to come out and experience how the performance has evolved."
Continued success
Maintaining the production's robust elements contributed to OKC Ballet's growing success in recent years. Oklahoma City Philharmonic resumes its accompaniment of the ballet with Tchaikovsky's original pieces, and 2014's costumes dazzle audiences once again.
Devon Energy's 2014 OKC Ballet financial support enabled the company to expand its resources, and The Nutcracker's continued success has also been a national effort.
"The costumes were designed in Colorado Springs, and the sets were built in Portland, Oregon, by Emmy award-winner Gregory Crane," Mills said. "The production look is very colorful, bright and easily gets everyone in the holiday spirit."
Sets and costumes mean little without the athletic grace of OKC Ballet principal dancers, soloists and corps de ballet. In addition, more than 100 children from The Dance Center of Oklahoma City Ballet join company professionals.
"This show's cast is our largest to date," Mills said. "The company is made up of dancers from places like Hungary, Japan, Cuba, Mexico, Canada and about 13 states across the U.S. In Oklahoma City, all our dancers become unified through the different narratives they dance."
The Nutcracker story is what people remember most about the show. Mills places as much weight on the story as he does on choreography.
"Many people experience ballet for the first time with The Nutcracker, and that makes its story incredibly important," he said. "I use choreography to honor its narrative and work with our dancers to become immersed in their particular role."
OKC Ballet dancers understand how important it is to use their physicality to communicate sincerity to audiences.
"People have approached me after previous performances saying how clear the story was and how they appreciated understanding what was happening in every scene," Mills said. "I train the dancers to continue their performance even offstage. This method makes the ballet richer for the audience and the dancers themselves."
That level of integrity has elevated OKC Ballet under Mills' direction and furthers the show's annual persistence in the community's holiday agenda.
"The Nutcracker is such a phenomenon because it promotes the togetherness that so many people enjoy about Christmas," he said.
The Nutcracker runs Dec. 10-20. Tickets are $15-$70. Visit okcballet.com.
Print headline: Ritual renewal, Oklahoma City Ballet's The Nutcracker continues to delight holiday audiences.