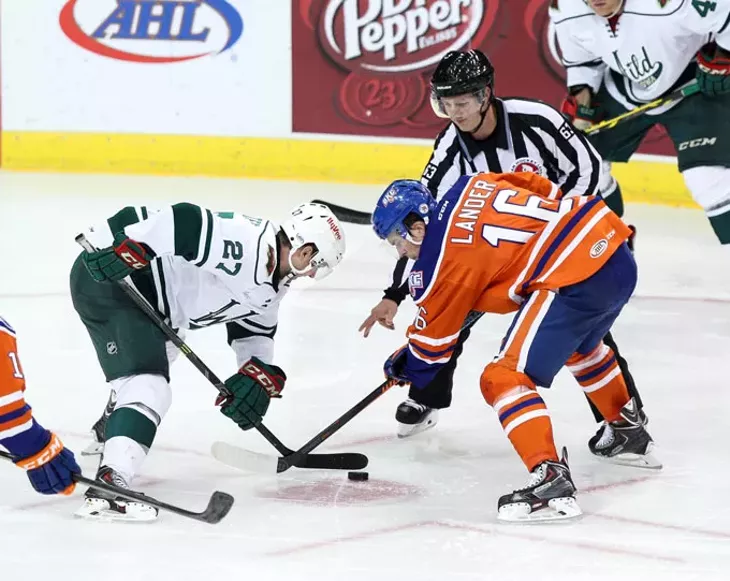 Copyright 2014 Steven Christy
The Oklahoma City Barons hockey team may be out for vengeance, or maybe its benefiting from dumb luck. Either way, its strong start this year is undeniable.
Ranked second in the Western Division of the American Hockey League, the Barons have won five of their first eight games, two of those against the Texas Stars, the team that iced OKC in the first round of the playoffs last season.
The 2013-14 season found the Barons nursing their worst win-loss record, 36-29, since the team debuted in OKC in 2010. With their less-than-stellar record came less-than-stellar crowds. The Barons ranked 28th out of the AHL's 30 teams in attendance, averaging 3,348 hockey fans per game, team management said. The team spent the last few months increasing its social media presence and running special promotions in an attempt to bring in more fans.
Social media aside, a major incentive for larger crowds has come in the form of a three-part cocktail, as the Barons started the season with three standouts: a veteran with extensive NHL experience, a rookie from Finland with something to prove and a brutal enforcer just looking to body-check whomever gets in his way.
This season marks Jason Williams' 15th in professional hockey.
Williams played in more than 450 National Hockey League games for six different teams. He even won a Stanley Cup in 2002 while playing with the Detroit Red Wings.
At 34, the Barons center moves with grace and precision. He knows where to be, how to get there and how to score once he has arrived. Williams comes here after a two-year contract with Swiss pro team Ambri-Piotta.
"I'm just going to come out here and have fun and help the young guys," Williams said.
He leads the team with five goals and six assists.
Iiro Pakarinen, the 22-year-old from Finland, was inspired. The right wing knocked in five goals and earned three assists before getting the call from Barons' NHL affiliate, the Edmondton Oilers. At the time of his recall from OKC, he was the team's leading scorer.
Pakarinen will leave an offensive void on the team that may be filled by strong shooters, left wing Ryan Hamilton and right wing Andrew Miller.
The Barons, however, won't worry about a defensive void: Enter 6-foot, 4-inch, 233-pound Luke Gazdic. The left wing performed strong in his last few years of Triple-A play.
Last year, the Edmonton Oilers picked up Gazdic. He appeared in 67 games but his aggressive play landed him with 15 major penalties, the third highest number in the NHL, and a shoulder injury.
The next Barons next home game is against the Charlotte Checkers at 7 p.m. Nov. 21.
Print Headline: Top-shelf team, The Barons have started their season strong with plenty of muscle to keep them on top.
---
OKC Barons vs. Charlotte Checkers 7 p.m. Friday Nov. 21 Cox Convention Center 1 Myriad Gardens 232-4625 $10-$45