OKC Broadway hit the ground running during a recent unveiling of its upcoming season of Broadway-caliber productions for Civic Center Music Hall.
Elizabeth Gray, the company's general manager, said the schedule for its second season — publicly unveiled for the first time in late January — is the first time OKC Broadway has been able to go through a complete season setup, booking all its own shows without a rush to get something in place.
This year, OKC Broadway expands its season to six shows, up from the customary five-show offering many Oklahoma City fans are used to. Here is what to expect in 2017-18: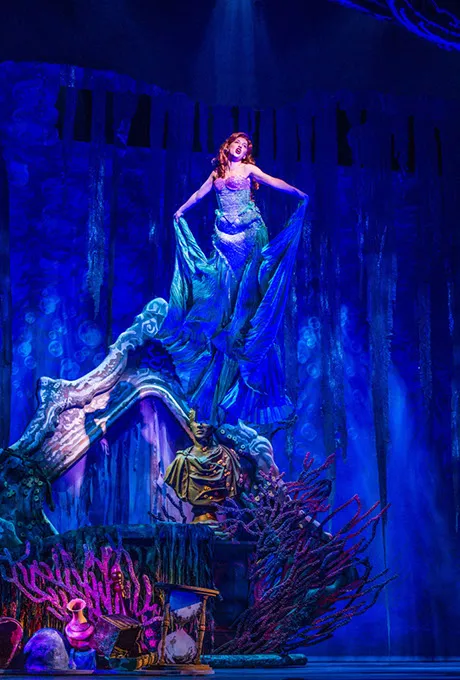 >> The season opens Sept. 5 with Disney's The Little Mermaid musical. Children and nostalgic parents alike will enjoy hearing their favorite songs from the popular 1989 animated film.
>> Beautiful: The Carole King Musical premieres Sept. 26 in Oklahoma City. The often-vaunted biographical musical features the songwriting titan's greatest tunes, including "You've Got a Friend," "It's Too Late" and "I Feel the Earth Move."
>> One of the season's bigger highlights is The Color Purple: The Musical, running Jan. 2-7, 2018 in OKC. During its Broadway run, the all-new production featured Cynthia Erivo as Celie and earned a 2016 Tony Award for Best Musical Revival. "This isn't The Color Purple that audiences have seen here at the Civic Center previously," Gray said.
©Tristram Kenton
A scene from School Of Rock @ New London Theatre. Music by Andrew Lloyd Webber. Book by Julian Fellowes. Lyric by Glen Slater. Directed by Laurence Connor. (Opening 24-10-16) ©Tristram Kenton 10/16 (3 Raveley Street, LONDON NW5 2HX TEL 0207 267 5550 Mob 07973 617 355)email: tristram@tristramkenton.com
>> School of Rock: The Musical runs Feb. 6-11, 2018 and features an adapted stage version of the 2003 film starring Jack Black.
>> Next, Finding Neverland runs March 13-18, 2018. Gray compared the musical to Wicked for The Wizard of Oz because it tells the story behind the well-known story of Peter Pan, Tinkerbell and the Lost Boys.
>> The season ends with An American in Paris: A New Musical June 5-10, 2018. The tale is most associated the classic 1951 film musical, but this production appeals to audiences of all ages, due in part to the program's skillful dancing and choreography throughout.
>> In addition to the standard season, OKC Broadway brings in two special add-on season events, including the Rent 20th Anniversary Tour Nov. 7-12 and, back by popular demand, The Book of Mormon April 24-29, 2018.
OKC Broadway announced its new season during a recent public event featuring catered hors d'oeuvres and cocktails.
It's believed to be the first time the city's Broadway presenter has announced a new season in this way.
Gray hopes the event, as well as the quality shows lined for this season and beyond, will help enforce the idea that OKC Broadway is dedicated to boosting the quality of show bookings at Civic Center Music Hall.
"Having the previous Broadway presenter in place for so long, it was a little bit of a mix-up for people," she said. "But in general, we were well received. I think once people understand the reason for the change in the Broadway presenter, they get a lot more accommodating and a lot more accepting."
Hamilton
The future is bright for OKC Broadway beyond the upcoming season. Producer Jeffrey Seller announced in January that the national tour of
Hamilton
makes its Oklahoma debut during OKC Broadway's 2018-19 season.
Hamilton is based on Ron Chernow's biography of Alexander Hamilton, the nation's first Treasury Secretary and one of America's Founding Fathers.
The musical is both historically rooted and inescapably modern. Hamilton, an immigrant from the West Indies, became one of George Washington's most trusted advisors during the Revolutionary War. The score is a mixture of hip-hop, jazz, blues, rap, R&B and Broadway.
Hamilton is sure to be one of the toughest tickets in town, despite still being more than a year away from taking the stage.
The hit musical recently ransacked the Tony Awards, earning 11 trophies, including Best Musical.
"Just a few select people have been lucky enough to get tickets to the show on Broadway," Gray said, "so now that it's touring nationally, it will become a lot more accessible to people."
Those who purchase 2017-18 season passes and renew them for the 2018-19 season guarantee their spots for Hamilton's Oklahoma debut before tickets go on sale to the general public.
Gray said she expects OKC Broadway to be at or near full season subscriber capacity for the 2018-19 season via renewals before next season goes on sale.
Visit okcbroadway.com.
Print Headline: Stage presence, OKC Broadway unveils its 2017-18 season and promises Hamilton for 2018-19.