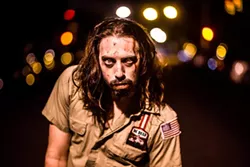 Things will get bloody this month as locals battle a zombie infection and try to save Oklahoma City from an apocalypse as part of OKC Dead. The show is Reduxion Theatre Company's season opener and runs Thursday-Oct. 31.
The interactive production, based on DC Dead, takes guests through Civic Center Music Hall as they solve puzzles and fight off hordes of mind munchers.
DC Dead, created by Oklahoma native and former Reduxion performer Rex Daugherty and Washington, D.C., artist Vaughn Irving, premiered last year on the East Coast. Daugherty adapted a local version for the theater company and Civic Center, said Erin Woods, Reduxion's cofounder and managing director.
"It's a raw, visceral theater that's really unexpected, that's immersive and interactive," Woods said. "When [Daugherty] approached us … we were like, 'This is … exactly what we're looking for.'"
Daugherty collaborated with Tyler Woods, Reduxion's artistic director, to tailor the performance for OKC.
The scripts for both are similar in that a disease that turns people into zombies runs rampant through the cities and survivors — aka audience members — must find a cure.
Every 20 minutes, groups of eight are led on their mission through Freede Little Theatre with an actor guide. Each performance lasts about 45 minutes. Along the way, survivors must avoid infection or risk transforming into patron-hunting undead.
"It's fun even if you're technically losing," Woods said. "You're still relevant and you're still participating. You're still deciding how the [story will end]."
Sister inspiration
Daugherty conceived Dead while planning his sister's bachelorette party, which involved an elaborate hoax about the fiancé's kidnapping, in 2013.
Daugherty and Irving brainstormed a storyline akin to The Walking Dead meets Sleep No More and added elements of audience participation.
Daugherty then approached Woods about the concept after his success with DC Dead.
"[Audience members] were excited to be in an event that was 45 minutes, and you got to make all of these decisions and solved puzzles," Woods said. "It was so overwhelmingly popular that they kept adding [performances] and making the night longer."
OKC Dead guests can find tickets and check in at a tent in the park just east of the Civic Center entrance. Included with admission is a white t-shirt and weaponry.
Visit okcciviccenter.com or call 297-2264 for more information.
Print Headline: Undead city, Reduxion Theatre Company's season opener has patrons fighting for their lives and for mankind.