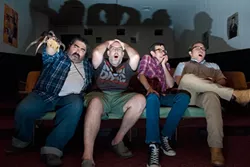 Following up on the success of last year's inaugural Horror Fest, the Oklahoma City Film Club is hosting another series of free horror-themed double features throughout the month of October.
The organization got its start in March of last year when local film enthusiast Alex Palmer, tired of watching movies by himself, set out to bring together like-minded film lovers for screenings and discussions of beloved films.
Over the next year, Palmer was joined by his friend Mitch Leisure, a lover of older movies, and local film critics Louis Fowler and Patrick Crain, who brought their knowledge of cult film.
Palmer said OKC Horror Fest is a fun way to reach new film lovers and celebrate the underappreciated.
"People watch horror films for the same reason they ride roller coasters; no other genre can make you scream, gasp and laugh more than horror," he said.
Palmer said that selecting the films that will be shown was the most fun part of the process, with each of the four members getting their own double feature to program.
"I would like to say there is some formal process, but it really just consists of us bouncing ideas off one another, arguing like film geeks and then coming to a consensus," he said. "The one thing we did try to do was pick one film people want to see and one film we want people to see."
The Wednesday, Oct. 15, lineup features a classic and modern take on Italian giallo (crime/mystery) films with The Bird with the Crystal Plumage and Amer. The screenings begin at 6 p.m. at The Paramount OKC, 7 N. Lee Ave.
Palmer anticipates plenty of audience participation at Saturday's presentation of The Rocky Horror Picture Show at District House, 1755 NW 16th St., which starts at 8 p.m.
"We're showing it with the little-seen companion piece Shock Treatment, which is a very different kind of horror show," Palmer said.
Tuesday's double feature starts at 7 p.m. and will include the 1980 slasher classic Prom Night, starring Leslie Nielsen and Jamie Lee Curtis, and The Loved Ones, which Palmer caught at South by Southwest's U.S. premiere in 2010.
There will be a prize giveaway that night for whomever brings the "best" high school prom photo.
Beetlejuice will screen outside at sunset Oct. 17 on the west side of the Paramount building.
"We've been wanting to do an outdoor screening for a while and felt that Beetlejuice is just the right mix of horror and comedy that'll play well in a festival setting," Palmer said.
The alien slugs double feature at 6 p.m. on Oct. 29 will include the horror comedy Slither from Guardians of the Galaxy director James Gunn paired with its thematic precursor, Night of the Creeps.
The monthlong OKC Horror Fest will end with an all-night movie marathon on Halloween, kicking off at 8 p.m. at District House. While the lineup is being kept secret, Palmer said that everything from horror-comedy to Italian gore and everything in between will be represented.
Headline: Horror express,The OKC Film Club offers the chance to see a variety of horror films this month.