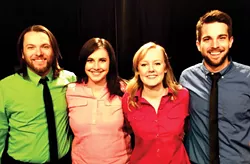 OKC Improv rings in the holidays with laughter at its annual Festivus celebration, now in its third year. The two nights of performances will showcase a variety of local improv comedy groups.
Friday night will feature the high-energy physical comedy of Smack Smack Sniff, political satire from Red State Blue State, 400 years of accumulated wit of The Artful Codgers and Heel Turn, whose deft scene work earned them stage time at the Chicago Improv Festival earlier this year.
This weekend also marks OKC Improv's fifth anniversary.
Managing Director Sue Ellen Reiman is proud of the scene that has been built in conjunction with hundreds of performers and students in dozens of groups, all putting their own unique spin on this impromptu art form.
Reiman said that the biggest surprise has been the generosity of the improv community, whose work on stage and off has powered the local scene.
"It's impressive how much time and effort they have all given," Reiman said. "Several of our performers and students are now teaching their own classes, both with OKC Improv and independently. More improv creates better skills and more variety in everyone's work." One of OKC Improv's longest-standing goals was realized this year when the organization was finally granted 501(c)(3) nonprofit status from the IRS.
After years of waiting in bureaucratic purgatory, Reiman finally received an acceptance letter this spring. Before they could celebrate, a second letter followed hours later, revoking the status on a paperwork technicality.
Reiman quickly submitted the requested documents. After more months of waiting, she discovered that her efforts had been successful; the status had been reinstated, but the IRS never bothered to notify OKC Improv.
Having successfully navigated the labyrinthine process, OKC Improv is now able to accept tax-deductible donations and apply for grants that will dramatically increase the scope of what it can do, including more public performances, doing more classes and workshops in local schools and eventually opening its own venue.
While Reiman is responsible for the day-to-day running of OKC Improv, she still takes great pleasure in the work she does on stage.
"As many other players will tell you," Reiman said, "it's incredible satisfying to work with a group of friends in front of a thoroughly entertained audience and create a temporary, but beautiful, piece of performance art."
Print headline: For the rest of us, The third installment of OKC Improv's annual Winter Festivus will have you laughing like a bowl full of jelly.