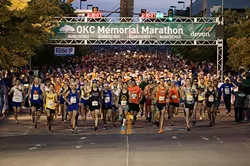 Oklahoma City Memorial Marathon / provided / file
Runners take off from the starting line of the 2016 Oklahoma City Memorial Marathon.
When the Oklahoma City Memorial Marathon begins its 26.2-mile winding path through the city, it is with a great sense of purpose.
The Run to Remember is a chance to reflect on tragedy, but it's also a show of strength. For Penny Voss, who was part of that first group of 3,500 runners in April 2001, a personal commitment to a lost friend kept her pushing forward.
"I actually had a sorority sister who was killed in the bombing, and she was six months pregnant," said Voss, who has participated in every OKC Memorial Marathon. "She was a few years younger than me, but I was an adviser and had known her well. So there was that issue, too; doing it for the right reasons."
At 6:30 a.m. Sunday, a projected 25,000 runners will line up between NW Fifth and Sixth streets on Harvey Avenue. Other events include a 6:25 a.m. wheelchair division, a 6:45 a.m. 5,000-meter race and an 8:15 a.m. kids run.
The event has expanded greatly since its beginnings, drawing runners from all 50 states and 12 countries. Kari Watkins, Oklahoma City National Memorial & Museum executive director, said it presents a continuous challenge for organizers, but the outcome is richly rewarding.
"It is an enormous undertaking," Watkins said. "It takes about 100 critical volunteers, and they each have dozens of volunteers that work for them. Next week, we'll have over 3,500 volunteers. … We're very interested in bringing along the next generation of runners, just like we do in the museum, who weren't born at the time of the bombing."
As the Run to Remember, the OKC marathon serves as a reminder of the 168 people killed in the April 19, 1995, terrorist bombing of the Alfred P. Murrah Federal Building.
Five years after the attack, businessmen Chet Collier and Thomas Hill were running through downtown Oklahoma City and talking about the need for a marathon in their hometown. Hill (who served as the event's president for 12 years) and Collier drafted a proposal for a full marathon that could serve as a reminder and as a Oklahoma City National Memorial & Museum fundraiser.
"Oklahoma City as a whole has embraced the race, from the mayor to the city council, the police, fire, EMSA and the medical community," Watkins said.
Voss, Oklahoma Medical Research Foundation vice president of development, said the event launched at the right time. After college, she worked hard to stay in shape, teaching aerobics and maintaining a regular exercise regimen. But after her children were born, Voss found it increasingly difficult to juggle work, fitness and parenting.
She started running because it could be done before her kids woke up every morning, and she ran solo most mornings for about four years, unwittingly training for a longtime commitment.
In the late 1990s, a friend invited her to run in a half-marathon, which introduced a competitive edge to her regimen. In 2000, she and fellow runners were looking for a nearby marathon when Oklahoma City National Memorial announced its event.
From there, the Run to Remember became an annual event for Voss, too.
"I think when we got to number five, that's when Kari and the committee started sending us emails encouraging us, saying, 'If you make it 10, you'll never have to pay an entry fee again.' It just made it fun," said Voss, who has run in 28 of the long-distance races. "It's the only marathon I train for now. I probably wouldn't be running marathons still if it weren't for this marathon."
Sister cities
Last week, Watkins traveled to Massachusetts to observe preparations for the 2017 Boston Marathon, an annual run founded in 1897, a time when exercise was not widely seen as an essential component of health. She stood with several Oklahomans at the Logan International Airport who were excited to run in the time-honored event. They also were excited about returning to run in their hometown marathon.
Watkins said the organizers of both races have formed a special bond since the April 15, 2013 Boston Marathon bombings, which killed three people.
"We share a lot of commonalities, especially now after their bombing. We've started to help each other, and they've taken us under their wing and taught us what they know," she said. "We've been sponges, just soaking up what they know and what they're doing."
The Boston Marathon has a 120-year history, and Watkins is laying the groundwork for the OKC Memorial Marathon's future. She said there will always be a need for the marathon, which raises funds and awareness for the memorial and museum to continue its mission to educate visitors about the dangers of domestic terrorism.
To learn more, register, support a runner, donate or find fan spectator locations, visit okcmarathon.com.
print headline: Enduring tribute, OKC Memorial Marathon imbues competitive running with a sense of mission.