Wendy Mutz 405/47680777
Discovery Family Series pre=performance activities include an instrument playground where children can learn about and play them. | Photo Wendy Mutz / Oklahoma City Philharmonic / provided
Sometimes live music can be uninteresting to young concertgoers. Oklahoma City Philharmonic's Family Discovery Series introduces children to quality music in a new way.
"We want to create a wholesome experience around great music for the whole family," said Susan Webb, Oklahoma City Philharmonic marketing and communications director.
To that end, OKC Phil launches its final Discovery Family Series concert of the season, Machines, Motors and Music, 2 p.m. Sunday at Civic Center Music Hall, 201 N. Walker Ave. Special activities begin at 1 p.m. in the lobby.
"There is a feeling you get in your soul when you hear a wonderful piece of music, and we want to share that with young people and their families," Webb said.
Machines, Motors and Music takes its audience through a rollicking roster of tunes including George Gershwin's "An American in Paris," Leroy Anderson's "The Typewriter," The Beatles' "Yellow Submarine," Ludwig van Beethoven's Symphony No. 5 in C minor and more. The show is conducted by Matthew Troy, education conductor, whose love of music began when he was 11 years old and began playing viola.
The Discovery Family Series is designed for families and children ages 4-13. For an hour before the show, beginning at 1 p.m., ticketholders also are invited to play in the center's lobby.
OKC Phil's fundraising and volunteer organization, the Orchestra League, offers an "instrument playground" allowing kids to learn about and try some of the instruments they will see on stage. Trained docents are on hand to show kids how to play them.
"The theme Machines, Motors and Music is designed to appeal to everyone — boys, girls, moms and dads," Webb said.
Other pre-performance activities include visiting Conductor's Corner and a meet-and-greet with performers. Throughout this season's Discovery series, OKC Phil has brought in community and educational partners — Oklahoma City Zoological Park and Botanical Garden, SixTwelve, Oklahoma City Museum of Art and others — to add to guests' experiences.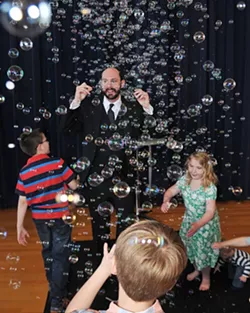 Matthew Troy will conduct Sunday's Machines, Motors and Music. | Photo Oklahoma City Philharmonic / provided
Learning programs
OKC Phil offers a varied slate of educational opportunities and resources for budding performers and music lovers of all ages.
The philharmonic offers two Youth Concerts for students each year, and select rehearsals are open and available to students and teachers by reservation.
The Musical Stories program entertains youths in hospitals, Link Up connects students to Carnegie Hall in New York City and the Music Resource Guide offers information for young musicians.
OKC Phil has deep roots in the community and has evolved through many incarnations, beginning in 1924. Webb said the Oklahoma Philharmonic Society came to life in 1988.
Tickets to Sunday's performance are $9. For $18 more, patrons can become members of the Kid's Club.
Members receive a T-shirt, a gift at each performance, a birthday card, a quarterly newsletter and a membership card.
Visit okcphil.org.
Print headline: Tuned engines, OKC Phil presents Machines, Motors and Music as part of its Discovery Family Series.