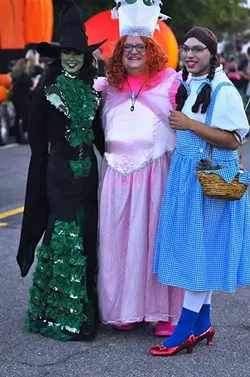 All Hallows' Eve, with all its spectacular campiness, is the perfect time to make a trip to 39th Street to join OKC Pride's Treats and Tricks Halloween Block Party.
Northwest 39th Street between Pennsylvania and Barnes avenues will be closed to traffic, allowing revelers safe and easy access to the event, which features live music, food trucks, family-friendly activities, drinks, costume contests and live music.
Garett Fisbeck
Michael Clark
"We hope everyone will come out and join us in our newest tradition in what has come to be known as the Gay National Holiday: Halloween … We want everyone to get dressed up and head out to the strip, and bring your friends," said Michael Clark, OKC Pride board president. "Anyone who has attended OKC Pride's annual festivals, concerts, block parties or parades knows that we put on the biggest and best party in the city."
OKC Pride is in its 28th year as a grassroots voice for the LGBTQ community. Clark said it focuses on awareness, outreach, health and education. This is the second year it has held the Treats and Tricks block party.
"OKC Pride represents a huge and diverse community in the state of Oklahoma," Clark said. "Our members are business owners, professionals, educators, artists, health care workers, parents, young and old alike. We are most proud of our recent outreach efforts to LGBTQ youth groups to let them know they are accepted and welcome in the Oklahoma City community by thousands of others just like themselves."
In recent years, Pride has taken what were once rather decadent events like the annual OKC Pride Parade and transformed them into more family-friendly celebrations. This year's June parade drew 40,000 spectators, Clark said, making it one of the largest privately run events in Oklahoma City.
"For next summer's event, we are now in talks with the legendary band Queen, fronted by Adam Lambert," Clark said. "It is all still very 'iffy' and depends on scheduling, but we are hopeful it will work out."
The Treats and Tricks party on 39th Street is free and open to the entire Oklahoma City community. It is geared toward adults, but The WreckRoom is open to guests age 16 and older.
"This year, we expect a large crowd and have arranged contingencies for weather," Clark said.
Parking will be available at Angles, Tramps, The Boom and Habana Inn, and each venue also will host late-night Halloween events in conjunction with the block party.
Print Headline: Street treats, OKC Pride's Treats and Tricks Halloween Block Party returns for its second year along the 39th Street strip.