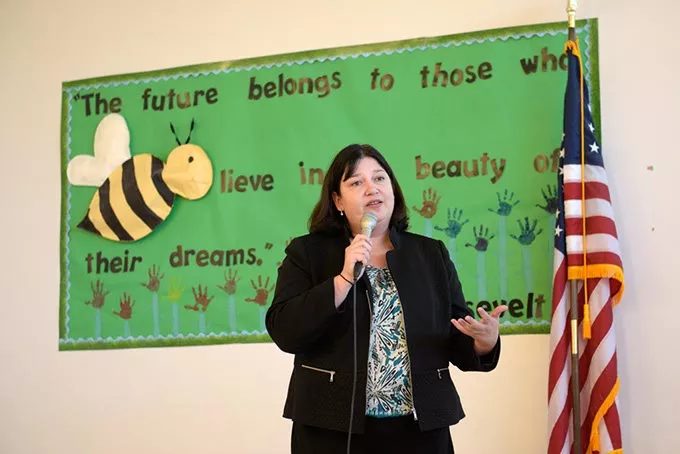 Garett Fisbeck
Aurora Lora speaks during a public meeting at Andrew Johnson Elementary, Thursday, March 23, 2017.
It could end where it all began for David R. Lopez Community School at Edgemere Elementary.
About three years ago, the Oklahoma City Public Schools Board of Education approved a pilot community school program for Edgemere. Nonprofit group Friends of Edgemere School advocated for the effort to address urban education challenges.
Through established community partnerships, the community schools model works to combat barriers, often poverty-related, that Edgemere students carry into classrooms. With basic needs met, students are more motivated to learn.
"The teachers are very positive and invested in the kids. It's a happy learning environment," said Elizabeth Risch, Friends of Edgemere president, the parent of two Edgemere students and weekly volunteer reading buddy. "There is a better relationship, more trust between the families and the school. … We are all collaborating to help the children succeed."
A day after Oklahoma City Public Schools (OKCPS) officials presented a preliminary plan before the school board that suggested shuttering Edgemere and other schools in an effort to save money, Risch fielded calls from parents, neighbors, community members and others asking what they could do to help.
The community overwhelmingly responded against the school's closure, created an online petition, suggested donation drives and encouraged attendance at a community meeting.
As the district's piloted five-year community school program, many believed that if the program yielded successful outcomes, it would be replicated at other schools.
"Even in a financial crisis, where there is a focus on damage control, we need to keep one eye on the future as to how we actually improve schools," Risch said. "We don't want to shut down an example of what could guide the future of public schools."
Plan introduced
Oklahoma City is embarking upon a conversation that could potentially end with a drastic shake-up of its public schools. Earlier this month, district officials presented a preliminary plan to consolidate schools and grades, potentially impacting nearly half of the district's 72 building sites.
The initiative, introduced by OKCPS chief of staff Rebecca Kaye, calls for shrinking the district by five schools through consolidation — a move that is projected to save $1.2 million.
The five schools are all viewed as small schools with enrollment fewer than 300 students.
Further, the district is considering changes at the middle school level by adding upper elementary grades to Rogers Middle and Taft Middle schools and converting Northeast Academy for Health Sciences and Engineering Enterprise from a mid-high magnet school into a middle school.
In a time of lagging state revenues, district officials like Kaye and OKCPS Superintendent Aurora Lora expounded the Preliminary School Consolidation Recommendations and Community Engagement Plan as the first wave of cuts stemming from Oklahoma State Capitol decisions and state lawmakers wrestling with a third consecutive year of significant budget shortfalls.
The state budget faces a nearly $900 million shortfall for the 2018 fiscal year, which begins July 1.
Last year, OKCPS leaders cut $30 million from the district budget by eliminating more than 200 teacher and staff jobs, ending some extra curricular activities, holding off on textbook purchases, reducing fine arts budgets, eliminating library book purchases and altering bus services.
The $30 million figure represents cuts from the state and federal government.
"We are looking at more systemic changes because we've run out of easy things to cut," Lora said last week. "Now, we have to look at changes in grade configurations and school closures for small schools."
Lora said the district could lose as much as $16 million with state funding cuts and it's unknown how the federal budget might affect the district.
For the district's 2016-17 general fund, state funding accounted for 53.6 percent followed by local funding at 27 percent and federal at 14 percent.
District questions
Lingering questions remain about the district's plan, which Lora said could alter between now and the April 6 meeting when board members are expected to vote. Board member Carrie Coppernoll Jacobs questioned many issues revolving around the plan as she spoke to district officials at the March 20 board meeting, when the plan was formally unveiled.
Her questions included the number of staff eliminated, impact on transportation and maintenance as well as the effects on students enrolled in individualized education programs (IEPs) or special education programs.
Those questions have yet to be answered publicly.
Andrew Johnson Elementary School parent Laci Perez had similar questions written on a notepad as she arrived to the first district-sponsored public meeting.
The pre-kindergarten through sixth-grade school serves students living in The Village and accepts in-district transfers for its special needs program. If it closes, it's unclear where the school's special needs students and their teachers would go.
"We are concerned about the teachers. Each one of them means so much to my family. Where are they going to go? What will happen to them?" Perez asked. "We don't want to lose anybody. … These kids don't want to lose their schools."
By nature, school closures are deeply unpopular among students, parents and communities.
The strength of a neighborhood is very often tied to its school, which can be its hub of activity. A vacant building can lure vandalism and drive down property values.
Across the nation, critics have agreed school closures tend to disproportionately affect low-income students and students of color.
The American Civil Liberties Union (ACLU) of Oklahoma also has raised similar concerns.
Under the proposal, all elementary schools, excluding Willow Brook, in District 5 would be reorganized and Green Pastures and FD Moon elementary schools closed.
District 5 represents the northeast section of Oklahoma City and Spencer, where the city's largest African-American populations live.
Northwest OKC's Gatewood Elementary School is the fifth school listed for closure under the plan.
District officials are asking the eight-member school board to vote on the consolidation plan 17 days after it was unveiled.
Both Kaye and Lora emphasized the quick turnaround for upholding terms established in teacher and staff contracts. Should the board reject the plan, officials have time to prepare a second proposal. Lora warned that proposal would include massive layoffs and larger class sizes, examining district vendor contracts and dipping into the district's fund balance.
"It will ultimately be a board decision," Lora said. "We have to figure out how to make the budget balance, whether it is [the consolidation plan] or looking at increasing class sizes or cutting more materials, books and athletics."
Regardless, balancing the budget, either by slashing positions or closing schools, will impact schools and their students for generations.
Parents and community members like Risch and Perez wish to stress to the board the importance of understanding how the school plays a role in students' lives.
"Our concerns are the same," Perez said. "I am sure at all the schools the parents are saying the same thing. The fact is, this is a small school. The fact is, I have seen my child flourish. We have concerns about the special needs program and the inconvenience and displacement of children. … It's disheartening to me."
---
At a glance
The Oklahoma City Public Schools Preliminary Consolidation Recommendations and Community Engagement Plan is estimated to save the district $1.2 million.
• Edgemere, Gatewood, Green Pastures, Andrew Johnson and FD Moon elementary schools would close. The district would reassign students to neighboring schools.
• Northeast Academy for Health Sciences and Engineering Enterprise would transition into a middle school serving fifth- through eighth-graders in the Douglass feeder pattern. Fifth- and sixth-grade students from Edgemere, Edwards, Martin Luther King Jr., FD Moon and Thelma R. Parks elementaries would attend Northeast Middle School.
• Taft Middle School would add sixth grade, eliminating sixth-grade classes at Cleveland, Eugene Field, Gatewood, Hawthorne, Linwood, Putnam Heights and Sequoyah elementaries.
• Rogers Middle School would add fifth and sixth grades, eliminating upper grades at Green Pastures, Spencer, Telstar and Willow Brook schools.
• Stand Watie Elementary School would serve students in pre-kindergarten to fifth grades. Sixth-graders would attend Roosevelt Middle School.
---
Plan timeline
• March 20: Plan presented to Oklahoma City Public Schools Board of Education. • March 23-29: District hosts informational community meetings. • March 30: The school board is expected to discuss the plan at its regular meeting. • April 6: The school board could call the plan to a vote at a specially called board meeting.
---
Print headline: Tough decisions; The state's largest school district eyes a consolidation plan that would drastically affect students and the community.