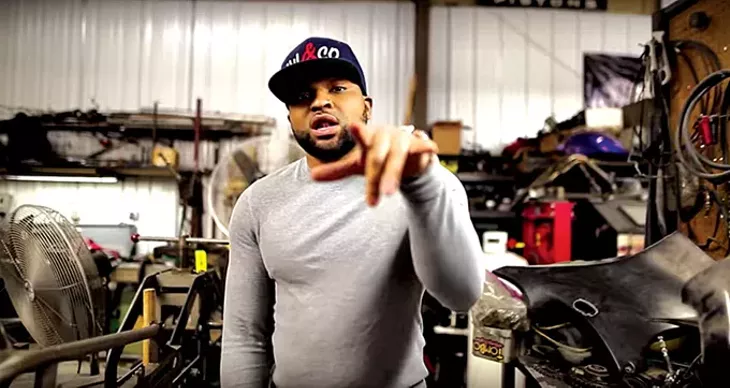 Photo provided
J French
J French has never been a rapper afraid of a little self-promotion. And why should he be? He has a lot to promote.
Those who follow Oklahoma City's hip-hop scene know things have been coming up rosy for Jamal French, son of Burning Spear percussionist Brother Num and cousin to Kanye West — perhaps the self-perfected master of the kind of empowering egoism that also turns up in the lyrics of J French and across the history of hip-hop music.
Since releasing his sophomore full-length album OGB (Only Gets Better) in January, French has been on a tear. He recently secured a March 17 headlining appearance at Tower Theatre's local hip-hop showcase. His OGB single "Different Ain't Different" was recently played on Ebro Darden's Beats 1 Radio program.
J French has risen to prominence primarily on the back of his obvious talent. Not all — or even most — rappers have the discerning ear of a trained musician. French does; and while that's not necessarily the quintessential indicator of good hip-hop, it does help the emcee stick out in an era saturated with endless mixtape artists.
But a keen ear and respect for the basic principles of music theory isn't enough on its own. Talent needs determination, which takes us to album-opening "Drive." French kicks off OGB by waving off the advice and encouragement of others. Over dark, looping keys and some rattling 808s, the emcee raps that he has always been driven for success, never lacking in self-confidence. He couples his time-honed technical flows with a healthy dose of braggadocio, which listeners will recognize as a trend over the rest of the album's runtime.
"Flowers" might represent the best version of J French, one that puts subtly aggressive vocals over softer, jazzy instrumentals. There is a more menacing beat switch in the middle of the song, which sounds good, but the front half is such a welcome change of pace for French that it would have been nice to hear him more fully explore a more delicate style of rap song.
Image provided
OGB
On "Westside," French tosses in several lyrical nods to his cousin West, repeating some famous lines from songs like "Heard 'Em Say" and "No More Parties in LA." Repeatedly — not just on this song but across the album — several parallels can be drawn between French and West, particularly the so-called "old Kanye," who first made a name by repopularizing and perfecting smooth, soul-music samples in his production.
The middle of the album is where listeners will get the most use out of their repeat buttons. "Zonin" features a fun and infectious chorus by Zilla and "Different Ain't Different" wows as an anthem for originality and a pitying of the culture's blind followers. OGB concludes with "God Given," which lets the beat ride out over the timeless "step up" funk sample from 1974's "Bumpin' Bus Stop." Coincidentally, a different sample from the same song was used on West's biggest hit "Gold Digger."
The talent and craftsmanship on OGB is undeniable. If French had a full studio budget behind him, there is no limit to the potential he could reach. Still, the album is called "Only Gets Better," not "Already Peaked." OGB is an exciting starting point, but French's music will only improve as he begins to refine his distinct point of view. People have made many criticisms of West in the past, but his style is very unique. The listener definitely knows when a Kanye song is on. French's music is unquestionably good, and over time, he should be able to develop his own memorable style and perspective.
Visit jfrenchforever.com.
Print headline: French class; OKC rapper J French uses his new album OGB as a lesson in hip-hop craftsmanship.