Casey Cornett / provided
Mick Cornett, former mayor of Oklahoma City, published The Next American City with Jayson White in September.
Mick Cornett beams amiability. In press conferences, in official city functions or while puttering around The Paseo Arts District, he projects likability. Within the bubble of Oklahoma City, many from both sides of the political divide viewed his ascension from mayor to governor as guaranteed, even destined. Cornett's new book, The Next American City: The Big Promise of Our Midsize Metros, hit bookstores just in time for the gubernatorial election as an optimistic and enthusiastic treatise on the benefits of revenue-savvy Republicanism in midsize metros as opposed to tax-averse conservatism that dominates the political right. In tone and timing, the book serves as an approachable representation of his agenda platform to Republicans who live outside the OKC metro and might be suspect of Cornett's conservative credentials.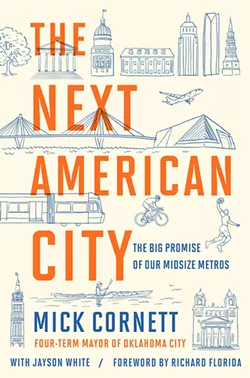 Casey Cornett / provided
Mick Cornett, former mayor of Oklahoma City, published The Next American City with Jayson White in September.
Unfortunately for the author and the G. P. Putnam's Sons publishing company, Cornett was denied his destiny when he lost in the primaries back in August.
In another interesting bit of happenstance, the release comes in the wake of Sam Anderson's Boom Town: The Fantastical Saga of Oklahoma City, Its Chaotic Founding… Its Purloined Basketball Team, and the Dream of Becoming a World-Class Metropolis, a thrilling rundown of OKC's historical highlights from pre-Land Run era to modern day, all as an extended explanation of one of the most infamous trades in NBA history.
Both books present OKC as an idea. One is an extended political speech full of affable and down-homey stories of bootstrap successes resulting from eager handshakes between motivated leadership and civic government. The other is an outsider's exploration of the state's unlikely fortunes, a series of boom-and-bust cycles egged on by the citizenry's manic obsession with growth at all costs.
Who does the job better, the rosy rearview of OKC's rise from the ashes of oil busts and terrorism or the whimsical account of 129 years of psychedelic chaos and confetti guns with generous splashes of Thunder orange and blue? Of course, the book that tells the better stories.
Jeff Bark / provided
Sam Anderson published Boom Town in August.
Anderson portrayed a state seemingly populated by only towering and impossible characters, but Cornett's reads as a flat missed opportunity rushed to print to align with the political campaign that wasn't meant to be. Cornett fails to make the case for midsize cities being the future of America or cast himself as an "Aw, shucks! Can you believe those fat cats up in Washington?" legit conservative.
That's a true shame because he does have a compelling story to tell, not just about his rise from cut-up sportscaster to genial mayor, but about how OKC is amongst a rank of middle-tier markets sprouting up above flyover country to lure major corporations and innovative professionals away from the traditional hubs. There are some high points that really communicate the unique sunshine optimism of Cornett, like, "When Oklahoma City plays your city on the basketball court or the baseball field, just know that while I might not be rooting for your team, I am certainly cheering for your city."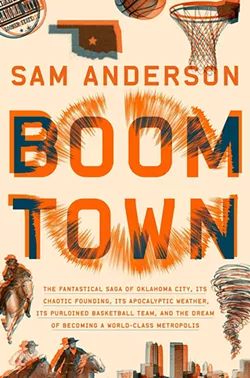 Jeff Bark / provided
Sam Anderson published Boom Town in August.
But those moments are muffled by winking anti-ivory towerism, most notably in his reference to Queen Elizabeth's take on the "Rome wasn't built in a day" adage.
"I don't know much about the circumstances of her address or why she quoted this grand idea from playwrights and proverbs…" he wrote, as if he simply didn't have time to pursue the matter beyond a hurried skim of the Wikipedia page.
This resistance to being caught up in the details Cornett and his co-writer Jayson White proclaim to be experts of seemed to result from indecision on the book's intended audience. It's not wonkish enough to appeal to history and civic buffs nor colorful enough to appeal to pedestrian political readers. That lack of clarity has doomed The Next American City to the only-read-the-first-couple-chapters stack on even his most ardent supporters' bookshelves.
The primary failing of The Next American City is there was rarely any significant character work, and characters are the central component of any good story. When Cornett does forget he's making a thinly disguised political speech and instead talks about the people he knows personally who've worked on good policy — Christy Counts walking away from a life of privilege to devote herself to the Central Oklahoma Humane Society and Mike Knopp looking out across the dead Oklahoma River and somehow seeing a future hotspot for competitive rowing — the book begins to finally feel vital. It's enough to hope that maybe Cornett will take a second swing at telling his Oklahoma City story from a more personal perspective.
He does scratch a little deeper on policy in a few places, such as his recounting of Oklahoma's crippling struggle with brain drain, his laying out the underdog story of the MAPS initiatives and tracing his own line from a penny sales tax through the Alfred P. Murrah Federal Building bombing and on into our current climate of expansion. Then, in the very last chapter, Cornett finally reveals his own compelling path from to the mayor's office including a beautiful encounter with a delivery guy/lifelong fan that changed Cornett's entire trajectory. In an astonishing lapse in basic editing, Cornett and White managed to bury the lead by 200 pages.
Back in Boom Town, Anderson is skillfully sculpting the characters of severe weather sage Gary England and Thunder point predator Russell Westbrook who Shea Serrano once accused of injecting wolverine blood before then accusing wolverines of injecting Russell Westbrook blood. Anderson's own take on Westbrook is as a mythological figure, a towering and misunderstood athlete that chases his destiny with an unswerving and inhuman ferocity, a chaotic force of nature within a state that prides itself with its snug proximity to both chaos and forces of nature.
True, we lost Kevin Durant, a champion and idealization of the 21st-century shooting big man. But we retained Westbrook, a legend, a 6-foot-3-inch army of one as beautiful and terrifying as anything our Oklahoma skies have ever birthed.
Rather than writing a sanitized civic tour of OKC, as Cornett did, Anderson presents a city through multiple perspectives such as Jabee's east side advocacy and Wayne Coyne's magical carpet ride through the paint-splattered 16th Street Plaza District. It is Anderson falling in love with OKC through the stories of its people.
Cornett is enough of a man of the people that he has surely heard these stories too, and if he tries his hand at another book, hopefully he will focus less on political expediency and more on his personal accounts of the city and its citizens.
Visit penguinrandomhouse.com.