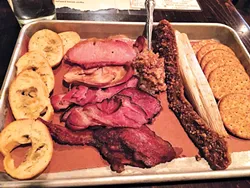 Photo Jacob Threadgill
The bacon sampler includes eight versions of smoked pork, including bacon jam.
Bacon and eggs is the quintessential American breakfast — so much so that it is advertised as such when traveling overseas. Over the last decade, fueled by the popularity of carb-averse diets like Atkins and dropping pork prices, bacon has found its way into ancillary products like bacon vodka and bacon mints.
All-bacon restaurants have popped up in a few cities to capitalize on the craze, but the trend missed Oklahoma City until early last year, when Sean and Cathy Cummings opened Bacon, 7523 N. May Ave., which shares an entrance with the couple's other restaurant, Vito's Ristorante. After the couple closed a restaurant that previously used the space in 2016, they continued to use the bar for Vito's special events, where Sean Cummings and friends began to experiment with different variations of their own bacon.
"We'd go through all of these recipes together, and finally, I thought, 'I can make a menu out of these,'" Sean Cummings said. "Right now, there are so many restaurants in Oklahoma City that you have to do something different to stand out."
The concept certainly does make it stand out, and it's one that has piqued my curiosity for some time, but when I went for my maiden voyage to the land of bacon, I couldn't find the restaurant. Google maps told me I had arrived at its location in Lakeside Shops, but I didn't see a sign along with the other stores in the strip.
I called, and Cummings told me that they had the world's worst signage. A construction company made it so that a new placard can't be placed alongside other storefronts. He advised me to go to Vito's and then veer right for the blue door.
"When you get to the door, you'll see there is 'bacon' written everywhere, but it's not up on the top part, where it needs to be," he said.
Once inside, the décor is warm but the restaurant is dimly lit. Artful takes on pig diagrams line the walls, and I'm ready to get my fill of cured meats. I spent all weekend eating salads in preparation for the review.
I order a bacon sampler ($12), which includes eight of what Cummings said is a possible 20 varieties of bacon. The appetizer arrived full of sizzling meats that included Canadian bacon, Irish bacon (pork loin), shoulder bacon, bacon jam, jowl bacon, Kentucky bacon sausage and dessert bacon that is served cold with brown sugar and pecans.
Photo Jacob Threadgill
A salted caramel ice cream is enhanced with crunchy, brown sugar-covered pieces of bacon.
The jowl bacon is what I was expecting from the restaurant. You might be more familiar with the Italian preparation of guanciale, but it's crispy and deep-flavored like the average American "streaky" bacon but — to borrow a phrase from This Is Spinal Tap — turned up to 11.
Its Canadian bacon puts the store-bought version to shame, and the Irish bacon delivers a subtler take on smoked pork. The Kentucky sausage is a take on an ancient Irish sausage that combines rolled oats with meat. Cummings serves it with smoked jalapeños, bacon and onion held together by a cornhusk.
My favorite from the sampler was actually the bacon jam, which Cummings said was inspired by Indian chutney but substitutes the vegetable base for chopped-up bacon. It's equal parts sweet and vinegary, and it benefits from a richness of cooked-down coffee, which Cummings said is the secret ingredient.
My entrée was a burger with a patty of half ground beef and half ground bacon ($9) topped with a Mexican green chili sauce that is filled with chunks of shoulder bacon. Cummings said the idea for the green chili burger concept came from a visit to Frank & Lola's in Bartlesville.
The tartness of the tomatillo-based green chili sauce cut through the grease of the burger. I wasn't sure if the bacon would translate in the patty, but the smokiness makes it stand out. The presentation was awe-inspiring, but it was somewhat clumsy to eat. I used a knife and fork to rein in a soggy bottom bun. As good as the chili was, especially with a healthy dose of smoky cumin, I'm not sure it benefitted from the shoulder bacon, which wasn't crispy and tasted like ham with less salt.
I also tried the bacon, spinach and chicken lasagna ($14). Served in a garlic cream sauce, the six-layer lasagna had good core ingredients, but I only found three to four small pieces of spinach and the chunks of chicken breast made for uneven bite consistency. I think it would be better if the chicken was braised or slow-cooked so it would be pulled and spread evenly throughout.
I finished the meal with a serving of bacon ice cream ($7), which is housemade salted caramel cream finished with bits of bacon that have been covered in brown sugar to make sure they retain their crunch. I was expecting sad bits of chewy bacon in the ice cream, but the texture elevates it to a treat that will linger in my memory.
Bacon also offers several bacon-infused cocktails, including a bloody mary, Old-Fashioned, margarita and martini (all $7). It recently expanded to a full weekend brunch in which the salted meat is in more comfortable territory, especially as a topper to eggs Benedict, which Cummings said accounts for 65 percent of its orders.
As much as bacon maniacs want to elevate the smoked meat from supporting player to entrée star, I can't help but think of it as Jason Alexander. I consider it an injustice that Alexander never won an Emmy for his portrayal of George Costanza, perpetually losing the best supporting actor award to Frasier's David Hyde Pierce or his Seinfeld co-star Michael Richards. Alexander is a better Larry David (who served as the model for Costanza) than Larry David (on Curb Your Enthusiasm), but his career has floundered when talent does not surround him.
My favorite bites of the meal were the bacon jam and ice cream, where sweet and salty merge, only further strengthening bacon's case as food's best supporting actor.
Print headline: Craze conundrum; OKC restaurant Bacon delivers a high-quality product, but is it trying to elevate a complementary ingredient?