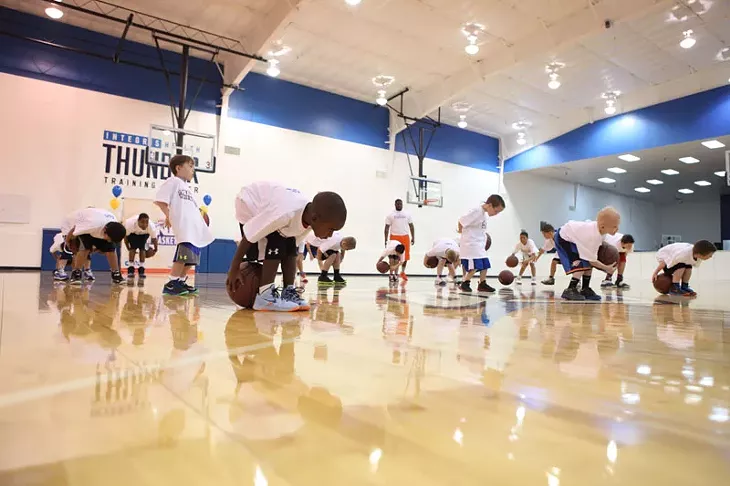 Youth participate in a camp hosted by the OKC Thunder. Photo provided
Youngsters can hone their basketball skills during one of 10 youth basketball camps offered by the Oklahoma City Thunder this summer.
School's almost out, and the NBA playoffs are heating up. Ready for some hoops? For all you would-be KDs and Westbrooks out there, the Oklahoma City Thunder will hold 10 youth basketball camps throughout the Oklahoma City metro and Tulsa this summer. In the program's fifth year, about 80-150 youth are expected to attend each camp, said Dan Mahoney, the team's vice president of corporate communications and community relations. "We reach into the community and find experienced coaches who know and understand the game but also understand what is necessary to work with children and teach them not only the fundamentals of the game but also the concepts of teamwork, hard work, dedication, resilience, good nutrition and other skills," he said. A new feature this year will be more focused instruction for participants at varying age and skill levels. Thunder Youth Basketball junior camps are five-day camps designed to give participants ages 5-9 a positive, noncompetitive introduction to the fundamentals of the game during a shorter camp day (9 a.m.-noon). Thunder Youth Basketball camps are five-day camps for youth ages 10-16, full-day sessions (9 a.m.- 2:30 p.m.) that give campers the opportunity to hone their basketball skills beyond the basics. Flex camps are also available during the last week of May and the first week of August, giving families with children ages 5-16 the option of attending between one and five days of camp. All camps emphasize both development of basketball skills and the importance of life lessons such as sportsmanship and respect. Camp instructors are selected locally, Mahoney said. With busy schedules, the team never guarantees that Thunder players or coaches will appear, but in the past, team members have found time to attend, Mahoney said. The junior and flex camps will be held at the Thunder Community Events Center, 14701 N. Lincoln Blvd., the team's original training home for three seasons. Junior camps will be June 2-6, June 16-20, June 23-27, July 7-11 and July 28-Aug. 1. Flex camps will be May 27-30 and Aug. 4-8. Youth camps will be held at different venues across the state. The first is June 9-13 at the Santa Fe Family Life Center, 6300 N. Santa Fe Ave. The second is June 23-27 at Bishop Kelley High School, 3905 S. Hudson Ave., in Tulsa. The third is July 14-18 at Casady School, 9500 N. Pennsylvania Ave. And the final one is July 21-25 at Yukon High School, 1777 S. Yukon Pkwy., in Yukon. Each camp participant receives an Oklahoma City Thunder Youth Basketball T-shirt, a $10 Thunder Shop voucher and a basketball. Youth camp registry is $235, and junior camp costs $175. Season ticket holders and Thunder Kids Club members receive a 20 percent discount. To register and for more information, visit nba.com/thunder and follow the Community link.