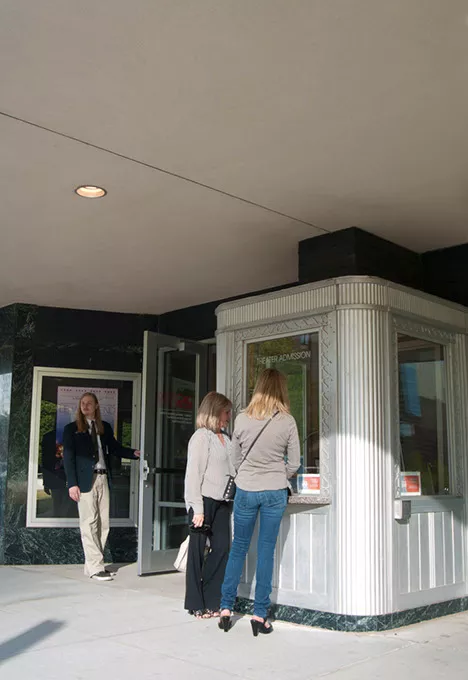 Women buy tickets for a film at the OKC Museum of Art last year. mh
Oklahoma City Museum of Art's film program has perhaps never been more popular, and now museum members have the option of engaging with screenings and special events on a new level.
In early March, the museum introduced its OKCMOA Film Society, a new level of museum membership specifically geared toward cinephiles.
The $40 membership upgrade gives participants exclusive access to filmmaker lectures, special events, curator-led discussions and giveaways.
The first Film Society event was a March 28 screening of 2008 drama Wendy and Lucy, followed by a Q&A with director Kelly Reichardt.
Reichardt's film Certain Women also screened at the museum in late 2016.
Future society screenings and events are limited to members only.
Museum director of marketing and communications Becky Weintz said the idea for the society sprouted from member feedback.
Many of the city's film faithful wanted deeper cinematic experiences.
"This is our effort to develop that community and give people more opportunities to talk and really engage with the films that we're showing," she said.
The museum has been planning its Film Society program launch for the last six months following a fall membership survey.
OKCMOA's film program has seen a lot of success this year.
Its annual screening series of Oscar-nominated shorts and features remains popular.
Presentations of I Am Not Your Negro, the documentary adaptation of an unfinished James Baldwin essay/memoir, saw multiple sold-out screenings, spurring OKCMOA to extend the film's run through March.
Weintz said it can be hard to predict which films will be the most popular.
"Word of mouth for a lot of those screenings — social media buzz and people telling other people and recommending it — that's always indicative of whether we'll have a sellout crowd," she said.
Specific Film Society events for 2017 are still being planned by curatorial staff. Weintz said they plan to host special events quarterly.
Admission to the events is free for society members.
Beyond access to these events and screenings, membership benefits will include two free film ticket vouchers, opportunities to give input in some Film Society programming, entry into movie poster giveaways and access to member-only drink specials.
For now, Film Society membership is limited to museum members only. Individual museum memberships start at $50.
Through Saturday, OKCMOA presents a special, open to the public film series featuring classic Japanese directors Akira Kurosawa and Kenji Mizoguchi.
Thursday features a showing of 1954's Seven Samurai, and Friday features 1950's Rashomon and 1954's Sansho the Bailiff. Throne of Blood (1957) and Ugetsu (1953) screen Saturday.
The series ties in with the museum's exhibition After the Floating World: The Enduring Art of Japanese Woodprints, open through May 14.
Visit okcmoa.com.
Print headline:
Big picture,
Oklahoma City Museum of Art offers film lovers new levels of access.