Garett Fisbeck
Ferris in the Wheeler District in Oklahoma City, Wednesday, July 13, 2016.
The first public image of the new Wheeler District development is its Ferris wheel. And that's by design.
"Ultimately, we are going to create … a place with an identity. And it's going to be a place that celebrates life in the city," developer Blair Humphreys said. "That's why the Ferris wheel is there."
Originally, the Ferris wheel was to be in the geographic center of the development that was once Downtown Airpark. It runs from the Oklahoma River to SW 20th Street and west of S. Western to S. Douglas avenues. But after some interaction with locals and potential stakeholders, Humphreys decided to locate the attraction on Wheeler's far north end, surround it with Wheeler Riverfront Plaza and visually tie the development to the downtown Oklahoma City skyline.
"The Ferris wheel is in that location because it's the biggest statement we are making that Wheeler is not just about celebrating a neighborhood," Humphreys said. "Wheeler is about celebrating the city."
After a July 4 grand opening with more than 1,000 guests, it is now open Monday through Saturday. At more than 100 feet tall, there is no other competing structure within blocks. The ride and plaza also is a popular attraction day and night, in part because of 100,000 programmable LED lights and city views, organizers said. The site includes a food truck park, a snack stand, restrooms and a new parking lot.
Humphreys said he visits often to interact with visitors and learn more about what interests them.
"It has already created a lot of interest in Wheeler District," he said.
The Ferris wheel has a long history of drawing attention to a place. It previously resided in a California amusement park at the end of the Santa Monica Pier before a Humphreys family member bid on it — and won — on the eBay auction website in 2008. The iconic attraction has been featured in more than 20 Hollywood films, including an Iron Man movie. It now draws attention to OKC and the offerings that surround it.
"The reason I got the Ferris wheel is because my brother bought it on eBay," Humphreys said.
His brother, Grant, who works alongside Blair in Humphreys Company development firm with their father, former OKC Mayor Kirk Humphreys, paid $132,400 for the landmark. It was then sent to a company in Wichita, Kansas, that completely refurbished and upgraded the equipment, including the lights.
Blair Humphreys said his brother, also a developer on other projects, understands people and how to generate excitement and "celebrate a place."
Even before the first Wheeler District residence is built, public art is helping define the area. Local metal fabrication artist Hugh Meade and muralists Erin Cooper and Amanda Bradway were commissioned to help create an atmosphere of individuality through their art.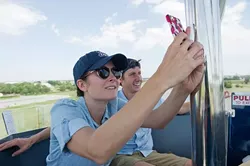 Garett Fisbeck
Chelsea and Brian Mister ride the ferris wheel in the Wheeler District in Oklahoma City, Wednesday, July 13, 2016. The Misters stopped in Oklahoma City on their way back from Phoenix and heard about the ferris wheel.
Meade recently installed his work — 10-foot, freestanding letters spelling OKC. They sit near the Ferris wheel and are lit at night to provide prime selfie opportunities for visitors. Meade said the letters are constructed of aluminum, with an inside framework that allows people to climb on and interact with them.
Cooper and Bradway begin work this summer on "Wind Wall," which will be 80 feet long and 17 feet tall, along corrugated metal, according to plans the women presented during a July 15 Oklahoma City Arts Commission meeting.
Bradway told Oklahoma Gazette she is proud to work on a project that would help people "develop the environment of their neighborhood."
Mural plans depict children and kites along with various native animals and are created in the unique style Bradway and Cooper have become known for from their work on the piece "Oklahoma Aiukli," created with artist Lauren Miller as part of the Western Avenue Mural Project.
"My hope is that the people who come through will feel ownership of the mural and will feel attached to the characters that are portrayed in it," Cooper said.
Print Headline: Wheel of history, Oklahoma City's newest attraction has locals and tourists celebrating fun, art and fantastic views.