If you think about it, there are few dishes quite so decadent as meatloaf, meat so bountiful that we cut it up like bread. Add in some ketchup, or even "fancy catsup," and it looks like the Rockefellers are out on the town! Here are some of our favorite places for this upscale treat. — by Greg Elwell Photos by Mark Hancock and Garett Fisbeck
Pick from a large selection of sides to go with your meatloaf on Thursdays at Boulevard Cafeteria. mh
Boulevard Cafeteria
525 NW 11th St.
239-6861
Turn back the clock with a visit to a true classic. Open since 1947, Boulevard Cafeteria serves up meatloaf each Thursday. A blend of beef and pork, bell peppers, celery, bread crumbs, tomatoes and eggs make this hearty loaf a favorite with loyal customers. And since it's a scratch kitchen, if demand is high, the staff just bakes more.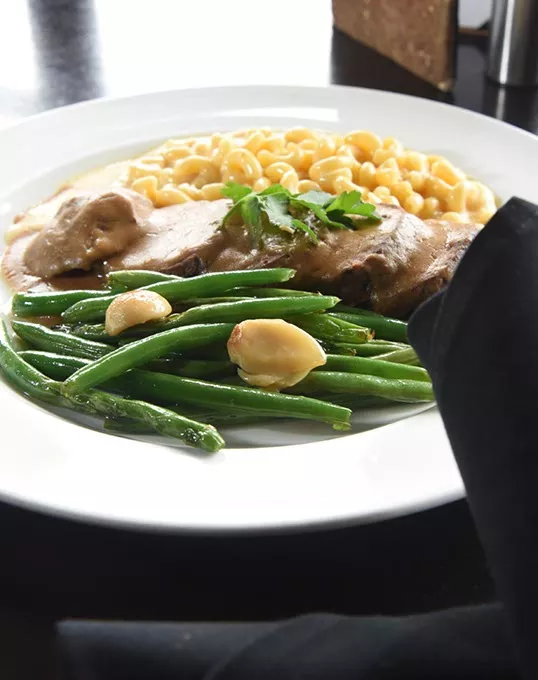 West
6714 N. Western Ave.
607-4072
More surface area in the oven means more flavor on the meatloaf, which is why West bakes each meatloaf individually. A tasty mélange of pork, veal and beef keeps the loaf moist while a generous pour of brown gravy finishes it off in style. And keeping with the homestyle appeal, West serves up a side of macaroni and cheese and green beans that's better than your mom's.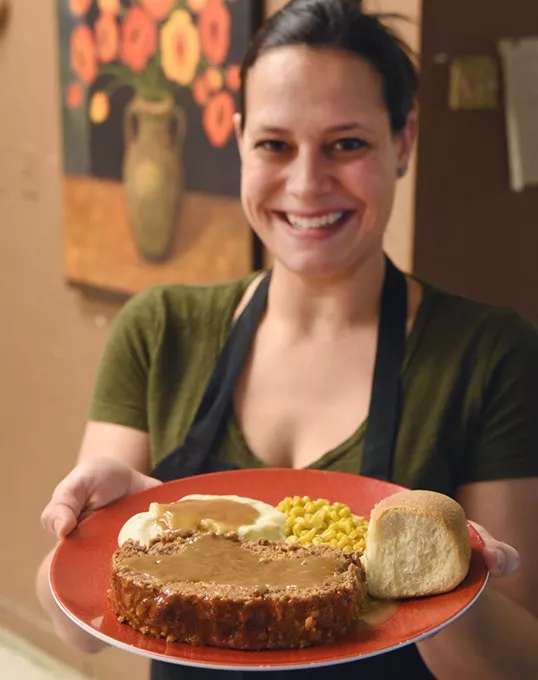 Sweets & Eats owner Julie Merkel with the Monday Blue Plate Special featuring meatloaf, 03-02-15. mh
Sweets & Eats
108 N. Robinson Ave.
235-3010
A rotating Blue Plate Special at lunch-only Sweets & Eats, the meatloaf is very traditional. It takes up to 80 pounds of hamburger to create this popular dish. Sides of corn and mashed potatoes make the meal filling, but it's the ketchup- topped loaf that brings it all together. If you have any room left over, finish off with a freshly baked brownie or blondie.
Garett Fisbeck
O'Patty Loaf Sandwich at Saint's in Oklahoma City, Wednesday, Feb. 25, 2015.
Saints
1715 NW 16th St.
saintspubokc.com
602-6308
The O'Patty Loaf sandwich is good and baaaaaad. The blend of lamb, beef and pork gives it a signature gaminess, said Kenneth Dye, head chef. The pork adds sumptuous fat, and the beef is the traditional meatloaf taste everyone expects. Slather on balsamic roasted tomato aioli and put it in a Prairie Thunder bâtard and you've got a sandwich that brings a delicious twist to this favorite.
The Bricktown Brewery has this great looking meatloaf with broccali and potato salad. mh
Bricktown Brewery
1 N. Oklahoma Ave.
bricktownbrewery.com
232-2739
Lots of meatloaf recipes use beef and pork, but Bricktown Brewery tops its Big Mike's Meatloaf with peppered bacon and a sweet chili sauce glaze. Best of all, slices are tossed onto the grill to give it a bit of caramelized char. And as good as meatloaf is with onions inside of it, it's pretty delicious when there's a bed of fried onion strings underneath it, too.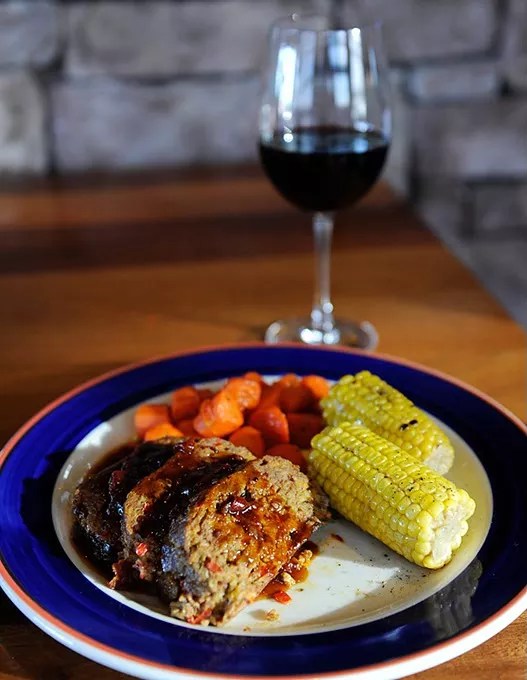 Garett Fisbeck
Meatloaf at Red Rock Canyon Grill in Oklahoma City, Thursday, Feb. 26, 2015.
Redrock Canyon Grill
9221 Lake Hefner Parkway
ehsrg.com/redrock/home
749-1995
This meatloaf, made with beef tenderloin and ribeye trimmings, has been on the menu at Redrock since it opened, and it's easy to see why. The slow-cooked meatloaf is a little fattier than most, but — as Hal Smith Restaurant Group executive chef Brad Johnson said — fat is flavor. Another key is the addition of chipotle to the roasted tomato brown sauce, giving it a spicy bite.
Garett Fisbeck
Meatloaf at Hensley's Top Shelf Grill in Yukon, Thursday, Feb. 26, 2015.
Hensley's Top Shelf Grill
1551 S. Garth Brooks Blvd., Yukon
htsdining.com
265-4076
Just like the family recipe? Well, only if your family is half-Cajun and half- Italian. Because Hensley's Top Shelf Grill puts a high-class regional spin on this dish. Rather than hamburger, Hensley's grinds up steak trimmings and pairs it with Italian sausage. And instead of ketchup, this is made with a spicy Cajun tomato sauce. Scalloped potatoes and fresh vegetables on the side are all good reasons to head to Yukon.
print headline: Meatloaf weather