After a week's worth of sinning, some of us don't have time to cook on Sunday. From morning until night, we're on our knees, praying to go to heaven (or at least avoid hell). So when the sun goes down and the fridge is empty, we head out to eat. Unfortunately, Sunday nights can be a wasteland for some restaurants. So here are a few great ones still serving us sinners.
— by Greg Elwell,
photos by Garett Fisbeck and Mark Hancock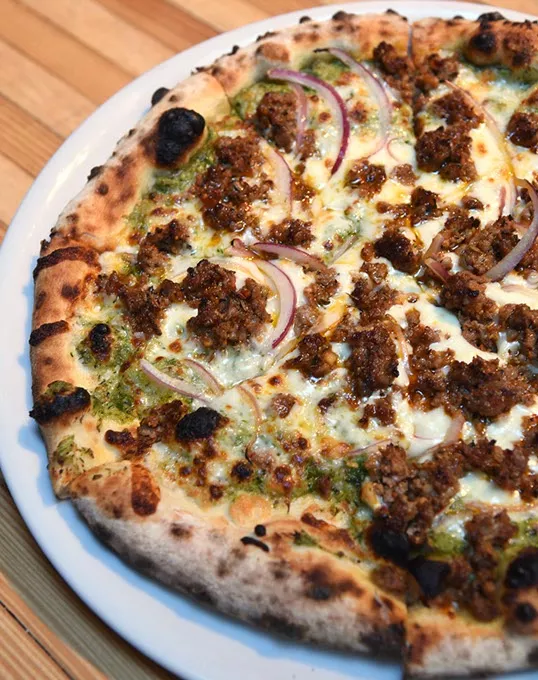 Mark Hancock
Italian sausage pizza at Pizzeria Gusto, available on Sundays, in Oklahoma City, 1-11-16.
Pizzeria Gusto
2415 N. Walker Ave.
437-4992
"Oh no! Not pizza again!" said someone you should actively avoid. Let's face it — pizza is always welcome. If your estranged sister showed up with a pizza, you'd invite her in and let the healing begin. And if she took you to Pizzeria Gusto, forget it — you'd write her back into the will. Even if you're not in the mood for a pie, the menu is overflowing with great options like fried artichoke hearts, gnocchi and lamb chops.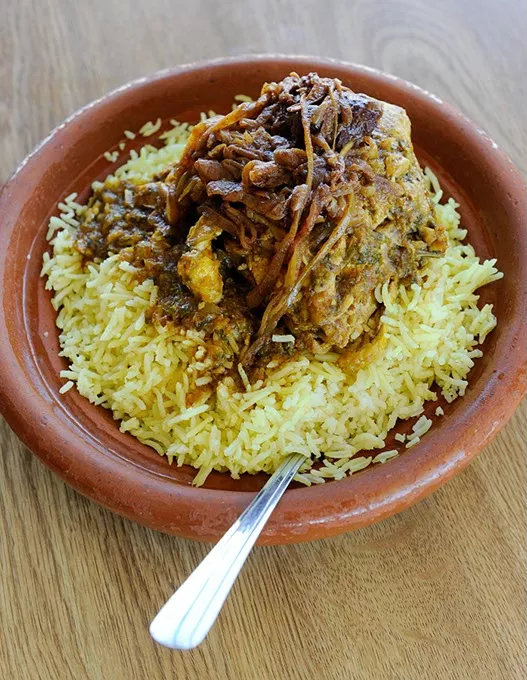 Garett Fisbeck
Chicken Tagine at Cous Cous Cafe in Oklahoma City, Wednesday, Jan. 13, 2016.
Couscous Cafe
6165 N. May Ave.
286-1533
If the only thing you know about Morocco is that it's a tiny country known for casinos and James Bond car chases, you're thinking of Monaco. It's time to recalibrate your GPS.
Morocco is in northern Africa, but you'll probably associate some of the dishes at Couscous Cafe with Mediterranean or Middle Eastern cuisine. Gyros, falafel and kebobs are all pretty standard. But have you had zaalook or a fish tagine? It's time to go to Couscous.
Chicken Tacos plate with a Margarita, at Casa Perico Mexican Grill, 4521 NW 63rd. mh
Casa Perico
Mexican Grille
4521 NW 63rd St.
721-3650
Dios Mio (my God), we're loco (crazy) for the food at Casa Perico (house of the parrot). And the designers of the menu are pretty nuts, too. But you'll forget all about the eye ache of those fonts when you dig into the tender, flavorful carnitas de puerco (little meats of pork) and the fresh fried avocado slices. And be less sad, vegetarians! Casa Perico has a boatload of meatless entrees, including the green joy of enchiladas de espinacas (spinach enchiladas), for you.
Garett Fisbeck
Crawfish Etouffee at The Shack in Oklahoma City, Thursday, Jan. 14, 2016.
The Shack Seafood & Oyster Bar
303 NW 62nd St.
608-4333
If you can't find something new to eat at The Shack, you must be the chef, because the menu is a wild ride through Louisiana's swamps on the way to Flavor Country. Okie Oysters are smoked oysters covered in bacon, jalapeño and garlic. The fried seafood platter packs in everything from stuffed shrimp to frog legs. The Shack even has a hamburger po' boy for your officemate, Kevin, the guy who hates trying new foods.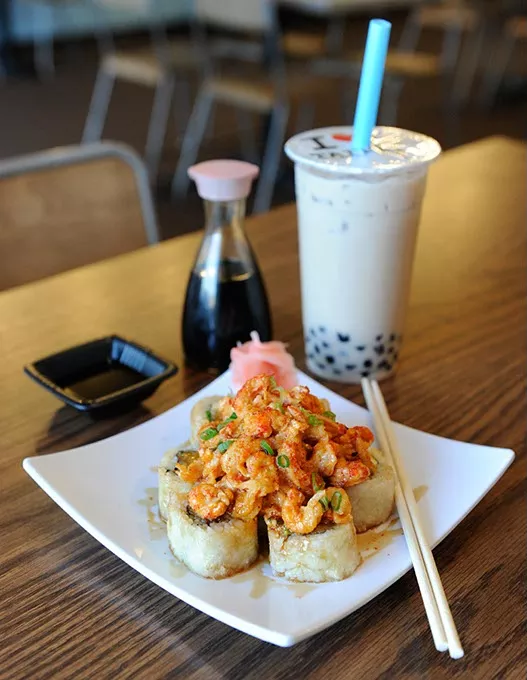 Garett Fisbeck
Golden Taipei and Black Milk Tea with Boba at Cafe Taipei in Edmond, Wednesday, Jan. 13, 2016.
Cafe De Taipei
603 S. Broadway, Edmond
216-9968
Sunday is actually the night Cafe De Taipei closes earliest, at 10 p.m. (It's open 5 p.m.-1 a.m. Tuesday through Saturday and 5 p.m.-10 p.m. Sunday.) Most nights, you can roll in after midnight and still get sushi, sashimi and bubble tea. Enjoy the Vampire Roll with torched salmon and garlic or the vegetarian Super Mario roll with baked mushrooms when you can.
Mark Hancock
The special, Pad Kra Pao, available most every day, including Sundays, is a faforite at Thai Thai, pictured with Thai Iced tea in Norman, 1-12-16.
Thai Thai Asian Bistro
780 W. Main St., Norman
307-0283
Q: Which cuisine has no winners?
A: I swear, if you say Thai food, I will come at you with a sword. I get it. Thai food sounds like "tie" food, but this is no laughing matter. We're all winners when we get Thai food. Order sukiyaki; you win. Get some evil jungle curry; you win. Koong pad nam prik pao; a winner is you.
Q: So you don't like puns?
A: No. I don't like puns.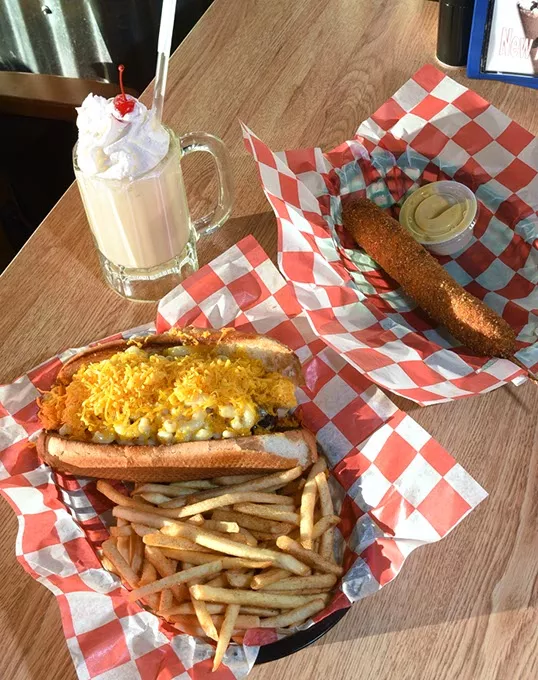 Mark Hancock
The All American featuring macaroni & cheese, with fries, next to The Wonderboy corn dog, and a vanilla shake, at Diamond Dawgs on Campus Corner in Norman, 12-12-16.
Diamond Dawgs
753 Asp Ave., Norman
364-3294
You might not make it to Monday if you finish your Sunday with Diamond Dawgs. The food is great, no question; but is it too great? Will you even be able to stop eating The Closer (a hot dog wrapped in ground beef and bacon) or put down The Mound (a chicken-fried dawg covered in mashed potatoes, gravy and fried onion strings)? And don't get us started on The Wonderboy (a corn dog with crushed Cap'n Crunch batter).