In the immortal words of Freak Nasty, "When I dip, you dip, we dip." These visionary lyrics predicted a future in which all people, regardless of gender, age, skin color or sexual orientation, could come together to put a chip into a bowl, get some sour cream and onion dip on it and aim it at our collective national mouth. America, land of the free, we dip for thee.
— by Greg Elwell, photos by Mark Hancock and Garett Fisbeck
Garett Fisbeck
Guacamole at Pepe's Mexican Restaurant in Edmond, Friday, Sept. 4, 2015.
Pepe's Mexican Restaurant
1701 S. Broadway, Edmond
348-2504
Some people are allergic to avocados, and that is how you can tell when God doesn't love someone. Because to eat guacamole is to experience happiness, and only those who are damned by a higher power could be cursed to spend their lives unable to eat a big pile of green bliss. Show off to your friends how you're still on the creator's good side by heading to Pepe's and ordering guacamole for everyone.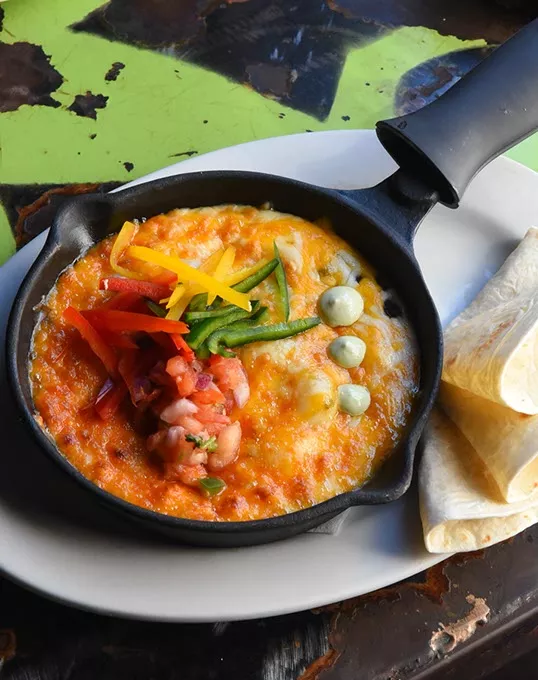 Mark Hancock
Iguana Mexican Grill Queso Fundido, 9-10-15.
Iguana Grill
9 NW Ninth St.
606-7172
Queso Fundido is named for its originator, British singer-songwriter Dido, who thought it would be "fun" to make a delicious cheese (aka queso) dip. Much as she shared her voice with the world, she also shared her creation with fancy Mexican restaurants like Iguana Grill, where you can enjoy a strong beverage, a seat on the patio and several tortilla chips plunged into the very heart of cheesy satisfaction.
Garett Fisbeck
Baltimore Crab Dip at Hefner Grill in Oklahoma City, Friday, Sept. 4, 2015.
Hefner Grill
9201 Lake Hefner Parkway
748-6113
Little known crab fact: They hate shells. It's true. Shells are like tiny prison cells for their sweet, sweet crabmeat. So, in a way, aren't the good folks at Hefner Grill liberators? No longer will crabs suffer the confinement of their cramped accommodations. In the Baltimore crab dip, a creamy oasis of crabtacular flavors, they are free. Also dead. It turns out they need those shells to live. Ironic, really.
Garett Fisbeck
"When I Dip" at Empire Slice House in Oklahoma City, Thursday, Sept. 4, 2015.
Empire Slice House
1734 NW 16th St.
557-1760
What do you get when you mix roasted artichokes, marinated spinach, red pepper and bacon? I'll tell you what you don't get: a switchblade. So please do not order Empire Slice House's "When I Dip" and take it to a back-alley knife fight. How many people have suffered needless injuries when they could have grabbed a table and just eaten this intoxicating blend of meat and veggies that tastes so delicious?
Mark Hancock
Dip your apple peace into the rich Cheese Fondue at The Melting Pot in Bricktown, 9-15-15.
The Melting Pot
4 E. Sheridan Ave.
235-1000
The name "fondue" doesn't begin to cover the way most of us feel about this bubbling hot crock of cheese. More like "adoreue" or "wanttodevourue." Because there's just something about sticking a long, skinny fork into a piece of toasted bread and dipping it in cheese that makes the best of us cry out for mercy, knowing that each bite brings us ever closer to the end. Farewell, cheese fondue from The Melting Pot.
Mark Hancock
Shrimp and crab fondue at The Shack, 13801 Quail Pointe Drive, just North of Memorial near May Avenue, 9-11-15.
The Shack
Seafood & Oyster Bar
13801 Quail Pointe Drive
286-5959
Please, do not look at the shrimp. The forces of natural selection weeded out the pretty ones long ago, leaving only ugly sea bugs behind. That's why The Shack should be commended. It faces down those unattractive-but-delicious creatures and cooks them with crab in a lovely fondue so you can happily munch on that tasty mélange without ever facing the animal voted Most Likely to be Thrown Back by the other ocean life.
Mark Hancock
Chips, Spinach dip and "Support your local Beer" Tee-Shirt, all available at Belle Isle Brewery, 9-11-15.
Belle Isle Restaurant
& Brewing Company
1900 Northwest Expressway
840-1911
Think about how happy Popeye would have been if, before every fight with Bluto, he could swap out those cold, slimy cans of spinach for a creamy, sumptuous bowl of spinach dip from Belle Isle Restaurant & Brewing Company. And just imagine what it could have done for Olive Oyl's figure! Heck, maybe Bluto wouldn't have needed such a trouncing if he could have met up with Popeye on neutral ground and shared this delicacy.