"Is it fall yet?" she asks impatiently, pacing back and forth in front of the door. There's a scarf around her neck and a light jacket on her shoulders. Beads of sweat formed at her scalp begin running down her face.
"No," you say. "Fall isn't until Sept. 23. But we can eat like it's fall."
And when she wakes up from her heatstroke, that's what you do, by god.
— by Greg Elwell,
photos by Mark Hancock
and Garett Fisbeck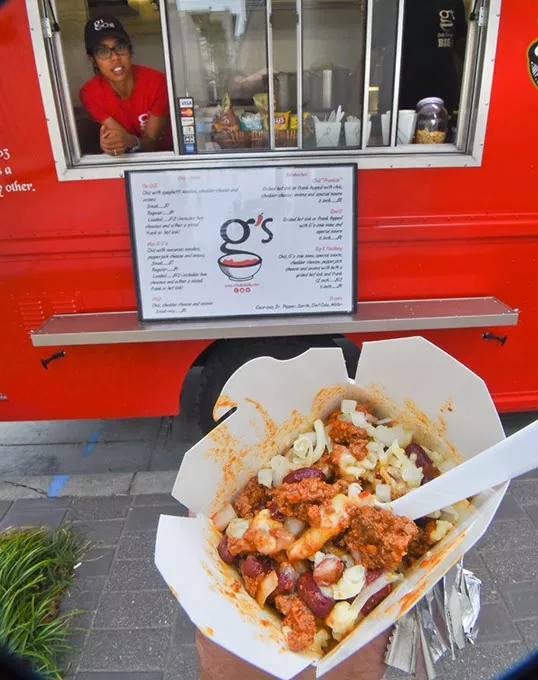 G's Chili Compan-chili mac comes in a nice cordboard to go box which you can eat on the go or close the lid and take it home. Photo of Chatoya Franklin, daughter of owner Glen Franklin, at the window of the bright red G's Chili Company food truck on location across from the Cox Convention Center recently, 8-27-15. mh
G's Chili Company
Food truck
919-2125
The weather outside is not frightful, and a fire would be far from delightful. But since you're still hungry, bro, let us go, let us go, let us go ... to G's Chili Company for a big bowl of chili mac. It doesn't matter how hot it gets outside; the gourmet chili at G's is a burn for which you'll yearn. Served over spaghetti or macaroni, it's hearty, meaty, cheesy and filling. So, when the weather does dip into sub-Saharan temps, it's the perfect meal to warm you up.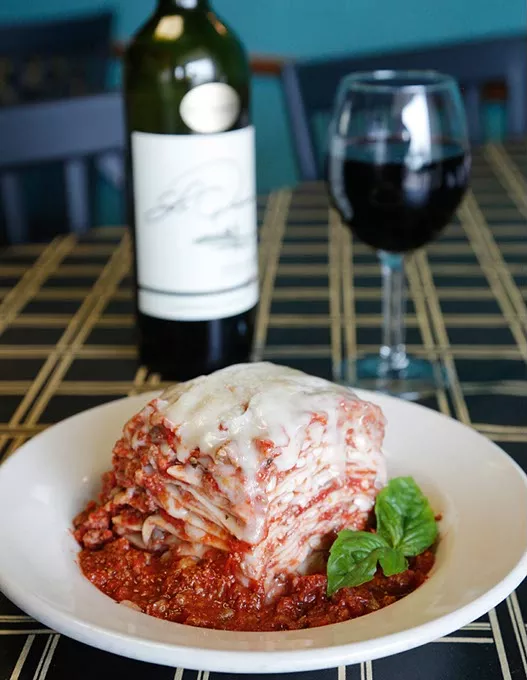 Garett Fisbeck
Meat lasagna at Caffe Pranzo in Oklahoma City, Wednesday, Aug. 26, 2015.
Caffé Pranzo
9622 N. May Ave.
755-3577
Nothing says fall like dead leaves and spiders. But it's also a good time for casseroles, like the classic Italian lasagna at Caffé Pranzo. When you're not raking up tree bits or avoiding arachnids, you can slip into this comfortable neighborhood trattoria like a warm sweater and order some deliciously gooey and satisfying Italian fare. Two tips: Start with the bruschetta and save room for the Carnegie deli cheesecake.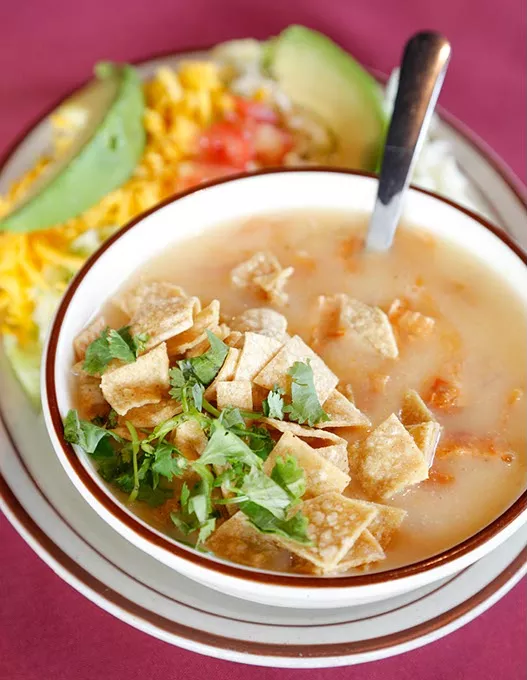 Garett Fisbeck
Tortilla soup at Alvarado's in Edmond, Wednesday, Aug. 26, 2015.
Alvarado's Mexican Restaurant
2805 S. Broadway, Edmond
359-8860
Chickens with their heads cut off do run around a bit, but they also dream. Even as their body runs like somebody started playing "Chariots of Fire," their tiny chicken brains are hoping that they'll become delicious, satisfying chicken tortilla soup. There's no higher honor than to be simmered into a creamy, delectable bowl of soup with a burst of subtle heat and crunchy, house-made tortillas.
Garett Fisbeck
Turkey sandwich at Someplace Else in Oklahoma City, Aug. 27, 2015.
Someplace Else: A Deli & Bakery
2310 N. Western Ave.
524-0887
Benjamin Franklin famously wanted the turkey to be America's national bird. The idea didn't get much traction, so we can all head into Someplace Else (the restaurant, not just some other place) and get a classic turkey sandwich without being tried for treason. It's not indemnity against treachery, though, so please stop selling state secrets.
Garett Fisbeck
Pot roast at Pub W in Oklahoma City, Tuesday, Aug. 25, 2015.
Pub W
3121 W. Memorial Road
608-2200
A mind is a terrible thing to waste, but a pot is a wonderful thing to roast. Pub W has pot roast preparation down to a science. The cooks know exactly how to wring the most flavor out of the beef while imparting that tender mouthfeel that makes your mouth feel so tender. And as long as you're not wasting a mind, you can also put it to rest; Pub W serves up fluffy mashed potatoes that go perfectly with roast.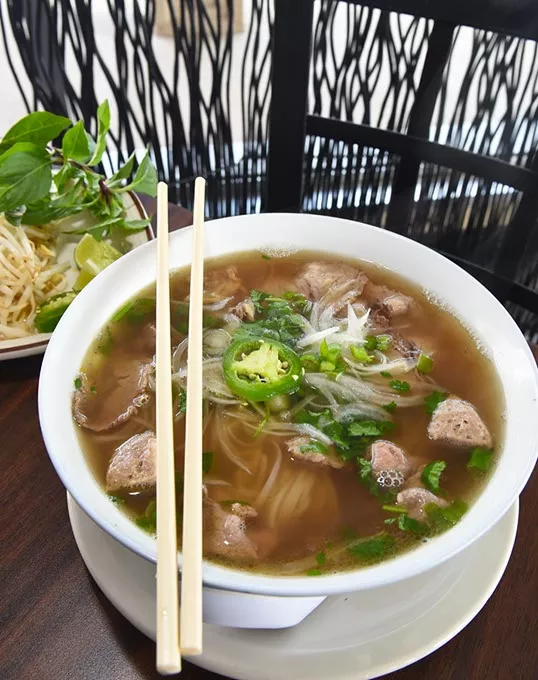 P14 Specialty Rice Noodle with All Meats, at Pho Tran, 937 SW 59th Street, 8-26-15. Mark Hancock
Pho Tran
937 SW 59th St.
605-1077
Maybe you've heard of pho but you've never tried it. That's not good. Use this moment to make plans to visit Pho Tran for an enormous bowl of hot, spiced beef broth; tender cuts of steak; and a mountain of noodles as big as your head. Sriracha is not, as some would tell you, mandatory. It is good, though. And nothing wards away fall chills as fast as sweating from your face and neck.
:aira G,eomer. GM at Das Boot Camp on Main Street in Norman, with the Grilled Sausage Appitizer plate. mh
Das Boot Camp
229 E. Main St., Norman
701-3748
You're not supposed to see how the sausage is made. Some think it's because sausage is filled with unsavory animal parts, but the truth is the Sausage Makers Guild (est. 1412) forbade sharing the secret to plump, juicy sausages. Thankfully, the Sausage Eaters Guild (est. 1412-and-three-quarters) unforbade the selling of sausages, which is why Das Boot Camp in Norman serves brats and sausages made of chicken and buffalo.
Print Headline: Equinox, interrupted