What's cooler than being cool? Ice cold. But what's fancier than being fancy? Is it Iggy Azalea wearing a top hat and a monocle, riding an old-timey bicycle while reading Harper's Bazaar? Yes. That is as fancy as it gets. But the rest of us can make do by feasting upon high-class eats at some of the metro's finest, fanciest eateries. Monocle optional.
— By Greg Elwell Photos by Mark Hancock and Garett Fisbeck
Mark Hancock
Oysters on the halfshell at Viceroy Grille, 9-4-15.
Viceroy Grille
1200 N. Walker Ave.
600-6200
Oysters on the half shell are a fresh, delightful treat for the palate — slippery, sweet oysters, sitting in a bit of brine, waiting for a touch of mignonette or horseradish before you tip back the shell and gulp the bivalves down your gullet in one swift motion. You could ask your server at The Viceroy to bring you oysters on the whole shell, but it's better to let the expert shuckers in the kitchen prepare this delicacy. Inexpert shuckers tend to stab themselves in the leg.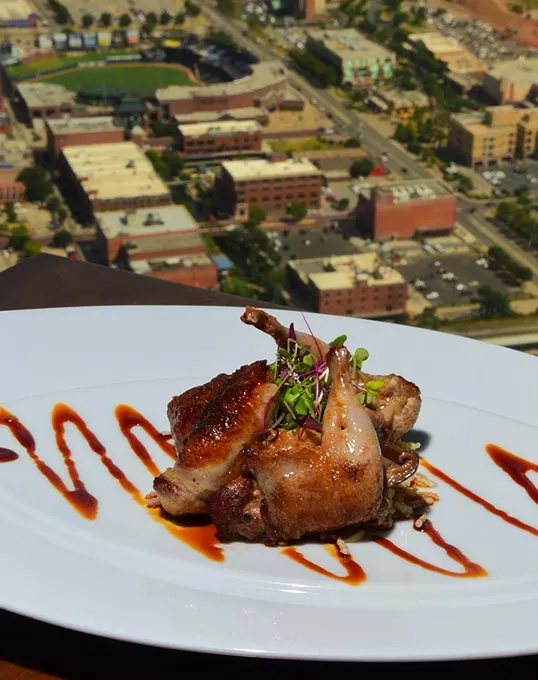 Mark Hancock
Have your Quail stuffed with pickled shitake and a vast view, at Vast on top of Devon Energy Tower, 9-4-15.
Vast
333 W. Sheridan Ave.
702-7262
You would not be blamed for wanting an entire covey of quail prepared by the skilled chefs at Vast, but with an extensive and ever-changing menu available, you might want to stop at just the one. Besides, this rich, tender bird is stuffed with pickled shiitake mushrooms to tickle your taste buds in anticipation of a fine repast, not stuff you beyond the limits of gastrointestinal science. Oh, what the hell; go ahead and order a second bird.
Garett Fisbeck
Seafood provencal fettuccini at Mantel Wine Bar & Bistro in Oklahoma City, Friday, Aug. 28, 2015.
The Mantel Wine Bar & Bistro
201 E. Sheridan Ave.
236-8040
Thickness has always been a sign of wealth. Historically, portly gentlemen and ladies were those rich enough to stay fed. In modern times, many prize the presence of a fat wallet and/or thick thighs and buttocks. So forget about spaghetti. At Mantel, it's all about the thicker, more luxurious linguine covered in sautéed mussels, shrimp and scallops and tossed in a white wine butter sauce.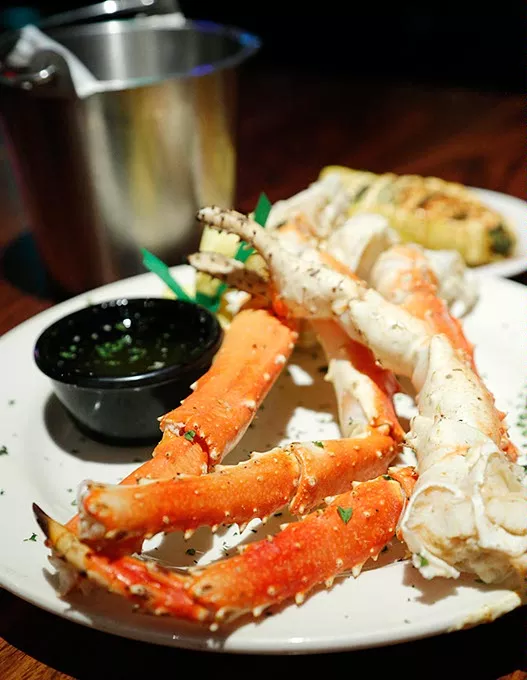 Garett Fisbeck
King Crab Legs at Trapper's Fish Camp in Oklahoma City, Friday, Aug. 28, 2015.
Trapper's Fishcamp & Grill
4300 W. Reno Ave.
943-9111
When the other crabs elected him king, Dennis rightly smelled something fishy. For one, there was a fish nearby. Also, kings aren't elected; they're chosen by God or sheer luck. Then he looked at his meaty legs and how his mother always said to beware of butter and it was too late. King Dennis was not very smart, but he was quite succulent. His legacy lives on at Trapper's Fishcamp & Grill, where you can enjoy king crab legs and shout, "Dennis is dead! Long live Dennis!"
Garett Fisbeck
Escargot at Junior's in Oklahoma City, Aug. 31, 2015.
Junior's
2601 Northwest Expressway
848-5597
Who do you think was the first person to convince his friends to eat snails? Whoever it was, it must have been someone suave as all get out. "Hey, guys. No big deal. Casual small talk and whatnot. Ever eaten a snail? They're pretty good." And somehow, it caught on. Now when you go to Junior's, a restaurant plucked from an early episode of Mad Men and plopped in OKC, you can order escargot and the waiter won't even look at you funny.
Mark Hancock
The sea urchin sushi served at Volcano Sushi Bar & Hibachi has to be fresh, withen a few days, according to restaurant owner, 9-3-15.
Volcano Sushi Bar & Hibachi
5301 Main St., Suite 103, Del City
605-5458
"Orange paste that tastes like the sea" is not the most appetizing description of uni (aka sea urchin), but it's accurate. The actual experience is much more pleasant, as are most things at Volcano Sushi Bar & Hibachi. A perfectly cooked ball of rice sits on a plate with a gorgeous, foamy dollop of sweet freshness that rolls on the tongue before melting away. Every sushi lover should try this utterly intoxicating flavor.
Mark Hancock
Lamb shank with Boulivard Cabernet Sauvignon wine, at Park House restaurant, on the East side of the Myriad Gardens, 9-2-15.
Park House
125 Ron Norick Blvd.
232-7275
The beauty of beef tartare is a blend of meat and seasonings so pure and delicious it doesn't need to be cooked. Park House uses ground beef filet blended with soy sauce and its own mix of kitchen spices. Shaped like a sushi roll, topped with avocado slices and served with toasted baguette points and sautéed shiitake mushrooms on the side, it's a luxurious dish. Though if you insist on having your beef cooked, they also serve wonderful filet and rib-eye steaks.
Print Headline: Fancy feast