Breakfast? Ain't nobody got time for that! We all are perpetually late to work, and our stomachs suffer the most. But fear not, hungry reader. There is a light at the end of the tunnel, and it's not a giant, glowing "M." Oklahoma City has plenty of spots from which to grab a quick bite on your way to the office.
— by Greg Elwell,
photos by Mark Hancock
and Garett Fisbeck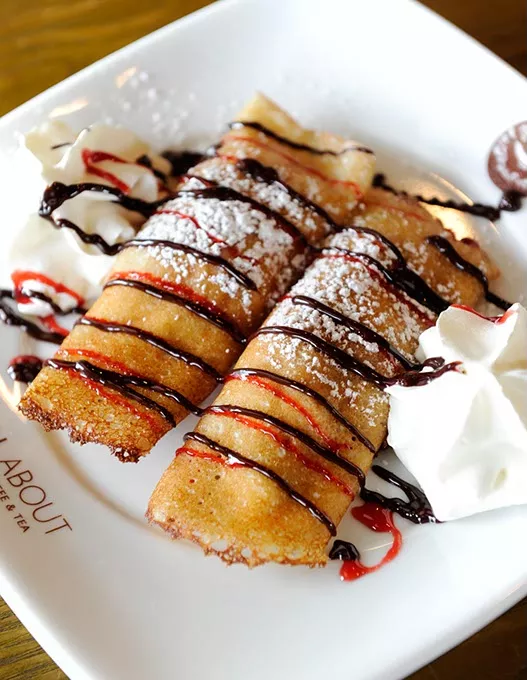 Garett Fisbeck
Fruit Crepes at All About Cha in Oklahoma City, Thursday, Sept. 17, 2015.
All About Cha
7300 N. Western Ave.
840-7725
Just because the coffee and tea are stylish doesn't mean they're slow. All About Cha can stack up your breakfast croissant and have you chowing down on that buttery, flaky treat in no time. Grab a coffee and hit the road ASAP. Or, if you're the sort with time to spare, it has big pots of flower tea and free Wi-Fi just begging you to slow down, chill out and hang while the other suckers are on their morning commutes.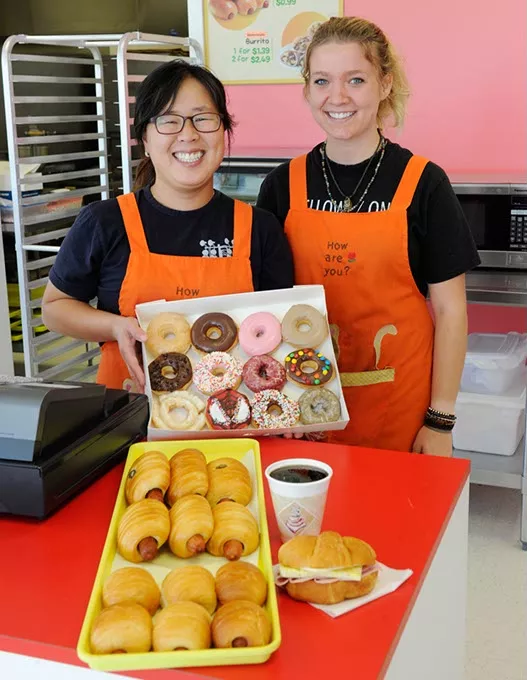 Garett Fisbeck
Katie Kang and Samantha Kimes poses for a photo at Donut Therapy in Oklahoma City, Thursday, Sept. 17, 2015.
Donut Therapy
7101 NW 150th St.
285-5888
Dr. Donut: Tell me more about
your dream.
Patient: I'm hungry, and I walk into this store, and there are all these beautiful donuts just waiting for me.
Dr. Donut: Did you think this was a donut shop? You're looking for Donut Therapy. Why does this keep happening?
Mark Hancock
Waitress Renee Wilson serves regulars Virgie and Bob Cherry hearty breakfast dishes, Stawberry Waffle with Whipp Cream and a 8oz Ham with Eggs, Homefries and Wheat Toast, at the All American Diner in Midwest City, 9-18-15.
All American Diner
212 S. Air Depot Blvd., Midwest City
741-7676
Belgian waffle? French toast? What kind of All American Diner is this?! Maybe this restaurant takes a more inclusive view of the world than we thought. One thing is for sure, though: If you're looking to get your morning off to a great start, it's hard to go wrong with a sausage, egg and cheese biscuit. It combines all the necessary food groups: buttery, eggy, meaty and delicious. That's as American as it comes.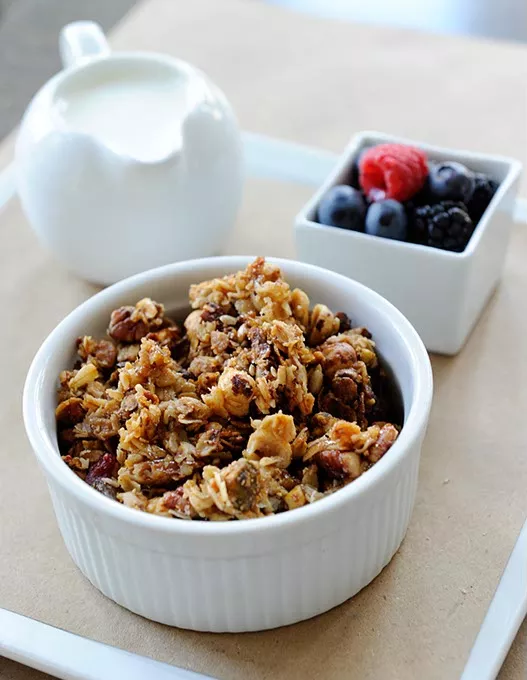 Garett Fisbeck
House made granola with berries and milk at Kitchen 324 in Oklahoma City, Thursday, Sept. 17, 2015.
Kitchen No. 324
324 N. Robinson Ave.
763-5911
Yes, Kitchen No. 324 might be a go-to for a leisurely brunch, with its Prairie Mary drinks and bevy of poached egg delights. But! If you're looking for a fast breakfast break, there's a counter full of top-notch pastries aching to be eaten. Most famous, of course, is the Joe-nut — Kitchen's version of the Cronut — which changes every week. A warning: If your co-workers see it, you'll be forced to share.
Mark Hancock
Eggs, bacon, homefries, and pancakes at Jimmy's Round Up Cafe, 4-14-15.
Jimmy's Roundup Cafe
1301 SW 59th St.
685-1177
The management at Jimmy's Roundup Cafe would like to emphasize that while they will "round up" all the ingredients necessary to make you one heck of a breakfast burrito, they are not going to round up your bill. They'll charge you for the food you order (and taxes) and that's it. If you want to leave a tip with the money you saved, that's much obliged, of course. Now get along, little doggie. There's someone waiting to take that table.
Mark Hancock
Ham, egg and cheese Breakfast Nanwich at Cube in Norman, 9-28-15.
Cube
1415 W. Main St., Norman
844-652-2823
Cube has a novel idea: Call ahead and it will have your food ready for you. And not just food, either: If you need groceries, toiletries or cold and flu medicine and such, it has that, too. So, if you're trying to get those kids to school, you can get a Breakfast Naanwich, a large coffee and a pregnancy test (or, you know, a bag of gummy Life Savers) without getting out of the car.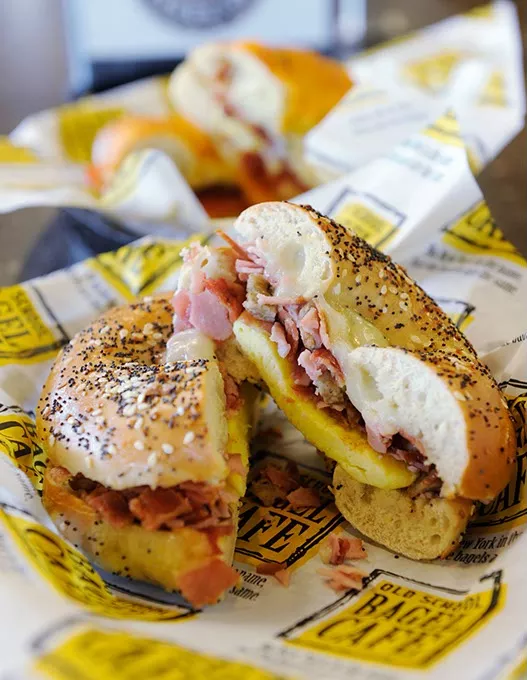 Garett Fisbeck
Meat lovers sandwich on everything bagel at Old School Bagel Cafe in Moore, Thursday, Sept. 17, 2015.
Old School Bagel Cafe
2747 S. Interstate 35 Service Road, Moore
759-2558
A bagel is so much more than a savory donut or a tube of bread. It is the vehicle for all your wildest dreams to come true. Plain? Sure. Garlic? Of course. Everything? Yes. Everything. A bagel that contains every known substance on earth. It's ama— What? Oh, it's just a bagel with lots of stuff on it? That's cool, too. To be honest, the idea of an infinite bagel was starting to freak me out.