In French, seafood is called fruits de mer, or "fruits of the sea." But you should not eat oranges you find floating in the water. A banana bobbing in the lake? Leave it. They do not grow there. It is a trap. Instead, immerse yourself in some tasty aquatic life from Oklahoma City's friendly seafood restaurants and get your fill of la substance alimentaire, or "the food material."
— by Greg Elwell,
photos by Garett Fisbeck and Mark Hancock
Garett Fisbeck
Lava stone girlled salmon, shrimp and scallops, at Cafe Icon in Edmond, Thursday, February 4, 2016.
Cafe Icon Sushi & Grill
311 S. Blackwelder Ave., Edmond
340-8956
"Do not touch the lava." If that isn't a sign around an active volcano, it should be. And it's probably applicable at Cafe Icon, as well, where you can get raw salmon delivered to your table alongside an 824-degree Fahrenheit lava stone. Cut off a bite or two and lay it on the rock, letting that fish sizzle to the perfect medium-rare before gobbling it down. Or cook it all the way done. Just make sure you don't cook your hand.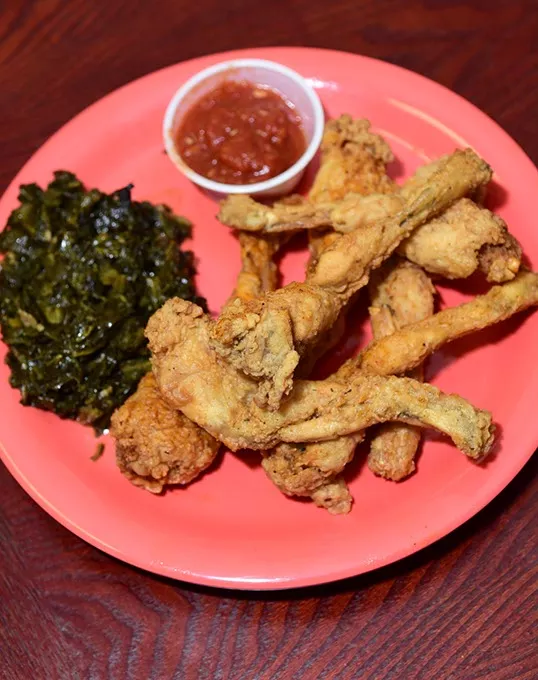 Mark Hancock
Fried Frog Legs and dipping sauce at C'Est Si Bon, Cajun Catfish and PO-Boys in MWC, 1-5-2015.
C'est Si Bon Cajun Catfish & Po-Boys
101 N. Douglas Blvd., Midwest City
610-2555
Frog legs taste like chicken in that every food we have trouble describing also tastes "like chicken." It's definitely meat, which is like chicken. And the legs are fried, which is done with chicken. But when you sit down to a plate of frog legs fried golden with speckles of black-and-red seasoning at C'est Si Bon, you won't be thinking, "Boy, this makes me hungry for chicken." You'll be wondering how quickly you can get another order of frog legs.
Garett Fisbeck
Shrimp and "Grits" at Land and Sea in Oklahoma CIty, Thursday, February 4, 2016.
Land and Sea
7523 N. May Ave.
755-2622
The quote marks in the dish Shrimp and "Grits" at Land and Sea worried me, so I turned to owner Cathy Cummings for some clarification. These are grits, right?
"It's a Southern play on the word 'polenta,'" she said.
Polenta is just fancy grits. Order this one if you like beautifully prepared shrimp, Parmesan cheese, peppers and "polenta." Wink, wink.
Mark Hancock
The Mar y Tierra, "land and sea" dish, with octopus in the center, surrounded by creatures from both land and sea, including shrimp wraped with bacon, at Mariscos Mazatlan on South Robinson Avenue in Oklahoma City, 1-27-16.
Mariscos Mazatlan
3325 S. Robinson Ave.
631-1755
Everyone knows that an octopus has eight arms — or are those legs? It actually comes from the Greek oktopous, which means "eight-foot." They also have beaks and no skeletons, so definitely don't search for images on your phone right now. Oh no! What did you do?
Okay; they're sea monsters. But don't worry; you can eat one. Take a short trip to Mariscos Mazatlan and you can conquer an octopus in a taco with your mouth.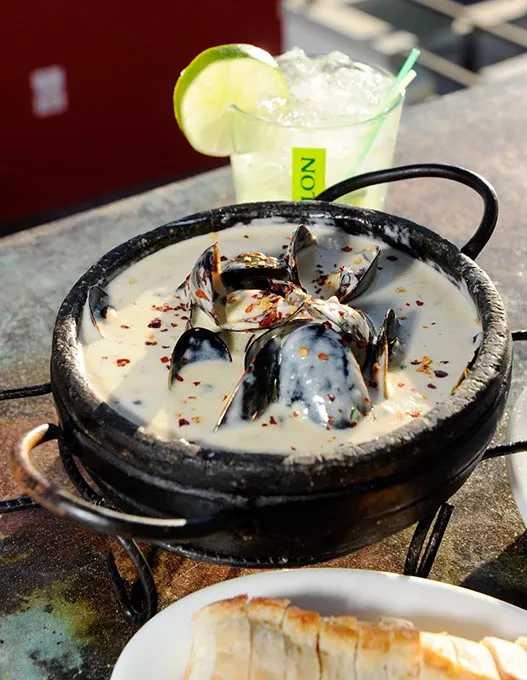 Garett Fisbeck
Mexilhao a Carioca at Cafe Do Brasil in Oklahoma City, Thursday, February 4, 2016.
Cafe do Brasil
440 NW 11th St.
525-9779
How do you solve a problem like Maria? Have you considered garlic butter?
Like the WD-40 of the culinary world, garlic butter is the substance that makes everything better. Case in point: the already-delicious mussel. At Cafe do Brasil, they're served in a leek and garlic butter sauce and christened Mexilhao A Carioca, and they taste amazing.
As for catching a cloud and pinning it down, have you considered a Béarnaise sauce?
Mark Hancock
Seafood with tofu hot pot at Chow's Chinese, 3033 N. May Avenue in Oklahoma City, 1-29-16.
Chow's Chinese
3033 N. May Ave.
949-1663
It is absolutely unacceptable to walk up to a stranger's table and look at the seafood with tofu hot pot at Chow's and ask, "Are you gonna eat that?" — or so I learned recently. I guess it's one of those unwritten rules. Anyway, I just sat down at my own table, apologized to my date and ordered my own. Take that, stranger who wouldn't let me snack on his dinner! This one is all mine.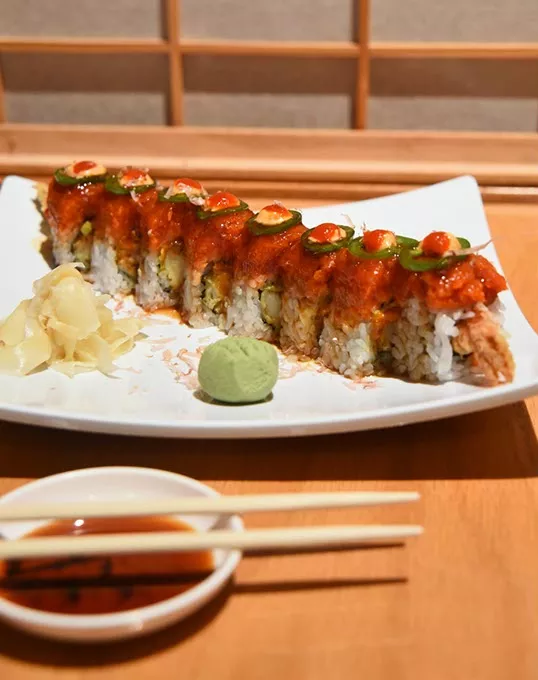 Mark Hancock
The ever popular Thunder Roll at Sushi Hayashi, 10600 S. Pennsylbania Avenue in Oklahoma City, 1-21-16.
Sushi Hayashi
10600 S. Pennsylvania Ave.
759-7788
It's almost impossible to accurately place sushi on Maslow's Hierarchy of Needs. Obviously, it's a physiological need, but it also makes you feel safe. And don't forget about the friendships you develop when eating sushi. Plus, it meets certain qualities of self-esteem. The chefs at Sushi Hayashi are also probably getting self-actualized when they achieve their full sushi potential. Sushi — it's the whole pyramid.