In honor of America's birthday, we compiled a list of all-American foods that are, if we're being totally honest, not at all all-American. America isn't old enough to have all-invented foods. We just stole food from everywhere else and called it American because that's what we're good at — co-opting other cultures and then pretending it was ours all along.
— by Greg Elwell, photos by Mark Hancock, Garett Fisbeck and Keaton Draper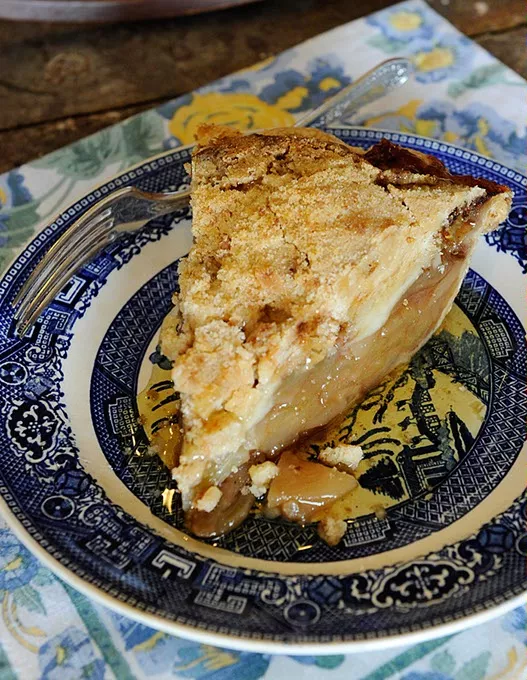 Garett Fisbeck
Apple Pie at ND Foods in Oklahoma City, Thursday, June 18, 2015.
ND Foods
2632 W. Britton Road
840-9364
"As American as apple pie" is an odd statement, unless you mean "It came here on a boat with a bunch of Europeans." But it's ours now, and we're not giving it back. Boldly holding it in American custody is purveyor ND Foods, which is a pie maker of some acclaim. You won't find any runny apples or soggy bottoms here, just a deeply sweet and satisfying apple filling and a tender, sugary crust.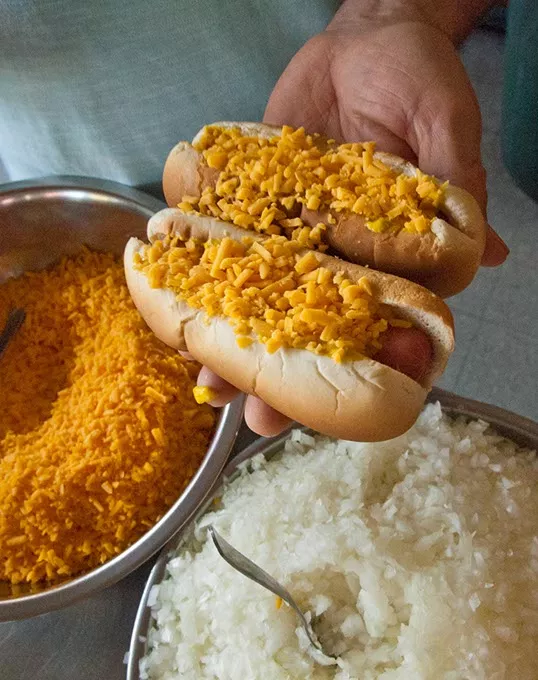 Hot Dogs being made by owner Dimitrios Smirlis at Coney Island 2, 240 SW 25th Street in Capitol Hill. 5-16-14 file, mh
Coney Island No. 2
240 SW 25th St.
232-8734
Hot dogs are sometimes called frankfurters because they originated in Frankfurt, Germany. A little-known clause after WWII remanded custody of the mild sausage to the U.S. But, fearing the Germans might come back for it, we hid the hot dog under a blanket of chili and cheese. You can still find them prepared this way at Coney Island.
Patty Wagon
3600 N. May Ave.
917-1711
The hamburger has lots of origin stories. Was it a Hamburg-style steak? Was it served between toast in New Hampshire? Did Ronald McDonald hook up with the Burger King and give birth to Wendy? No. Definitely not that last one. But wherever it came from, one of the best burgers around can be had at Patty Wagon, where they serve the Red Dirt Burger with Oklahoma barbecue sauce, crisp bacon and luscious grilled onions.
Biscuits & Gravy at Sunny Side Up in Moore. (Mark Hancock
Sunny Side Up
100 SE 19th St., Moore
793-2450
In England, cookies are called biscuits. Do not order biscuits and gravy in England — they're terrible. Over here, we do it right, specifically if the "over here" you're referring to is Moore's Sunny Side Up diner. Oh, you can get eggs (hen-ploppers), bacon (oink strips) and pancakes (sweet skillet breads), but when you order biscuits, they'll be big, fluffy biscuits covered in rich white gravy. Take that, King George!
Ribs, okra, and fried pickles ar part of this Family Pack order at Spencers Smokehouse & Barbeque. mh
Spencer's Smokehouse & Barbeque
9900 NE 23rd St.
769-8373
Germans claim they invented barbecue, but they also claim that socks and sandals are appropriate summer footwear, so who are you going to believe? You probably won't even think about lederhosen or The Scorpions at all when you're plowing through a rack of tender ribs or a plate of expertly smoked brisket at Spencer's Smokehouse & Barbeque.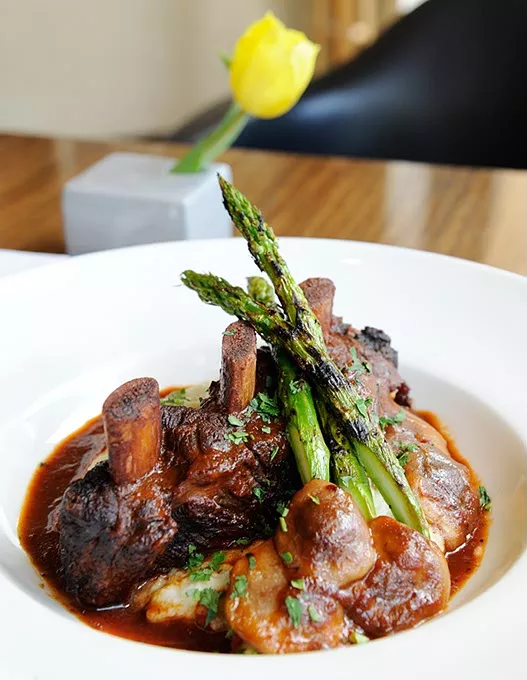 Garett Fisbeck
Bison short rib at Stella in Oklahoma City, Friday, June 19, 2015.
Stella Modern Italian Cuisine
1201 N. Walker Ave.
235-2200
Bison is truly America's favorite animal, unless you count eagles and purebred dogs and most other animals. Okay; bison isn't that popular, but it should be. Bison will be your favorite when you visit Stella and order a plate of bison short rib. It's melt-in-your-mouth good meat, and the flavor is like steak to the power of steak. What's the square root of bison? No one knows because we're too busy eating.
Mama E's Wings & Waffles
3838 Springlake Drive
424-0800
How many wings are on an average chicken? If you guessed two, think again. Every part of the chicken is technically a wing if you've glued a bunch of chickens together to make an airplane. But the good people at Mama E's refuse to use chicken adhesives, so when you get wings, you know they're special — meaty, fatty, crispy and delicious. It's the American way.
Print headline: Girth of July