There is a lot going on downtown this month, from finding Segway Santa to the Boathouse District's numerous activities, including a zip-line and a rock wall. All that fun can work up quite the appetite. — by Devon Green, photos by Mark Hancock, and Garett Fisbeck
Garett Fisbeck
The gyro plate with greek salad and baklava at Dimitri's Peacock Greek in Oklahoma City, Wednesday, Nov. 19, 2014.
Dimitri's Peacock Greek-American Restaurant
517 W. Reno Ave.
278-7871
This longtime resident of downtown OKC is a blend of classic Greek food and Americana, diner style. The food is tasty, fresh and affordable. The gyro plate with a Greek salad and house-made baklava will leave you more than satisfied, which is perfect because you also can burn off the extra calories downtown by snow tubing or ice-skating.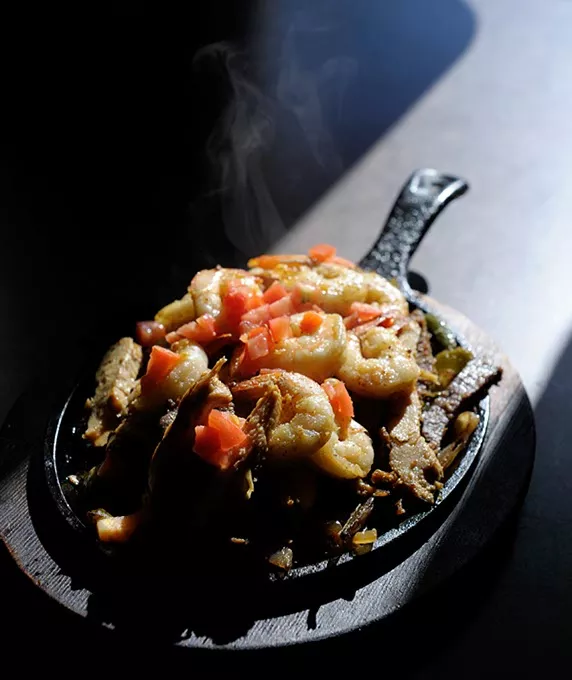 Garett Fisbeck
Combo fajitas at La Luna in Oklahoma City, Wednesday, Nov. 19, 2014.
La Luna Mexican Cafe
409 W. Reno Ave.
lalunamexicancafe.com
235-9596
Buck the trend of eating only what's new and revisit La Luna, founded in 1983. We promise you'll be happy you did. For starters, you'll get complimentary queso, a rarity these days. The fajitas are excellent: tender, with a hint of sweetness served sizzling hot. There is nothing on the menu that we wouldn't recommend. And look up once in a while, as there are plenty of interesting things to see on the walls.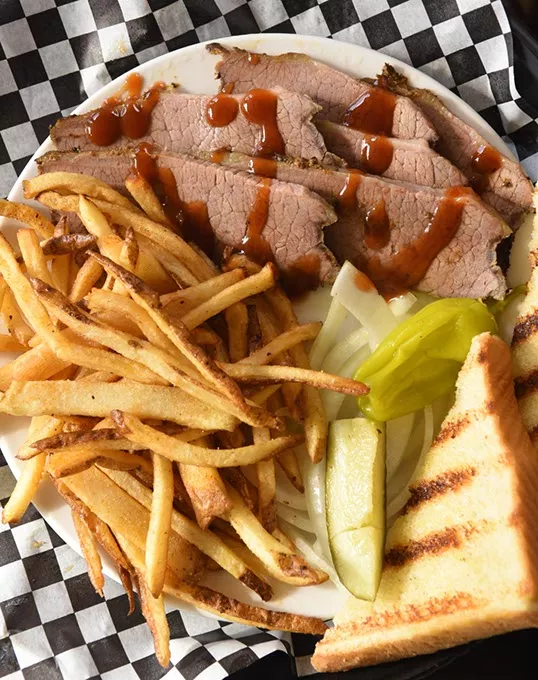 The Lunch Meat Special featuring sliced brisket and fries, at Blu's BBQ and Burgers. mh
Blu's BBQ and Burgers
612 N. Robinson Ave.
okcbbq.com
602-2587
This barbecue joint knows the best way to eat and serve barbecue. Combine those with great customer service and a relaxed atmosphere and you're at Blu's. Grab plenty of napkins and relax in the chill environment that also serves some of the best burgers town. The brisket is fork-tender, and the hot sauce doesn't mess around.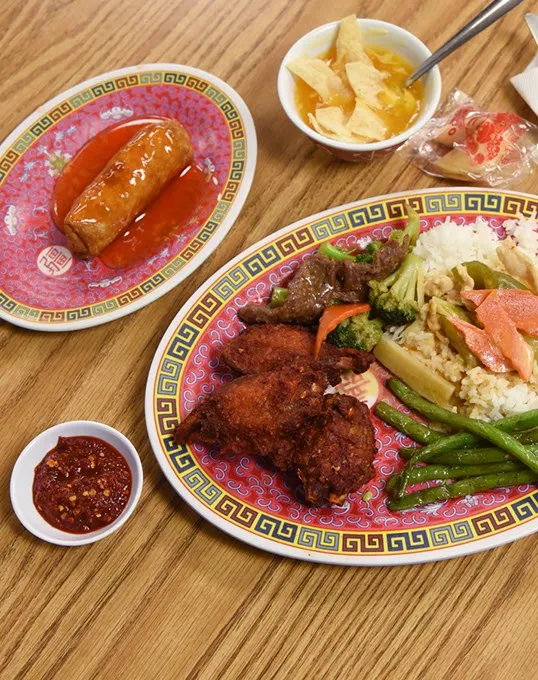 China Chef
101 Park Ave. Suite 1602B (in the concourse)
235-9099
Like gold at the end of the proverbial rainbow, this tiny bistro is hidden in the concourse in the system of tunnels underground downtown. Although there is a menu, the star is the buffet. It is a great value with tasty, fresh items replenished regularly. You might also have fun exploring the tunnels when you're done; the concourse is like a time capsule filled with art and snippets of OKC history.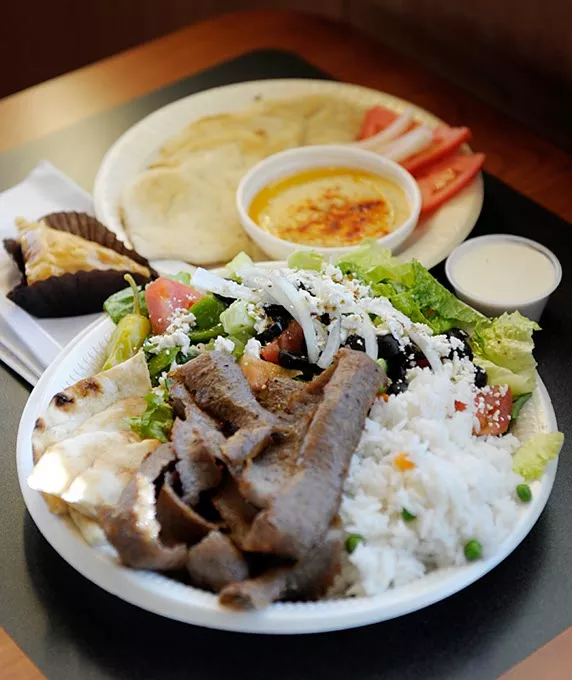 Garett Fisbeck
Gyro meat platter with hummus and pita at Sweis' Greek Cafe in Oklahoma City, Wednesday, Nov. 19, 2014.
Sweis' Greek Café
201 S. Western Ave.
231-4976
This is a lovely part of the local Sweis brothers' empire. It was rebuilt after a fire destroyed most of the restaurant in 2008. Now the eatery has a brisk breakfast and lunch business with its share of regulars. The gyro plate is easily one of the best in town. Add a side of hummus and slather it on your gyro and dip your extra pita in it. You won't find a fresher pita either; they are made down the street at the Sweis' Pita Bakery.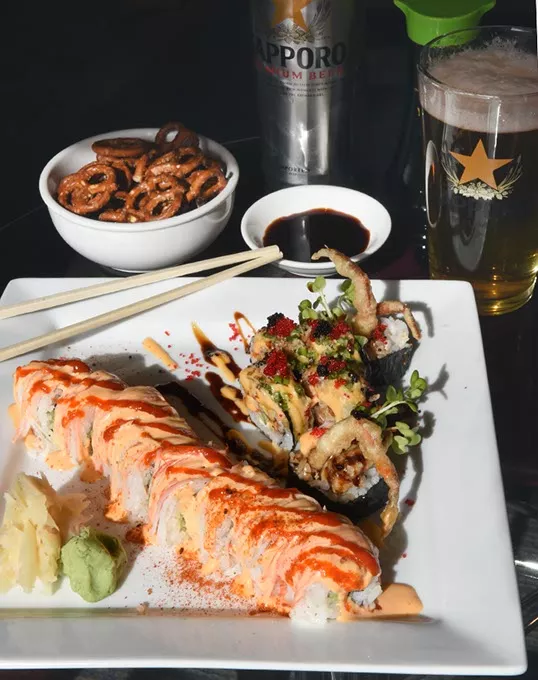 The Taranchula Roll, with Sapporo and pretzels, at Park Harvey Sushi Sports Lounge. mh
Park Harvey Sushi & Sports Lounge
200 N. Harvey Ave.
facebook.com/park.harveysushi
600-7575
This unusual joint is a clever ploy to attract sushi lovers and sports lovers alike. The food is delicious, varied and well-prepared. There are also house-made pretzels at the bar. If you're not comfortable eating sushi in public, just ask the sushi chef or your server for some tips. We promise they won't laugh at you, and you might even learn some new tricks.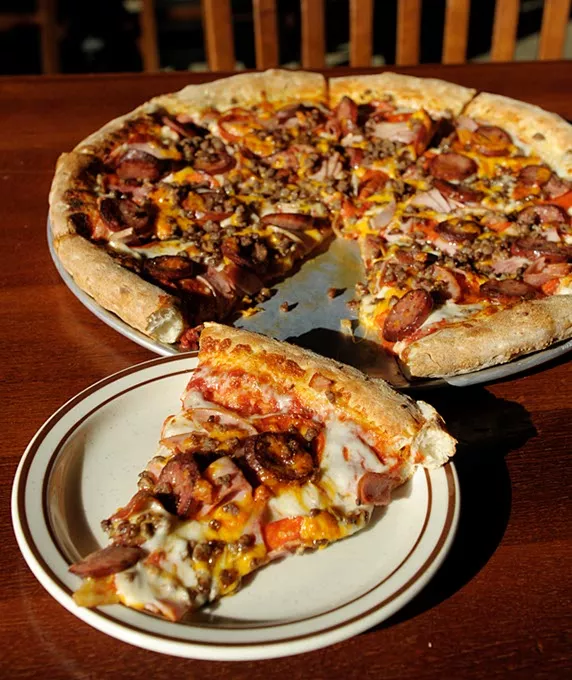 Garett Fisbeck
The "Big Country" at Hideaway Pizza in Oklahoma City, Wednesday, Nov. 19, 2014.
Hideaway Pizza
901 N. Broadway Ave.
796-7777
Founded in Stillwater in 1957, the small- town, family-owned pizza joint is the pride and joy of Stillwater (and OKC). It just added a prime rib pizza to its line of specials. This one is a dreamy combination of garlic glaze, prime rib, mushrooms and bleu cheese crumbles — there are no subtle flavors in this pizza. Another favorite specialty is the Big Country, with polish sausage, pepperoni and Canadian bacon. It was named one of the 50 best pizza pies worth traveling for by The Food Network.