"Ugh. What did I do last night?" Sound familiar?
The holidays are one of the biggest reasons to party harder, leading many a jolly old elf to find himself waking up in a bathtub, dazed, confused and usually missing shoes or, even worse, a kidney. Drive away those morning-after blues with these delicious ways to start off the New Year. — By Louis Fowler Photos by Mark Hancock
Erin Brewer, owner of Red Pin Bowling with a tray of her Vanilla Milkshakes which she will spike when they are served in the Cox Center for this year's Taste of OKC fundraising event. mh
RedPin Restaurant & Bowling Lounge
200 S. Oklahoma Ave.
702-8880
Like a dip in an icy tub, bowling could be just the ticket to reinvigorate and renew the first day of anyone's resolutions. Knock down a few pins at RedPin before knocking back a few of its specialty spiked milkshakes. We recommend the vanilla bean malt with vodka (pictured). While there, also try the baked mac and cheese or red onion rings and wings tossed in signature Buffalo sauce.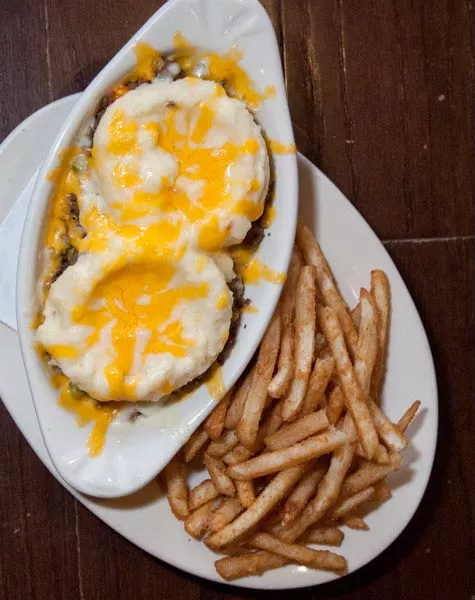 James E. McNellie's Public House
1100 Classen Drive
mcnelliesokc.com
601-7468
An old-school Irish pub in the heart of Midtown, McNellie's was practically born to cater to the morning-after crowd. The fish and chips, featuring a plateful of golden brown hand-battered cod fillets and thick- cut pub fries, or the Landlord's cottage pie, a casserole dish of chipped beef and veggies packed with mashed potatoes and gravy, are real workingmen's meals, even if you're a lazy American calling in sick.
Irma's Burger Shack
1035 N.W. 63rd St.
irmasburgershack.com
840-4762
Forget the hair of the dog and go for a pair of hot dogs. The Irma Dog with chili comes drenched in, of course, chili, cheddar and onions. For those needing something a little edgier, a hot link can even be substituted. A bit lighter is Nannie's Famous Slaw Dog, also paired with chili. A generous portion of sweet- and-spicy mustard slaw is topped on it.
Sheesh Mahal
4621 N. May Ave.
sheeshmahaloklahomacity.com
778-8469
Curry — if it's not already, it should be the new breakfast of champions. What better way to clear your head and start the day than with a big bowl of zesty chicken achari cooked in pickle spices or aloo gosht, a heavier meat-and-potato curry, two of Sheesh Mahal's signature dishes? Order one of its 12 varieties of bread, including potato naan, roti and chapatti, to soak up those unabsorbed spirits.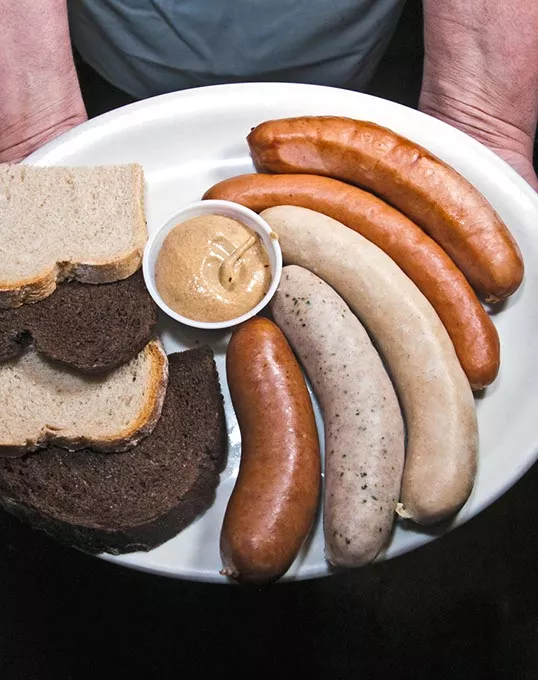 A selection of Siegi's sausages with breads and mustard, at Ingrids Kitchen. mh
Ingrid's Kitchen
3701 N. Youngs Blvd.
ingridskitchen.com
946-8444
Put down the stein and step away from the pilsner. After a night of downing fine German-crafted ales, it's probably best to enjoy some exceptional German food from Ingrid's Kitchen. Breakfast is served until 11 a.m., and a full order of wiener schnitzel featuring a breaded pork cutlet, two eggs, oven-roasted potatoes and a biscuit with sausage gravy will send any mid-morning withdrawal symptoms straight to the Black Forest.
Jorge Resendiz with a large pepperoni pizza in the oven for baking, at Empire Slice House. mh
Empire Slice House
1734 NW 16th St.
empireslicehouse.com
557-1760
From drunken depressions to drinking celebrations, there is no better compliment to a night of total rabble-rousing than a slice or two of pizza. Empire Slice House is open late, so it's easy as pie to have an Uber driver run you there before heading home to sleep it off. Just think how awesome it will be when you wake up in the morning to find an extra-large Notorious P.I.G. — loaded with bacon, pepperoni, sausage, capicola and Canadian bacon — waiting for you.
Tucker's Onion Burgers
324 NW 23rd St.
tuckersonionburgers.com
609-2333
Breathe it in deep. Feel the fried onions on that Mother Tucker cleanse every pore of that demon alcohol. It's one pound of meat cooked to greasy perfection, cheese melting over the sides, with a pile of fresh-cut jalapeños that work overtime on the taste buds. When paired with a heap of fresh-cut fries, you can drop the bottle in favor of this newfound addiction.
Print headline: Hangover hankerings