A wise, yellow, eight-fingered young man once told us, "Don't have a cow, man." But that was in Springfield, not Oklahoma City. This is Steer Central, Beef Junction, The Heifer Hub. We will have a cow, man. We will, as our ancestors taught us, eat every part of the cow. And it will be delicious.
— by Greg Elwell,
photos by Garett Fisbeck and Mark Hancock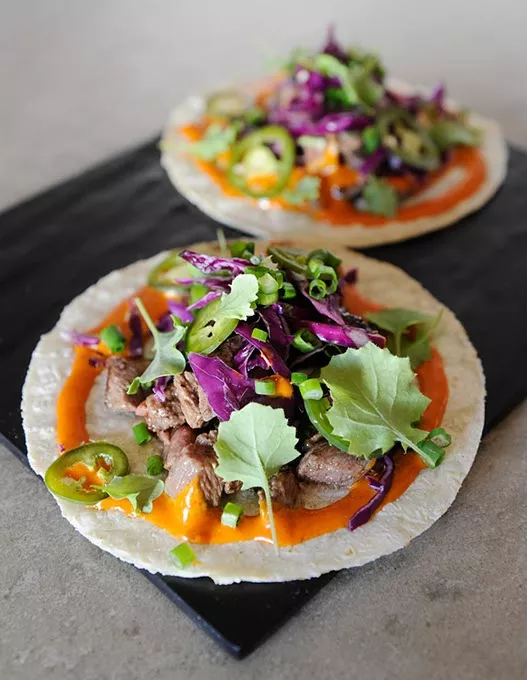 Garett Fisbeck
Short rib tacos at Chae in Oklahoma City, Friday, Dec. 18, 2015.
Chae
1933 NW 23rd St.
600-9040
Short ribs used to be the chef's secret weapon, a cheap cut of beef that could transform from steak to roast to barbecue and so much more. The word is out, though. That doesn't make short ribs any less delicious — just a little more expensive. Newly opened Chae takes tender short rib chunks cooked up Korean-style and puts them in a form all of us can appreciate: tacos. Doused with a spicy sauce and jalapeños, they are amazing appetizers.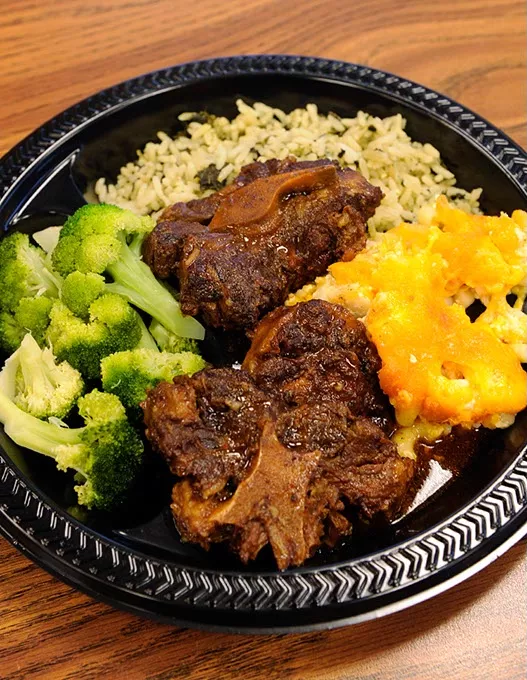 Garett Fisbeck
Oxtail, spinach rice, broccoli, macaroni and cheese, at Carican Flavors in Oklahoma City, Thursday, Dec. 18, 2015.
Carican Flavors
2701 N. Martin Luther King Ave.
424-0456
The primary purpose of a cow's tail is to swat away flies. The primary purpose of my hands is to swat away my dining companions when I get the oxtail at Carican Flavors. Delicately braised, these bony chunks are surrounded by a ring of melt-in-your-mouth beef. And don't skimp on the beef broth, which should be ladled over a side of spinach rice to soak up the rich flavor of perfectly cooked Caribbean-style beef.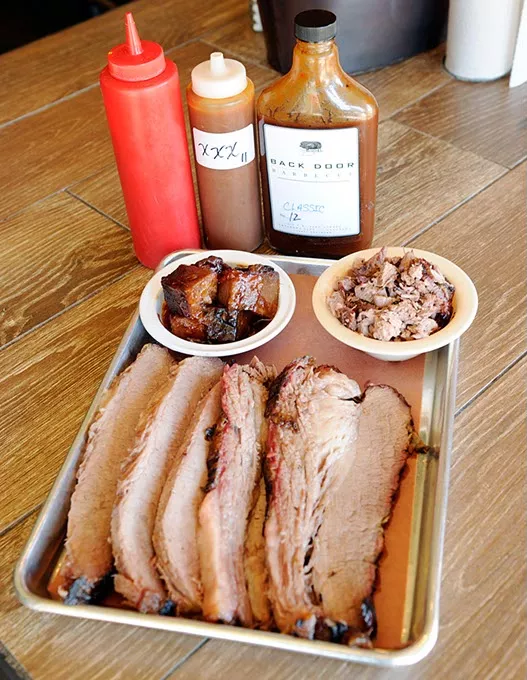 Garett Fisbeck
Fat and lean sliced brisket, chopped brisket, and burnt ends, at Back Door Barbecue in Oklahoma City, Monday, Dec. 21, 2015.
Back Door Barbecue
315 NW 23rd St.
525-7427
Brisket seems easy until you try to cook it. It's a big wad of muscle that supports the bulk of a cow's weight, which requires a lot of connective tissue. Try to cook brisket like a steak and you'll end up with the toughest shoe leather you've ever tasted. How fortunate for us, then, that Back Door Barbecue's cooks know the secret to flavorful, fatty, low-and-slow beef brisket. It's so tasty, it doesn't need help — but try the espresso BBQ sauce anyway.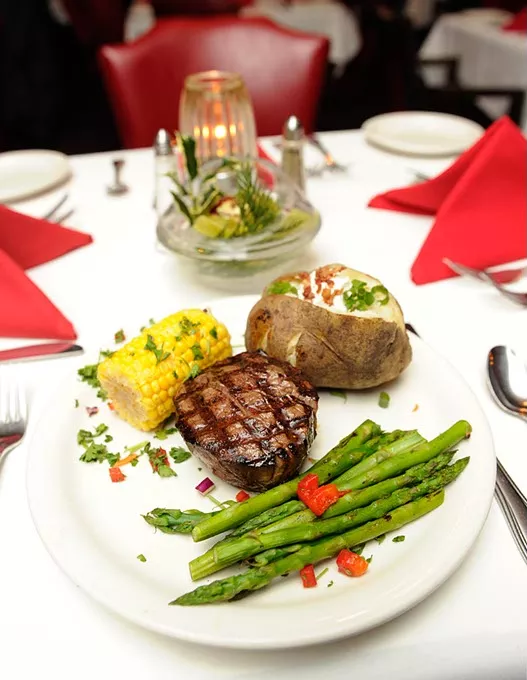 Garett Fisbeck
8 oz. filet at Junior's in Oklahoma City, Friday, Dec. 18, 2015.
Junior's
2601 Northwest Expressway
848-5597
On the opposite spectrum from brisket is beef tenderloin. This muscle gets almost no work, leaving it so easy to eat that it barely requires any cooking at all. But at old-school steakhouse Junior's, the filet is prepared with perfect char marks, a bright red center (You are ordering it medium-rare, right?) and a generous helping of butter, salt and pepper. This is the epitome of a classy steak dinner in one of OKC's classiest old establishments.
Mark Hancock
Jumbo Cheeseburger at Big Ed's Hamburgers, 12209 N. Pennsylvania Avenue in Oklahoma City, 12-21-15.
Big Ed's Hamburgers
12209 N. Pennsylvania Ave.
755-2108
What is in a cheeseburger? There are really only three basics necessary: a bun, a slice of cheese and a disc of ground beef cooked to perfection. You get a lot more than that at Big Ed's Hamburgers when you order the jumbo cheeseburger. Giant slices of tomato, slivered rings of red onion, pickles and lettuce leaves all join two gorgeous patties of hamburger and two melting squares of cheese. The real question is, When is that cheeseburger going in you?
Mark Hancock
Bone Marrow at Ludivine, 12-23-15.
Ludivine
805 N. Hudson Ave.
778-6800
Five years in, it's hard to believe any hard-core foodies haven't visited Ludivine. Besides excellent seasonal, local fare and bartenders who are constantly pushing the boundaries with inventive cocktails, there is one dish that might be tossed aside at other restaurants: bone marrow. Big beef bones are cut down the middle with a band saw and roasted until the insides become "meat butter." Make a reservation to try them tonight.
Mark Hancock
Well done brisket pho, at Pho 54, 15001 N. May Avenue, 12-21-15.
Pho 54
15001 N. May Ave.
608-5054
Obviously Phake Pho Phacts:
» More pho is served in Oklahoma City than in Vietnam each year.
» Scientists have proven that pho can replace most antibiotics.
» If you order vegan pho, you get a glass of water and a punch in the face.
Now that those are out of the way, you should really go to Pho 54 and try its insanely good beef-and-noodle soup.