The new year is here, you're struggling to make it past this first week of resolutions and eating better tops the list. Here are healthy alternatives that'll make keeping those personal promises a little bit easier on the taste buds.
— by Louis Fowler, photos by Mark Hancock and Garett Fisbeck
Local
2262 W. Main St., Norman
928-5600
Norman's Local continues to win palates not only for its farm-to-fork freshness but also for the creative and tasty ways it crafts meals to make them both healthy for you and for the environment. The Farmer's Market salad is the perfect example, with locally sourced vegetables, mixed greens and herbed goat cheese. A seasonal favorite is the kale Caesar salad, especially when paired with one of Local's wines.
La Brasa Peruvian Kitchen
1310 NW 25th St.
524-2251
No one brings the taste of the tropics home quite like La Brasa with its diverse selection of ceviches. La Brasa puts its own spin on the classics, from the Ceviche Leche de Tigre, containing an "aphrodisiac ceviche sauce" with lime juice, onions and chiles, to the Ceviche Mixto, a unique seafood mix with sweet potatoes, avocado and Peruvian rocoto chiles.
Mark Hancock
Tiffany Magness, owner of Green Goodies, adjusts her cupcakes at Classen Curve.
Green Goodies
5840 N. Classen Blvd. No. 5
842-2288
Eating healthy doesn't have to mean eating boring. Case in point: the plethora of good-for-you cupcakes at Green Goodies. Preservative-free and with no trans fats, cupcakes include sugar-free options such as the Happy Birthday Chocolate and Sopapilla Cheesecake and gluten-free choices like the Banana Pudding or Coconut Cream Cheese. Order a dozen without shame. Sharing is optional.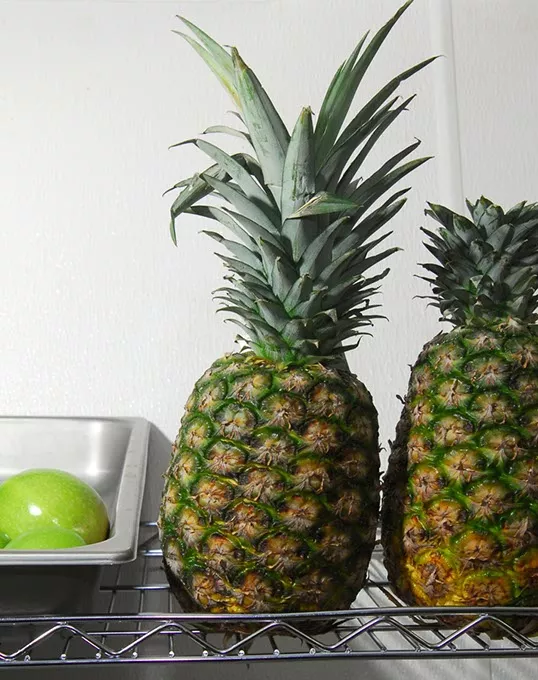 Healthy fruits ready to use, on the shelf at Green & Grilled, 8547 N. Rockwell. mh
Green & Grilled
8547 N. Rockwell Ave.
563-2605
Green & Grilled's high-quality, healthy eating served in a fast and casual atmosphere is unique to OKC's food scene. With a selection of grilled meats and tofu designed to perfectly complement salads such as the apple spinach or the sauteed seasonal veggies, it offers meals guaranteed to fill anyone up without the guilt — so much so that perhaps a slice of its pineapple zucchini cake for dessert wouldn't be out of the question.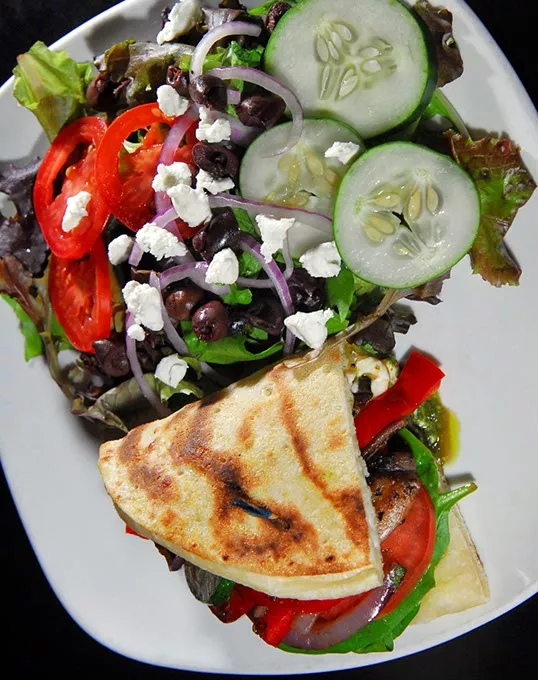 Saturn Grill
6432 Avondale Drive
843-7114
Saturn Grill is a lunchtime hotspot, and patrons clamor for its healthy sandwich offerings like the Seared Caribbean Jerk Chicken, portabella mushroom or the grilled veggie. Ask for the No. 57. It's a half sandwich with a soup or salad, such as Saturn's mixed green salad with goat cheese topped with herbed vinaigrette or the seasonal fresh fruit and spinach salad with lime poppy seed dressing.
Coolgreens
6475 Avondale Drive
841-2665
Coolgreens is passionate about its ingredients and it shows. Everything is prepared fresh daily by executive chef Trey Ferguson, who makes low-fat and low-calorie options. The Southwest Spicy salad has south-of-the-border flair. Its companion piece, the chipotle ranch salad or wrap, gussies things up for those who love the tangy topping.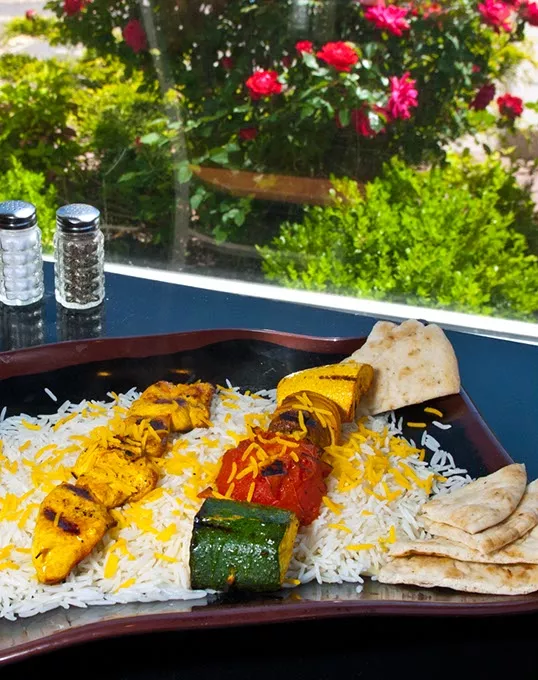 The Chicken Shish Kabob Plate at Basil Mediterranean Cafe on NE 23rd Street. mh
Basil Mediterranean Restaurant
211 NW 23rd St.
basilmediterraneanrestaurant.com
602-3030
The scent of Basil is intoxicating. Fresh spices and ingredients work together to form a fresh, healthy and, most importantly, authentic Mediterranean meal. The smell of the saffron on the tender chicken shish-kabob, the marinating rosemary on the beef shish-kabob or the fresh garlic sauce on the chicken Bandarri are all tantalizing travelogues for the senses. It's impossible not to shout "Opa!" before walking out the door.
Print headline: Healthier alternatives