On a scale of 1 to 5, how much do you hate your mouth? Think about it. That jerk is always getting you into trouble. He never says the right thing on dates. He laughed at your great-aunt's funeral. I say it's time we teach him a lesson he won't soon forget. Let's go to these restaurants where "Hurts So Good" plays on an endless loop in the kitchen and shut him up.
— by Greg Elwell,
photos by Garett Fisbeck and Mark Hancock
Garett Fisbeck
Shrimp Pad Kee Mao at Tana Thai in Oklahoma City, Thursday, Dec. 10, 2015.
Tana Thai
10700 N. May Ave.
749-5590
Pad Kee Mao literally translates as "drunken noodles" because Thai food is awesome. Drunk, tipsy, hungover or stone-cold sober, these fat, saucy noodles from Tana Thai will satisfy your need for carbs and help clear your head with spicy-hot peppers. When will America get on board with this trend? There's no reason Hot Pockets shouldn't be called Stoned Meat Sleeves. No reason at all.
Garett Fisbeck
Chicken curry, Aloo Palak, garlic naan, at Sheesh Mahal in Oklahoma City, Thursday, Dec. 10, 2015.
Sheesh Mahal
4621 N. May Ave.
778-8469
Business at Sheesh Mahal has been picking up, as evidenced by its new video screen menu and general upkeep of the old building. But it shouldn't come as any surprise, because this Indian and Pakistani culinary treasure is turning out some of Oklahoma City's best spicy dishes. You can ask to keep the heat down, but it tastes too good to stop eating, even if you're sweating profusely and steam starts piping out your ears.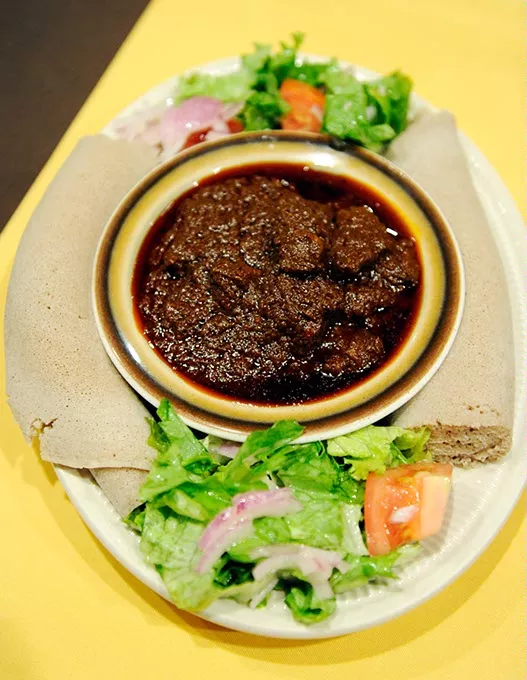 Garett Fisbeck
Kay Watt at Queen of Sheba in Oklahoma City, Friday, Dec. 11, 2015.
Queen of Sheba Restaurant
2308 N. MacArthur Blvd.
606-8616
Do you like Ethopian food? Yes. You do. It doesn't matter that you've never had Ethiopian food. You like it. You like the plates of spicy chicken and beef in exotic spices. You like the spongy, slightly sour injera bread you use to pinch the foods instead of using a boring fork or spoon. You don't like the parking lot that Queen of Sheba Restaurant is in, because it's a nightmare for tires, but otherwise, yes, you quite like Ethiopian food, thanks.
Garett Fisbeck
Beef with thai pepper at Szechuan Bistro in Oklahoma City, Friday, Dec. 11, 2015.
Szechuan Bistro
1010 W. Memorial Road
752-8889
Here's how good Szechuan Bistro is with spice: It can make bok choy taste good. Beef? Simple. You can make chicken taste like anything. But bok choy? 'Tis the work of a wizard! (Or just a really skilled chef.) If you like sesame chicken, that's fine, but flip to the back of the menu and delve into a wonderland of dishes you've never seen before. And if you like it hot, well ... ask.
Mark Hancock
Tacos Calvillo at Abel's Mexican Restaurant, 5822 NW 50th Street in Oklahoma City, 12-15-15.
Abel's Mexican Restaurant
5822 NW 50th St.
491-0911
Last time I saw Jim, he was still hunkered over a plate of Tacos Calvillo at Abel's Mexican Restaurant.
"Good-bye," we said, but he didn't even look up. There was another plate of tiny, tasty tacos showing up and he was pouring Abel's special salsa over each one.
Sometimes I still think of Jim. He's probably still there. I can't blame him a bit.
Mark Hancock
Spanish Fries with bowl of chili, at Ron's Hamburger and Chili, 4723 N. May Avenue in Oklahoma City, 12-14-15.
Ron's Hamburgers & Chili
4723 N. May Ave.
943-7667
The lawsuit is over. Turns out the owners of Ron's Hamburgers & Chili could not prove, beyond a reasonable doubt, that the term "Netflix and chill" was based on Ron's classic menu of enormous burgers and big bowls of spicy chili. But if you've ever had an order of the Spanish fries full of fried onions and jalapeños, you certainly know that you cannot do anything but chill after leaving Ron's.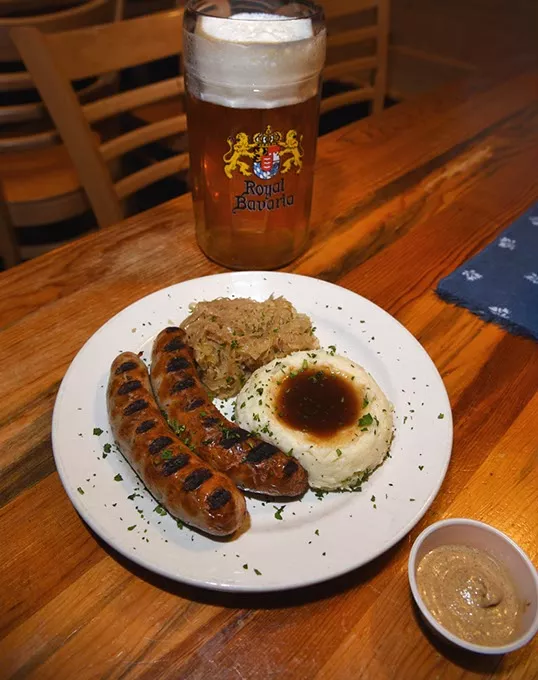 Mark Hancock
Stck.grobe Bratwurste mit Sauerkraut und Kartoffelbrei, with one of their house brews, at Royal Bavaria, 3401 S. Sooner Road in Moore, Oklahoma, 12-15-15.
Royal Bavaria
3401 S. Sooner Road, Moore
799-7666
"The German people basically invented spice" is something a German person might tell you. They're always claiming this or that was originally German. Just smile and nod and take another bite of your grobe bratwürste mit sauerkraut und kartoffelbrei, enjoying the flavor of the coarsely ground spicy veal and pork sausages and thinking, Sure. I'll bet you invented mashed potatoes, too. And they did. They really did. Maybe.