They say kale is a "superfood" ... for now. But Superman used to smoke cigarettes, and things change. What we're saying is, be sure to eat all the kale you can before it's ruled a public health menace. Then you can join a class-action lawsuit and get rich off that sweet kale money. Secure your future now! We're kidding! It's delicious and healthy. Start eating kale at some of these local restaurants today.
— by Greg Elwell, photos by Mark Hancock and Garett Fisbeck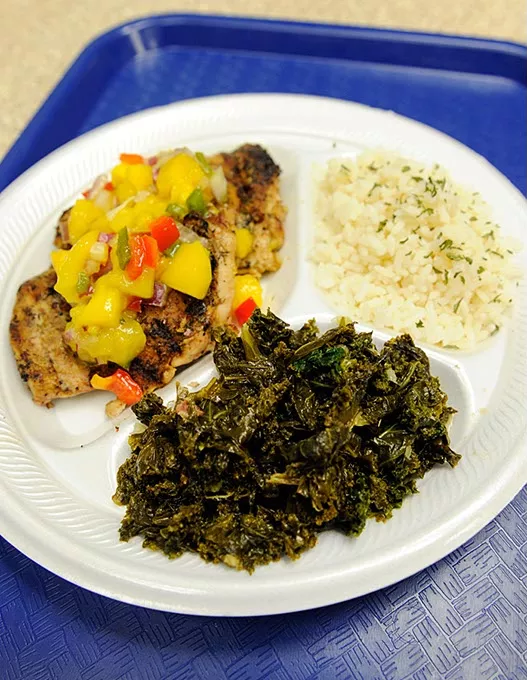 Jerk chicken with mango salsa, island rice (coconut lime infused), callaloo (kale), at The Islands in Oklahoma City, Friday, June 5, 2015. (Garett FIsbeck
The Islands
117-119 N. Robinson Ave.
524-3354
Callaloo? More like kale-hallelujah! Haha, but seriously, this dish has found its way to Oklahoma City thanks to The Islands, where you can get a variety of Caribbean favorites. This one is chock-full of the green stuff, which gives a nice balance to that gorgeous grilled chicken with mango.
Braised short rib benedict with kale and orange juice at Park Avenue Grill in the Skirvin. mh
Park Avenue Grill
1 Park Ave.
702-8444
Short ribs do not come from miniature cows, Uncle Andy. Way to make me look stupid at the science fair. But if you, too, missed out on a participation ribbon, soothe your ego with Park Avenue Grill's tender and tasty braised short rib Benedict with kale. Your taste buds will graduate to the next level when they hit pickled red onion and blue cheese hollandaise, even if you're stuck repeating the fourth grade.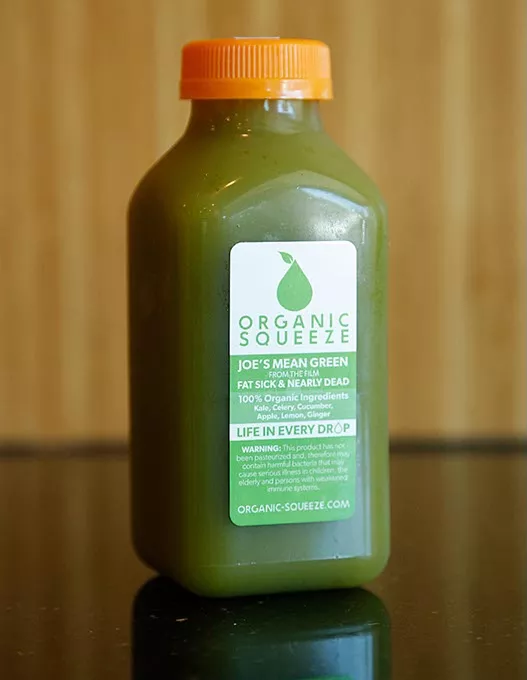 Garett Fisbeck
Joe's Mean Green juice at Organic Squeeze in Oklahoma City, Thursday, June 4, 2015.
Organic Squeeze
6434 Avondale Drive
796-7793
Chewing — it has to stop. I mean, really. Where are these miracle pills that replace our meals? When will the future finally arrive and relieve our jaws from the tyranny of mastication? Until that day comes, at least there's Organic Squeeze's Joe's Mean Green. This bottle of juice is filled to the brim with kale, apple, cucumber, ginger, celery and lemon. Drink it down and gnash your teeth no more.
Kale chips at the Nourished Food Bar. mh
Nourished Food Bar
131 Dean A. McGee Ave., Suite 115
740-7299
Drinking — it has to stop. When did we get so lazy that we couldn't chew anymore? Dedicate your mouth to its true purpose and munch on the kale chips from Nourished Food Bar. A blend of kale, sunflower seeds, bell peppers, carrots and seasoning, this crisp and crunchy chip is healthier than a potato and tastier, too. Open wide and get to chewing.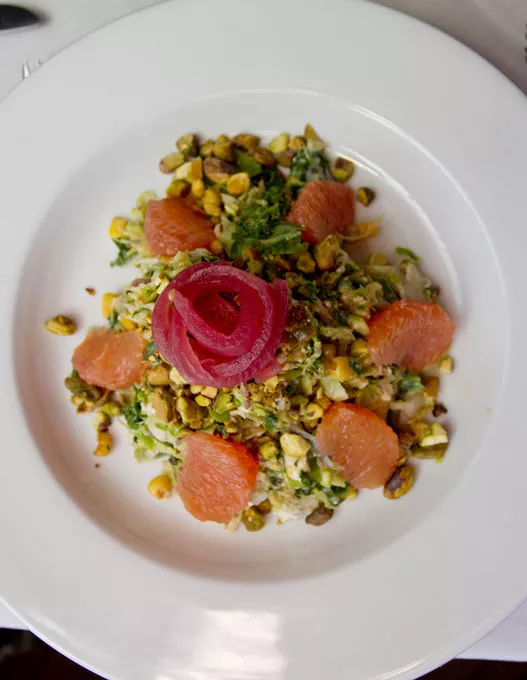 Cheever's Cafe
2409 N. Hudson Ave.
525-7007
Do you remember when Brussels sprouts were a punch line, right up there with garlic and Limburger cheese on the list of foods only weirdos enjoy? And now those tiny cabbage things are everywhere, including this top-notch shaved Brussels sprouts and kale salad from Cheever's Cafe. This is one mighty bowl of greens, and it comes with some powerful toppings: pistachios, chile lime corn, grapefruit, and bleu cheese. It's pretty fantastic.
Garett Fisbeck
Kale and pomegranate salad and Popeye fresh juice at Whiskey Cake in Oklahoma City, Thursday, June 4, 2015.
Whiskey Cake Kitchen & Bar
1845 Northwest Expressway
582-2253
Another salad? Yes. It's kale. What did you think people did with this stuff? They put it into salads with frisée, sliced apples, fried chickpeas, country ham, pomegranate seeds and a breaded and fried poached egg. Not enough kale for you? Then gulp down a glass of fresh Popeye juice with liquefied spinach, kale, cilantro, cucumber, lime, green apple, ginger, carrot and lemon. Still not enough? Too bad.
Urban Johnnie Bar & Grille
121 NE Second St.
208-4477
Urban Johnnie owners went through a bunch of potential names before they settled on this one. City Johnnie. Johnnie Near Downtown. Hey, This Johnnie Is Clearly Not in the Suburbs. And Johnnie Kale Emporium. The last one was nixed, but they decided to keep the kale salad with lemon, shaved Parmesan and garbanzo beans. (Add in shrimp to make it a meal.) Yeah, I made most of that up, but the salad is truly awesome.