How many turkeys did grandma make again? Somehow, the fridge, freezer and several coolers in the backyard are full of dark meat, and there's only a single thimbleful of gravy left. There's just so much of that gobbler you can gobble. What you need is a meal out. Here are a few ideas:
— By Greg Elwell
Photos by Mark Hancock
and Garett Fisbeck
Garett Fisbeck
Grilled Onion Cheeseburger and onion rings in Oklahoma City, Thursday, Nov. 12, 2015.
4U Café and Catering
400 S. Vermont Ave., Suite 110
hhshootingsports.com/shop/cafe
947-3888
4U Café bills itself as Oklahoma City's Original Gun Range Cafe, which might tell visitors a lot about how deep the Second Amendment culture runs in our fair city. But even if you're not interested in bullets, you'd be a fool to shoot off your mouth about the food at 4U without giving it a try. It serves top-notch onion burgers, Frito chili pies and an award-winning chicken salad sandwich. (It's from the first chicken to place in a skeet shooting competition.)
Mark Hancock
Chicken Fried Steak Sandwich and tator tots, at Ann's Chicken Fry on 39th Expressway in OKC, 11-13-15.
Ann's Chicken Fry House and Gift Shop
4106 NW 39th St.
943-8915
"I just got through with that turkey, and now you want me to eat chicken?" is something you might say if you've never been to Ann's Chicken Fry House, where the specialty isn't fried birds, but rather chicken-fried steaks. There's nothing quite so entertaining as watching someone's face when one of these beauties finds its way to a table. These meaty delights are so big they can hang off the plate and come replete with plenty of country (not turkey) gravy.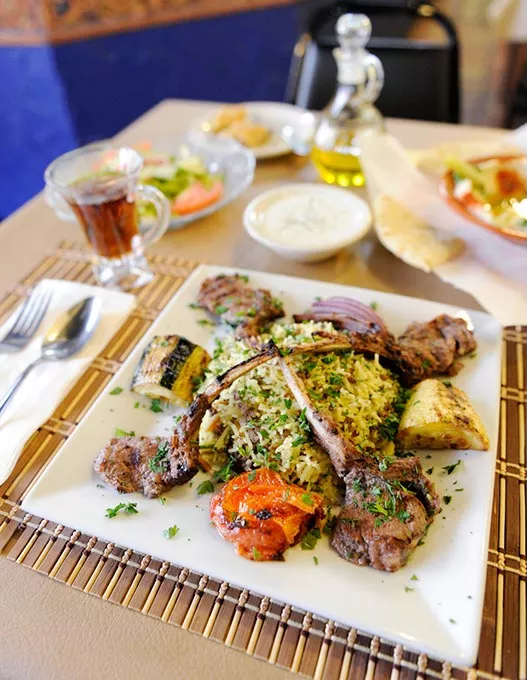 Garett Fisbeck
Lamb chops at Camilya's Cafe in Oklahoma City, Thursday, Nov. 12, 2015.
Camilya's Cafe
10942 N. May Ave.
418-4141
Due to a long-standing feud between turkey producers and Turkey the country, there are rarely any turkeys included in the Mediterranean diet. That makes Camilya's Cafe an ideal spot for your post-Thanksgiving meal. There are gyros, of course, but why not explore something really unique, like okra cooked with ground beef, garlic, onion and tomato sauce or feast on a few tender lamb chops?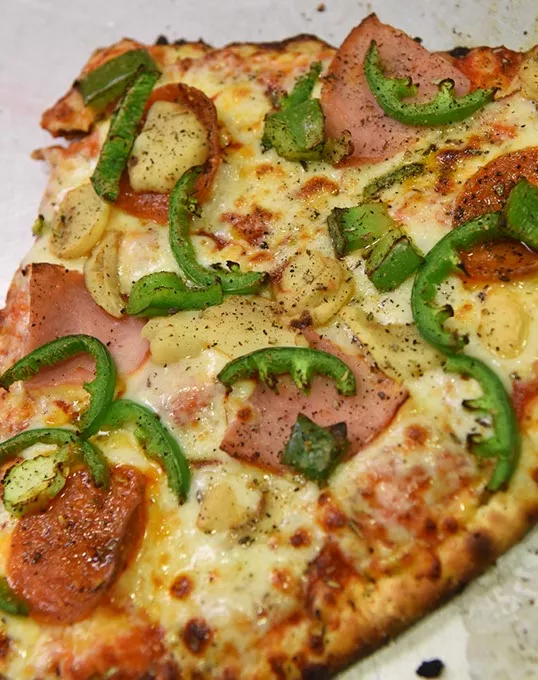 Mark Hancock
Build your own pizza, in halves, quarters, and wholes, at Crooked Crust, 757 Asp Ave., in Norman, 11-16-15.
Crooked Crust
757 Asp Ave., Norman
crookedcrust.com
515-9111
For a place called Crooked Crust, it has a pretty straightforward menu. Any whole pizza is $16, and that includes unlimited toppings. Specialty pies? $16. Cheese and pepperoni? $16. Some weird combo of barbecue sauce, every kind of pepper, mushroom, pineapple and cream cheese? Still $16. Best of all, there's not a hint of turkey on the menu. If only you could get your family to agree to pizza for Thanksgiving dinner in the first place.
Garett Fisbeck
Italian beef and sausage sandwich at Cal's Chicago in Oklahoma City, Thursday, Nov. 12, 2015.
Cal's Chicago Style Eatery
7202 W. Hefner Road
calseatery.com
721-7700
Nobody brought pickle fries to Thanksgiving. Sweet potatoes and dry stuffing and green bean casserole, sure, but where were the pickle fries, Aunt Kevin? Take your leave of dull sides and park yourself in a booth at Cal's, where you can find a tasty Italian beef sandwich, Polish sausage and a heaping helping of crunchy, sour and habit-forming pickle fries.
Mark Hancock
Street Tacos at La Frontera on N. MacArthur Blvd., in OKC, 11-13-15.
La Frontera
2008 N. MacArthur Blvd.
949-0088
You should never name a dog Tacos. Imagine if it got loose. Then you're stuck running down the street, yelling, "Tacos! Tacos! Here, Tacos!" And that is a recipe for a riot. Because Oklahomans come a-running when they a-hear someone a-talking about tacos. Save yourself a lot of heartache and just go to La Frontera for your asada and carnitas tacos and name your dog something else, like Father Tinkles O'Fluffy, Ph.D.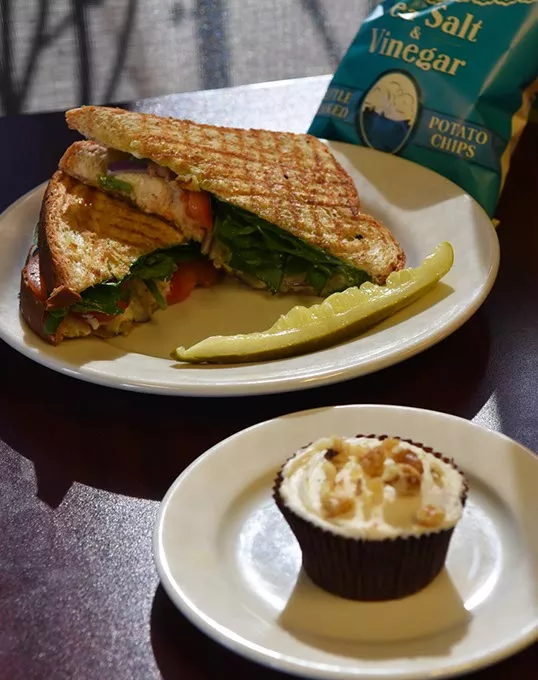 Mark Hancock
Honey Orange Chicken Panini sandwich and chips, with a cupcake for dessert, at The Sweetery Eatery on N. May Avenue in OKC, 11-13-15.
The Sweetery Eatery
12301 N. May Ave.
sweeteryeatery.com
751-2259
The Sweetery Eatery is a lot of things: a cute little cafe with sandwiches, a bakery with fresh cookies and a purveyor of fine salad. But there's one thing it isn't, and that's open after 3 p.m. So if you have a post-holiday hankering for a cupcake, a pastrami and Swiss panino or the Ultimate BLT (with avocado and cream cheese), make plans to get there early.
Print Headline: Leftover hangover