To help keep your spirits up as these cold, heartless days of winter take hold, we've done the homework and the legwork to find hardworking, local craftspeople devoted to making your holidays go smoothly. (Read as: Drink up!)
— by Devon Green, photos by Mark Hancock, Lauren Hamilton
Lauren Hamilton
Prarie Wolf Spirits whiskey class at Prarie Wolf Spirits in Guthrie, Okla. Photo by Lauren Hamilton
Prairie Wolf Spirits
124 E. Oklahoma Ave., Guthrie
Since 2009, the Merritt family has created smooth, award-winning, local vodka. Prairie Wolf Vodka is now available in many restaurants, including Picasso Cafe, Grand House China Bistro, Grandad's Bar, 51st Street Speakeasy and The Drum Room (among others) and at package stores. Its newest additions include DARK, a coffee liqueur made with locally roasted Kona coffee beans, and Loyal Gin. The family worked with t, an urban teahouse to create the unique taste.
Scissortail Distillery
2318 N. Moore Ave., Moore
facebook.com/scissortaildistillery
Scissortail makes Scissortail Bourbon, Oklahoma LandRum, Black Kettle gin and Scissortail Rye Whiskey in small batches. Owner Garrett Janko seldom gets a day off but is thrilled that so many people have discovered that his smooth, environmentally friendly booze doesn't skimp on taste or quality.
Roughtail Brewing Co.
1279 N. Air Depot Blvd, Midwest City
771-6517
This brewery does everything it can to reduce waste, from the production process to the its and cans. Most of the beer produced by Roughtail is in kegs, and you can try a pint at Louie's Bar & Grill, 301 W. Boyd St. in Norman, and Iron Starr Urban Barbeque, 3700 N. Shartel Ave.
Black Mesa Brewing Company
1354 W. Sheridan Ave.
This brewery is named after the highest point in Oklahoma, and its founders maintain some of the top environmental practices in the state. Black Mesa primarily packages beer in kegs, as that's the least wasteful way to serve and drink beer, but you will also find its beers at retailers. Use the beer map on its website (above) to find local bars and restaurants close to you.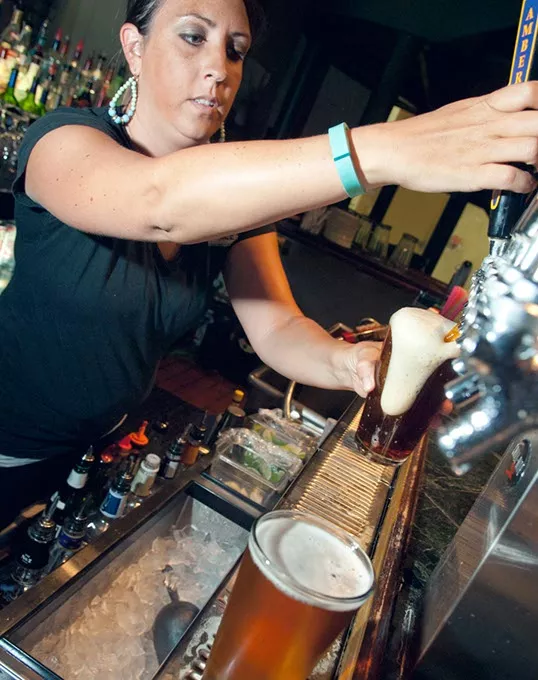 Belle Isle Restaurant and Brewing Company
1900 Northwest Expressway
840-1911
Visit the restaurant's second story. It offers beers brewed on tap, live music and trivia contests. The brewery makes seasonal changes to its offerings and always has customer favorites available, such as Belle's Blonde and Flanagan's Amber Ale. One of the city's oldest and best, this brewery also sells growlers, so you can grab your favorite suds to go.
Mustang Brewing Company
520 N. Meridian Ave.
mustangbeer.com
943-0100
Mustang has fun with everything it does, and it's obvious with its latest limited release, Frah-Gee-Lay Sweet Potato Porter, made with flavors of chocolate, vanilla and hints of cinnamon and clove. The name is a cheeky nod to A Christmas Story, everyone's favorite holiday movie.
Lauren Hamilton
Jordan Sandefur, Chris Gaylor, and Mike Sandefur toast to a great brew at Battered Boar Brewery in Edmond, OKla. Chris Gaylor, the drummer for The All American Rejects, is the brewery's investor. Photo by Lauren Hamilton
Battered Boar Brewing Company
14700 Metro Plaza Blvd., Edmond
254-5000
Master brewer Mike Sandefur and his son Jordan recently created LaPadite Farmhouse Ale, a beautiful, unexpected beer that enlivens taste buds with hints of dandelion and Australian Galaxy hops. The brewery also houses reclaimed foudres (oak aging casks for wine). Find Battered Boar in retail stores like 2nd Street Wine Co., 1340 E. Second St., in Edmond and Freeman's Liquor Mart, 4401 N. Western Ave.