Have you no shame? We hope the answer is "no," because we have a list of delightfully decadent foods that cannot be consumed by those encumbered with embarrassment. Delve deep into that bag of fried pork, lick the gooey cheese off your fingers and shout to the heavens: "Yes, I will have another corn dog!"
— by Greg Elwell, photos by Mark Hancock and Garett Fisbeck
Mark Hancock
Marcelino "Chelino" Garcia himself shows the unfried and the finished fried Pork Rinds in a bag over the vat they are fied in, at Chelino's Meat Market, 2101 S. Robinson Avenue, 9-4-15.
Chelino's Meat Market
2101 S. Robinson Ave.
There's something kind of magical about seeing a whole pork rind in its original piggish shape. Chelino's takes that enormous hide and fries it until it becomes puffy, crisp and flavorful. Plus, it's always good to take revenge on your enemies by eating their skin. And if you think that pig wouldn't turn around and do the same to you, then it's time to wake up, pal! It's swine o'clock and you better start chowing down.
Garett Fisbeck
Roger Dog (all beef corndogs) at Anchor Down in Oklahoma City, Thursday, Sept. 4, 2015.
Anchor Down
30 NE Second St.
605-8070
Corn dogs go by many aliases. They've been called "Dagwood dog" and "Pluto pup" and "cozy dog." In Argentina, they are called panchukers. Those are all, we can agree, very dumb names. Especially when "corn dog" is so easy to say. Try it. Go ahead. If you're in Anchor Down when you say it, the cooks will probably make one for you to eat. Hint: Hold it by the stick and eat the fried part. Great job, champ.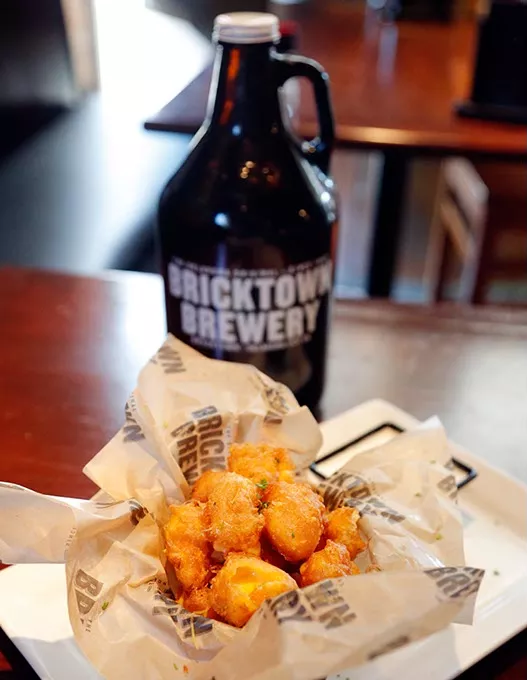 Garett Fisbeck
Fried cheese at Bricktown Brewery in Oklahoma City, Wednesday, Sept. 2, 2015.
Bricktown Brewery
1 N. Oklahoma Ave.
232-2739
Every time you say "fried cheese," a heart surgeon buys another Lexus. And yet, every time you say "fried cheese," a thrill runs down your spine. Perhaps it is the knowledge that there's no redeeming nutritional value in this delicacy. It is an exercise in pure, unadulterated flavor. Bricktown Brewery understands this. Fried cheese exists outside the boundaries of good health, but not outside the boundaries of a healthy appetite.
Garett Fisbeck
Ronnie poses with Frito Chili Pie in Oklahoma City, Wednesday, Sept. 2, 2015.
Coney Island
428 W. Main St.
239-8568
The good people at Coney Island had a decision to make. They could continue selling Corn Chip Meat Sauce Cake or they could take a chance on a young upstart called Frito Chili Pie. People said they were fools and heretics, but then those people had a taste of gooey melted cheese, hearty chili, the sharp bite of chopped onion and the buttery crunch of Fritos ... and shut up. The rest, dear readers, is history.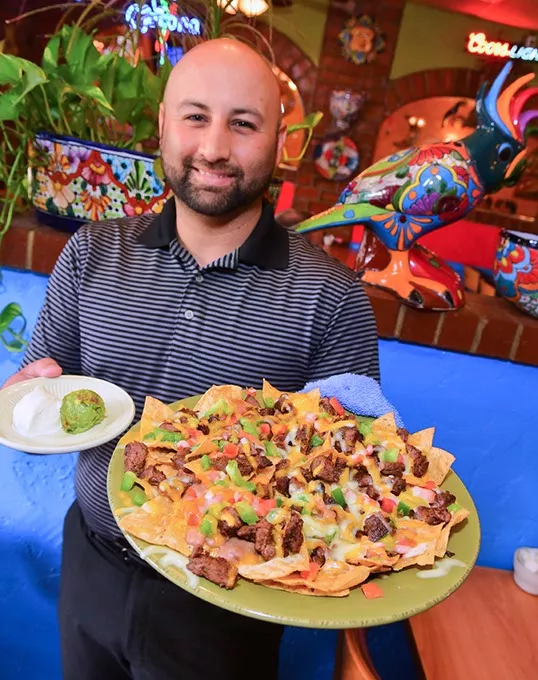 Mark Hancock
Abel Delpera with the El Mexicano Nachos at San Marcos Mexican Restaurant, 2301 SW 59th Street, 9-8-15.
San Marcos Mexican Restaurant
2301 SW 59th St.
685-7773
A petition is going around to rename Thursday as Nursday and we are all expected to sign it. Tuesdays, rightly, have been associated with tacos. But without a compatible day, what has become of the noble nacho? Until Congress, U.N., Hardy Boys and National Association of Chip Handlers Onanymous (N.A.C.H.O.) act on this resolution, we'll have to celebrate Nacho Nursday in secret at San Marcos.
Mark Hancock
Jamils Steakhouse baloney sandwich, with tabouli, french fries, garnishes and sauce, oh, and that's Greg Gawey linding a hand, 9-4-15.
Jamil's Steakhouse
4910 N. Lincoln Blvd.
525-8352
"That's a load of baloney!" is an acceptable thing to shout when your waitress brings you the Senator's Smoked Bologna sandwich at Jamil's. "Sir, could you keep it down? Others are trying to eat," is an acceptable reply from your server, who doesn't need your crap, thank you very much. There are too many people ordering these sweet, smoky, meaty hunks of goodness to put up with all your commotion.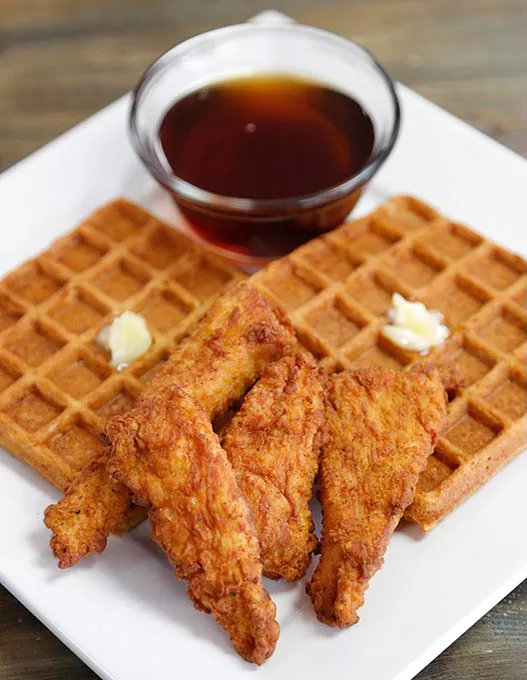 Garett Fisbeck
Chicken and waffles at Smokey's Midnight Express in Edmond, Wednesday, Sept. 10, 2015.
Smokey's Midnight Express
520 S. Coltrane, Edmond
359-3663
With dishes like The Morning Bowl and Roll Your Own wraps, the folks at Smokey's don't care about subtlety. They know their clientele, which is why this restaurant is open 6 p.m. to 3 a.m. and serves pizza, sandwiches and bountiful breakfasts like chicken and waffles. Nothing tamps down on a late-night craving like chicken fingers, sweet potato waffles and Smokey's secret syrup. (The secret is you should ask for more syrup.)