It's munch madness, baby! Everyone shouts all the time and watches basketball games nonstop on TV, baby! Everyone in your office filled out a bracket and put $5 in the pool, only to lose to Melvin in the mailroom, who chose winners based on which colors he likes, baby! Also, everything has to end in baby, baby! Grab some chow and watch hoops here, baby!
— by Greg Elwell,
photos by Mark Hancock and Garett Fisbeck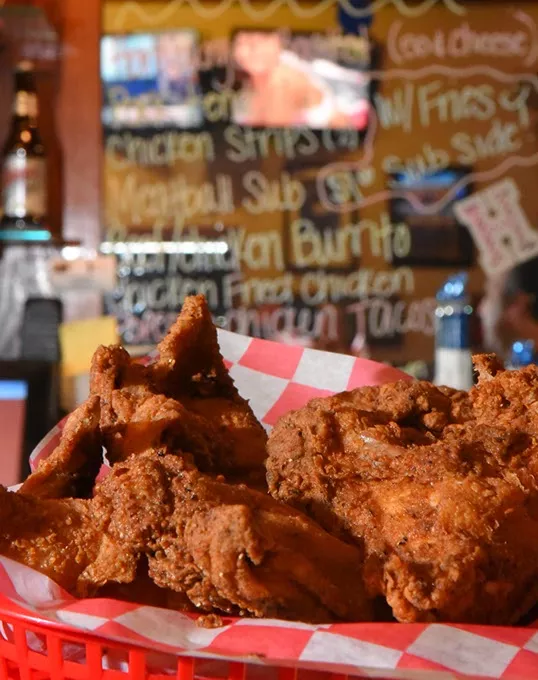 Mark Hancock
The 8 Piece Coaches chicken basket, and lots TVs, at Half Time Sports Grill in far southwest OKC, 2-10-16.
Half Time Sports Grill
6812 SW 55th St.
745-2795
If there's one thing Half Time Sports Grill has, it's TVs — lots and lots of TVs. But there isn't just one thing at Half Time Sports Grill. That would be a pretty boring place to go. So, in addition to a lot of TVs showing every kind of sport, the restaurant also serves beer and some excellent fresh fried chicken. It might not look like much from the outside, but you're not there to look at the exterior. You're there to eat a bird and root for Butler or some other unknown school.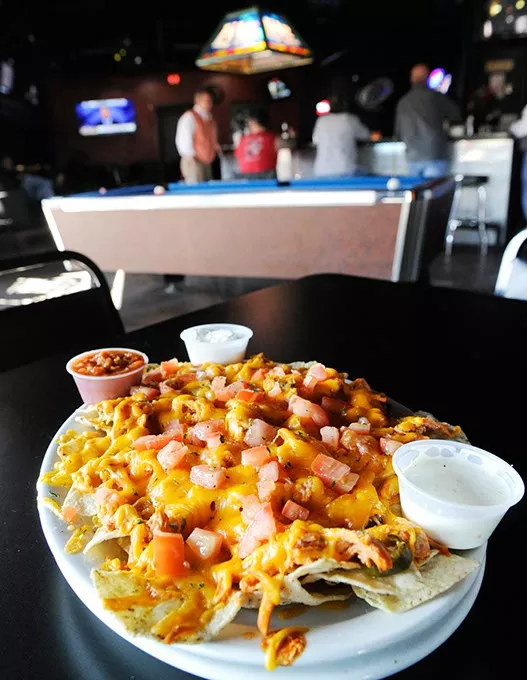 Garett Fisbeck
Buffalo Chicken Nachos at Lumpy's Sports Grill in Oklahoma City, Friday, Feb. 12, 2016.
Lumpy's Sports Grill
12325 N. May Ave.
286-3300
Some people will tell you that Buffalo chicken comes from Anchor Bar in Buffalo, New York (editor's note: This is a fact.), but real connoisseurs know the legend of 1870s railroad baron Charles "Chick" Buffalo (editor's note: This is not true.), who drank a quart of butter and hot sauce every day until his death at age 26. His memory lives on at Lumpy's, where the Buffalo chicken nachos are pretty awesome.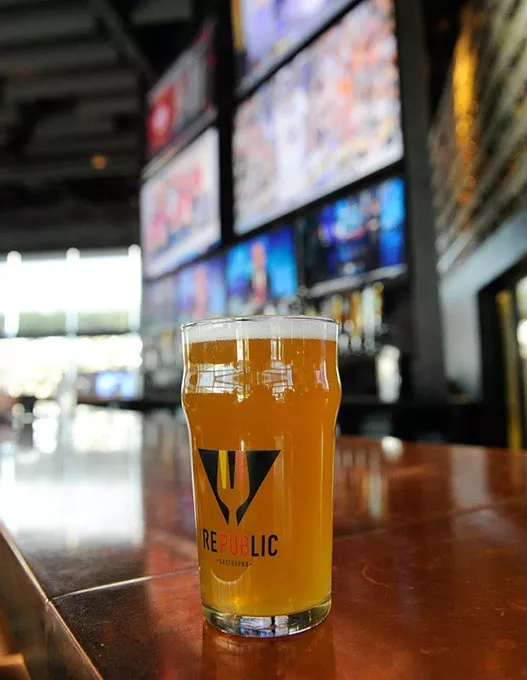 Garett Fisbeck
A pint of beer at Republic Gastropub in Oklahoma City, Friday, Feb. 12, 2016.
Republic Gastropub
5830 N. Classen Blvd.
286-4577
Have you considered getting a third eye installed? Not one of those mystical ones where you see auras, but a real eyeball, but on the side or back of your head. Maybe you should consider having the operation, because the TVs are so big and all-encompassing at Republic that you'll need at least three eyes to see all the games. And a fourth eye wouldn't be bad to dedicate to the expansive beer menu, while you're at it.
Mark Hancock
The Chupacabra sandwich with fries, at Pub W, 3720 W. Robinson Avenue in Norman, 2-8-16.
Pub W
3720 W. Robinson Ave., Norman
701-5844
Translated literally, chupacabra means "goat sucker." And while goat is actually extremely tasty, it's nowhere to be found in Pub W's The Chupacabra sandwich. But you can find pulled chicken and grilled jalapeños and onions with melted Muenster cheese on grilled jalapeño bread. So even if Villanova vs. East-West Kentucky Mechanical College of Maine is a snoozefest, your lunch will keep you wide-awake.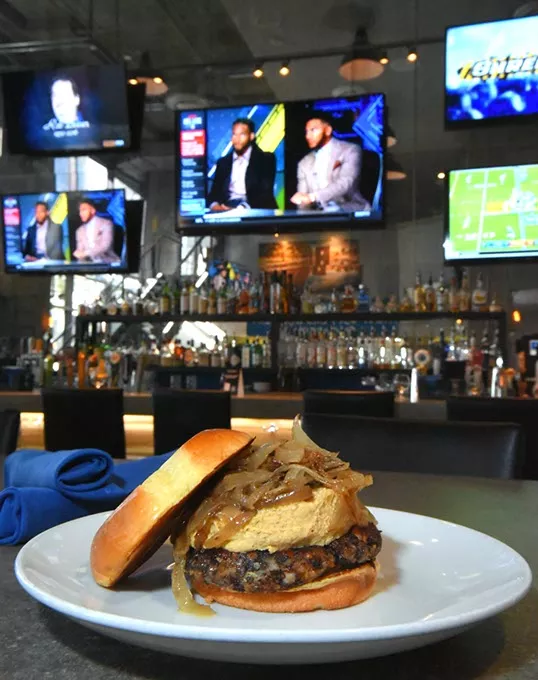 Mark Hancock
The Hummus A Tune burger, with TVs, at Urgan Johnnie in Deep Deuce, Oklahoma City, 2-11-16.
Urban Johnnie
Bar & Grille
121 NE Second St.
208-4477
Hummus worked hard. After watching its cousin, bean dip, team up with French onion dip to get all the glory, hummus went to work. As a single player, it's a solid, creamy option. But at Urban Johnnie, hummus has found a perfect partner in a veggie patty, creating the unstoppable Hummus A Tune burger. Hummus even lured away onions from the dip to get fried and put on top. Real team players.
Mark Hancock
Chilly Cheese Fries at Tailgate Grill in Oklahoma City, 2-15-16.
Tailgate Grill
1800 N. MacArthur Blvd.
942-0532
Food math is hard, but delicious. Take the geniuses at Tailgate Grill, for instance. They worked out these theorems.
Fries are good. Cheese is good.
Fries + cheese = cheese fries.
Chili is good. Cheese (see above) is good. Chili + cheese = chili cheese.
Fries + cheese + chili = Chili cheese fries. Add in sports and beer and you've got Saturday handled.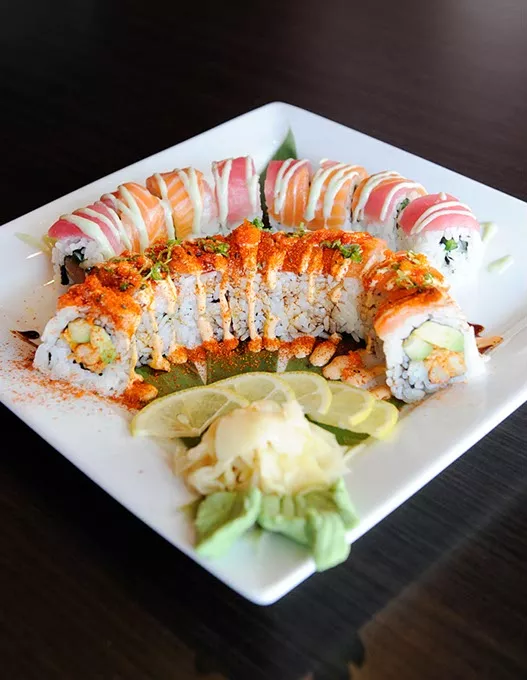 Garett Fisbeck
The Crazy Cajun and the Wasabi Roll at Park Harvey Sushi & Sports Lounge in Oklahoma City, Friday, Feb. 12, 2016.
Park Harvey Sushi
& Sports Lounge
200 N. Harvey Ave.
600-7575
Where did we get the idea that sushi was fancy? Sushi is finger food. Just because it's healthier for you than a cheeseburger doesn't mean it can't be delicious and laid-back. Park Harvey Sushi figured it out long ago. Sushi and sports are a natural fit. Bite-sized rolls full of fresh fish, avocado and crunchy vegetables are so good for you, sushi might count as exercise. Better have another roll, just in case.