Longevity is a good sign in a restaurant. You don't want some fly-by-night operation making you a sandwich. A solid restaurant will stick around for years, sometimes changing hands, but always remaining focused on what made it so successful in the first place. Here are just a few of Oklahoma City's longest-lived eateries.
— By Greg Elwell
Photos by Garett Fisbeck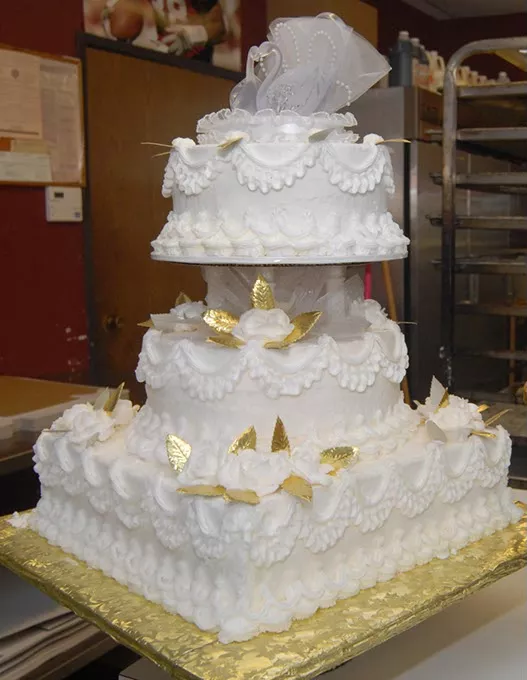 wedding cake at Brown's Bakery. Mark Hancock
Brown's Bakery
1100 N. Walker Ave.
405-232-0363
It's hard to say who exactly invented doughnuts, but it probably wasn't the good folks at Brown's Bakery. But while it wasn't the originator of one of our top three circular foods (pizza, doughnuts, cheese wheels), the crew there has just about perfected the art. Brown's doughnuts are classics and you'll need more than a dozen to try each variety. And if your morning calls for something more savory, the sausage rolls are unbeatable.
Castle Falls
820 N. MacArthur Blvd.
405-942-6133
Once known as Keller in the Kastle, elegant Castle Falls is the setting for a staggering number of engagements. Romance-minded Oklahomans who don't want to travel all the way to Europe have found the local castle a perfect place to pop the question for years. Even if you're not ready to put a ring on it, Castle Falls is still a pretty classy joint in which to enjoy steaks, seafood and a few German classics.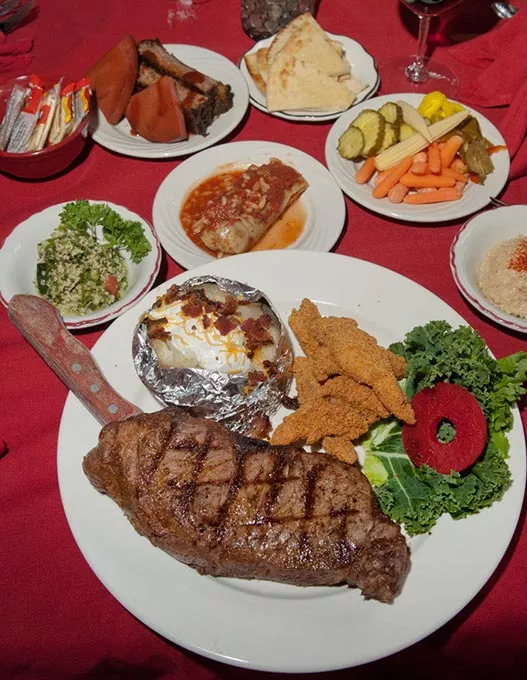 Gigantic KC Strip steak with fried catfish, baked potato, tabouleh and more sides, adorn a table at Jamil's Steakhouse. mh
Jamil's Steakhouse
4910 N. Lincoln Blvd.
405-525-8352
In an old house at the corner of NW 50th Street and Lincoln Avenue is Jamil's Steakhouse, where you can find lawmaker types and other food lovers eating broiler steaks and fried bologna sandwiches. You won't need a lobbyist to buy you dinner either. This family-owned Lebanese steakhouse opened in 1964 and turns out food that is both delicious and affordable. If you haven't tried them yet, Jamil's cabbage rolls are a treat that will bring you back time and again.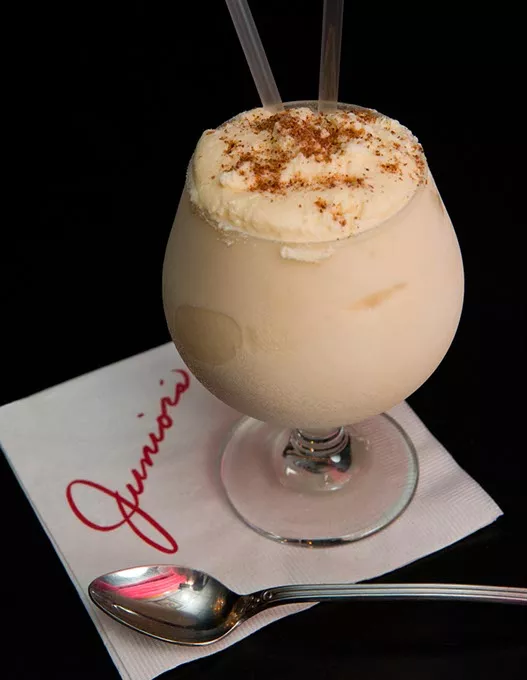 Junior's
2601 Northwest Expressway
405-848-5597
There's nothing bad on the menu at Junior's, a restaurant that has food, drinks and decor straight out of Mad Men, minus the casual sexism. But the main event has always been the Caesar salad prepared tableside by your server with a showmanship that only builds anticipation. Egg, lemon juice, olive oil and anchovy are whipped into a frenzy and stuffed with romaine leaves and Parmesan cheese for one of OKC's best salads.
The Deuce breakfast with coffee at Jim's Diner. mh
Jim's Diner
7950 NW 39th St., Bethany
405-495-5105
Step into yesteryear at Jim's Diner and have a seat in those storied booths for classic diner fare from 1978. There's nothing frou-frou or fancy about Jim's — it's all right there in front of you. Big breakfasts of eggs, bacon and pancakes are served up fast, and the chicken-fried steaks and open-faced roast beef sandwiches are hard to beat. Best of all, there's always a slice of homemade pie waiting at the end.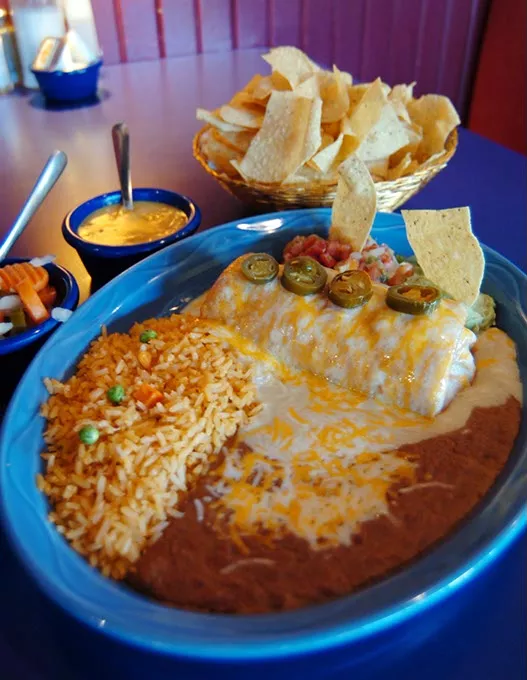 Cocina De Mino
6022 S. Western Ave.
405-632-0600
Don't try to pretend you're not into fajitas because no one's buying it. Strips of beef and chicken, seasoned and seared, served on a scalding-hot cast-iron skillet with slowly melting peppers and onions —it's a nigh irresistible combo. Tex-Mex might not be cool, but when it's done well (as it has been for many a year at Cocina De Mino), it can pierce any hipster foodie facade and reveal the sour cream enchilada lover inside all of us.
Mark Hancock
Don's Alley restaurant in Del City is popular with the retired crowd for weekday breakfasts, 9-18-15.
Don's Alley Restaurant
4601 SE 29th St.
405-677-9049
The Mafia would like to extend a formal apology to Don's Alley for any confusion caused by trial of head gangster Don Sally. While Don "Sally" Salvatore was a vicious killer bent on ruling the five families by any means necessary, Don's Alley has remained a respected and well-loved restaurant in Del City. While both Don Sally and Don's Alley are known for pork cutlet sandwiches, only one of them is spending life in prison for racketeering.