What's better than a patio? A rooftop patio, where you can enjoy all of the pleasures of outdoor dining. The temps are finally rising to make these spots ideal for the coming weeks before we careen headlong into blazing temperatures. Grab a cocktail or an appetizer and enjoy the view.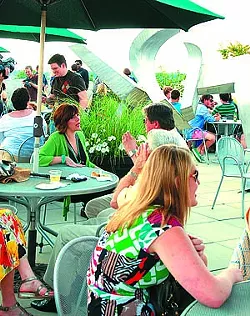 Oklahoma City Museum of Art
Art After 5 5-9 p.m. Thursdays 415 Couch Drive okcmoa.com 232-6262
Combine two tastes that are great together: cocktails and fine art. Oklahoma City Museum of Art offers a special chance to do just that every Thursday. The rooftop terrace opens at 5 p.m., and the galleries are open until 9 p.m. so adventurous art lovers can mix and mingle. A museum ticket or a museum membership will gain you admission.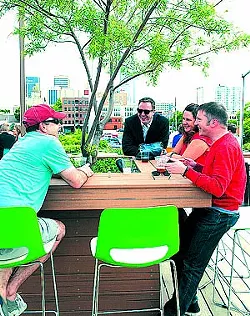 Packard's New American Kitchen 201 NW 10th St. packardsokc.com 605-3771 The rooftop of the Packard Building in Midtown is a gorgeous space with unmatched views of the downtown skyline. It is available for private parties and can accommodate up to 220 guests for special occasions. You can also reserve part of the area for smaller gatherings. Whatever your motivation, it's a beautiful space to get away from it all, if only for an evening.
Left, Ruben Fuentes with Laura Gomez, pose at a table setting on the patio at the Bricktown Chelino's. mh both are employees with Ruben being the GM.
Chelino's Mexican Restaurant 15 E. California Ave. chelinosmexicanrestaurant.com 235-3533 One of the oldest rooftop patio spots in OKC, this multi-level hotspot offers a gorgeous view of the Bricktown canal. You can enjoy authentic Mexican and Tex-Mex cuisine or sip on one of its excellent margaritas and enjoy the view. If you're lucky, you might get serenaded by a roaming mariachi musician as you dine.
Nonna's Purple Bar Nonna's Euro-American Ristorante & Bar 1 Mickey Mantle Drive nonnas.com 235-4410 Right in the heart of the action in Bricktown, Nonna's Purple Bar offers delicious cocktails and a sweeping view of the action on the street below. The bar has a different vibe with it's funky decor and colorful lighting. This is a great place to mingle or simply unwind and take in the sights. The Purple Bar offers live entertainment on Fridays and daily appetizer specials Tuesday-Saturday.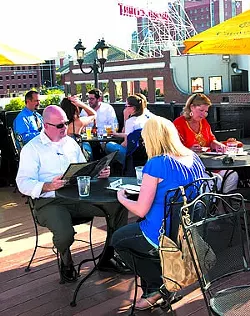 Bossa Nova at Cafe Do Brasil 440 NW 11th St. cafedobrazilokc.com 525-9779 The Bossa Nova bar attempts to replicate bars from the Jazz Age, and it does a fine job. With a beautiful view and a warm atmosphere, you could do worse than whiling away a few hours sipping Brazilian cocktails and enjoying the sunshine. The bar, open daily at 4 p.m., also offers a variety of appetizers so you can get a taste of what's available on the larger menu downstairs.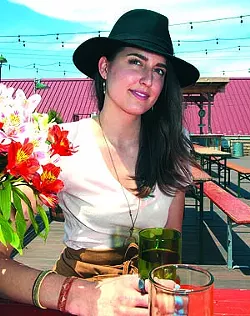 The Rooftop at Plenty Mercantile 807 N. Broadway Ave. plentymercantile.com 888-7470 The Rooftop at Plenty Mercantile hosts several events throughout the year, like Plenty's Rooftop Picnic and the Rooftop Brewhop. The space is also a private event space. The simple rooftop deck is waiting for your personal touches to make your event your own. Much like the vibe in the downstairs store, which has everything you didn't know you were looking for, the rooftop is beautiful without being pretentious.
w xyz Bar and Lounge @ the Rooftop Aloft Oklahoma City Downtown-Bricktown 209 N. Walnut Ave. aloftoklahomacitybricktown.com 605-2100 Nestled among the buildings in Deep Deuce, this new hotel, locally owned by Jim Thompson, opened in April. The rooftop bar offers a sweeping view of downtown and serves appetizers, specialty drinks and signature martinis. The aim is to make you feel at home — a really funky, really cool home.