These are the days of summer when just the idea of firing up the stove seems like pure madness. In fact, most of us crave eats that don't know what heat is. Here's a sampling of the coolest salads metro restaurants have to offer. These salads are a full-meal affair.
— By Devon Green
Photos by Mark Hancock and Shannon Cornman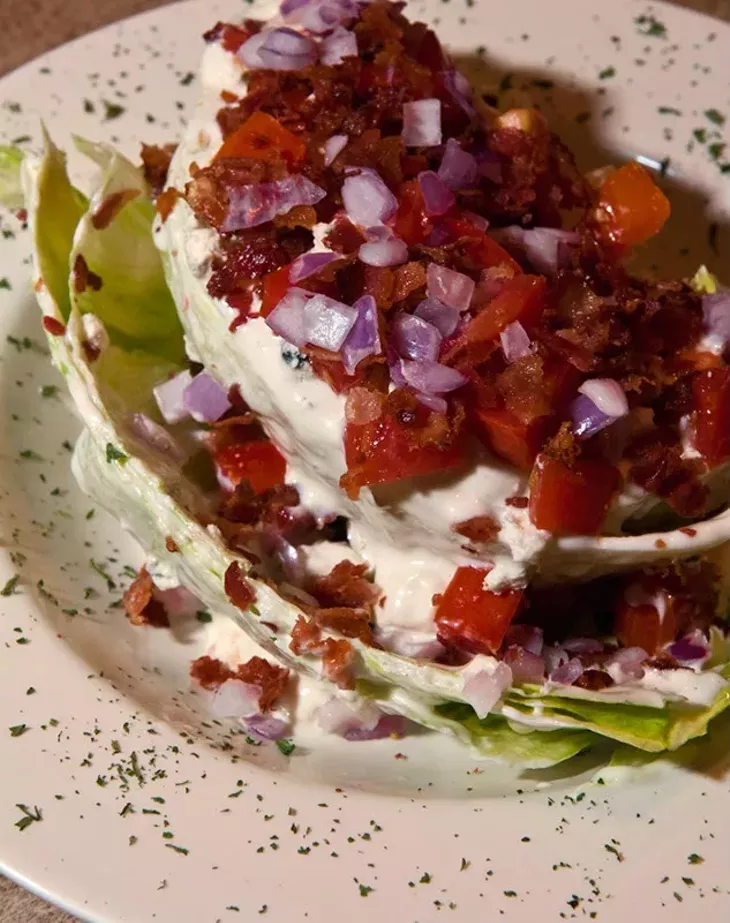 Mark Hancock
Large wedge salad at Hideaway Pizza, 6616 N. Western.
Hideaway Pizza
6616 N. Western Ave.
840-4777
What we know as the wedge salad surfaced in cookbooks in the early 1920s, and it experienced its first resurgence as a star of mid-century cuisine. Simplicity itself, Hideaway's take on this timeless classic has plenty of blue cheese dressing, blue cheese crumbles, dried Roma tomatoes and smoked bacon.
Mark Hancock
Iron Star cobb salad.
Iron Starr Urban Barbeque
3700 N. Shartel Ave.
524-5925
There are those who go to Iron Starr for the barbecue alone, and that's understandable. But those who haven't sampled the salads are missing out. They are masterpieces orchestrated with the same care as all Iron Starr dishes. The cobb salad, which contains almost everything in the kitchen and is topped with house-made cornbread croutons. Request a side of the blue cheese bacon vinaigrette.
Shannon Cornman
The Tabasco Caesar salad at Pear's Oyster Bar.
Pearl's Oyster Bar
5641 N. Classen Blvd.
848-8008
We might be hard-pressed to talk die-hard Pearl's fans away from their classic chopped cobb salad. The Tabasco Caesar salads are legend, too. Also crispy and fresh is the new San Francisco crab and shrimp Louie salad. Not only does it have crab and shrimp, but avocado, asparagus and bacon seal the deal.
Mark Hancock
Asian salad by the window decal at Cafe 7 in downtown OKC.
Cafe 7
120 N. Robinson Ave., Suite 175W
748-3354
Cafe 7 offers so many salads, it's difficult to choose one. We took one bite of the Asian salad with roasted chicken breast, candied almonds and a sesame ginger dressing and were hooked. It also has a build-your-own salad option that's great for the indecisive among us.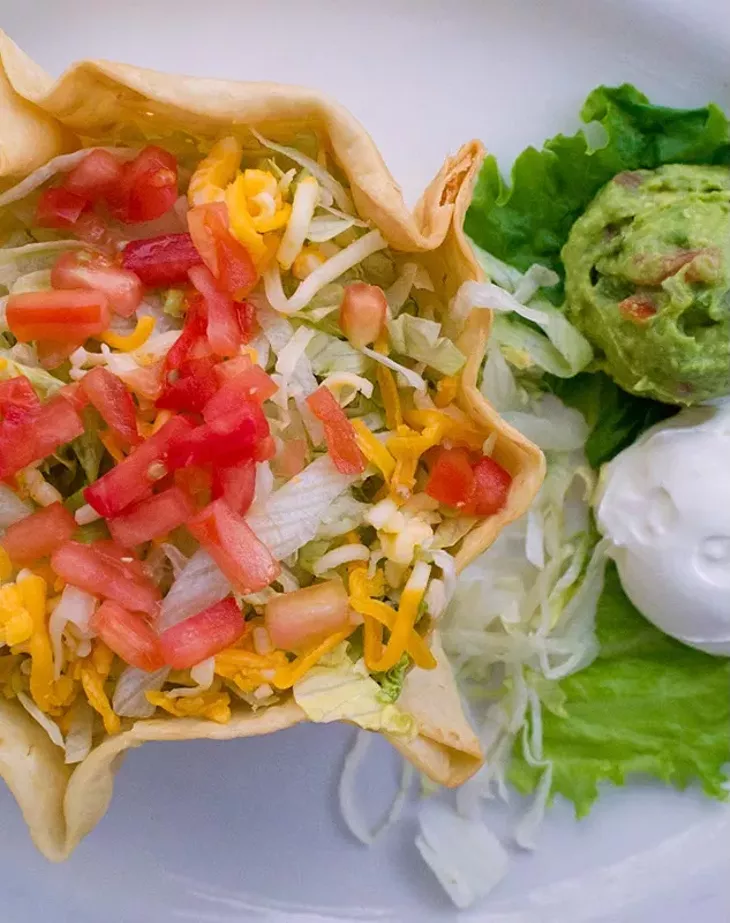 Mark Hancock
Taco salad at Casa Perico.
Casa Perico Mexican Grille
4521 NW 63rd St.
721-3650
Casa Perico is an oft-overlooked cozy Mexican spot. With its charming patio and fresh, flavorful menu, it's a great place to while away a few hours munching on appetizers and sipping margaritas. The taco salad is light yet laden with lively ingredients — far more substantial than anything from one of the drive-through chains.
Mark Hancock
Mesquite chicken salad at City Bites, 6001 N. May Ave.
City Bites Deli & Grill
6001 N. May Ave.
842-3355
We know the City Bites has some of the best sandwiches in the metro. Sometimes we forget it has other menu items, too. The classic chef salad with ham, turkey and fresh greens is hard to beat. The mesquite chicken salad is a smoky, savory chicken breast on cool greens with tomatoes, cucumbers and croutons made from sun-dried tomato bread.
Shannon Cornman
Sweet strawberry and spinach salad at Saturn Grill.
Saturn Grill
6432 Avondale Drive
843-7114
Who says salad has to fit the "iceberg lettuce, shaved veggies, croutons, dressing" formula? Saturn Grill most certainly doesn't play by those rules. The sweet strawberries and spinach salad is chock-full of fresh fruit and iron-rich spinach with a lemon poppy seed dressing.
Print headline: OKG Eat: Salad days