If you can't beat it, join it — the heat, we mean. Pepperbellies, here's a veritable who's who of hotness. From curries to Creole, these are places where those who like it hot will feel right at home.
Shannon Cornman
Chicago Dan plays the harmonica at Cajun King regularly. In frony of him sits, fried catfish, etoufe, spicy chicken pasta, and bread pudding.
Cajun King 5816 NW 63rd St. cajunkingokc.com 603-3714
If you are looking for an authentic taste of the bayou without a 700-mile road trip, look no farther than this buffet- style restaurant with a ton of choices. There are plenty of items — from étouffée to blackened pork chops — to wake up your taste buds. The meal starts with freshly made beignets that are not only worth the price of admission but also a nice way to cool off the hot. Laissez les bon temps rouler!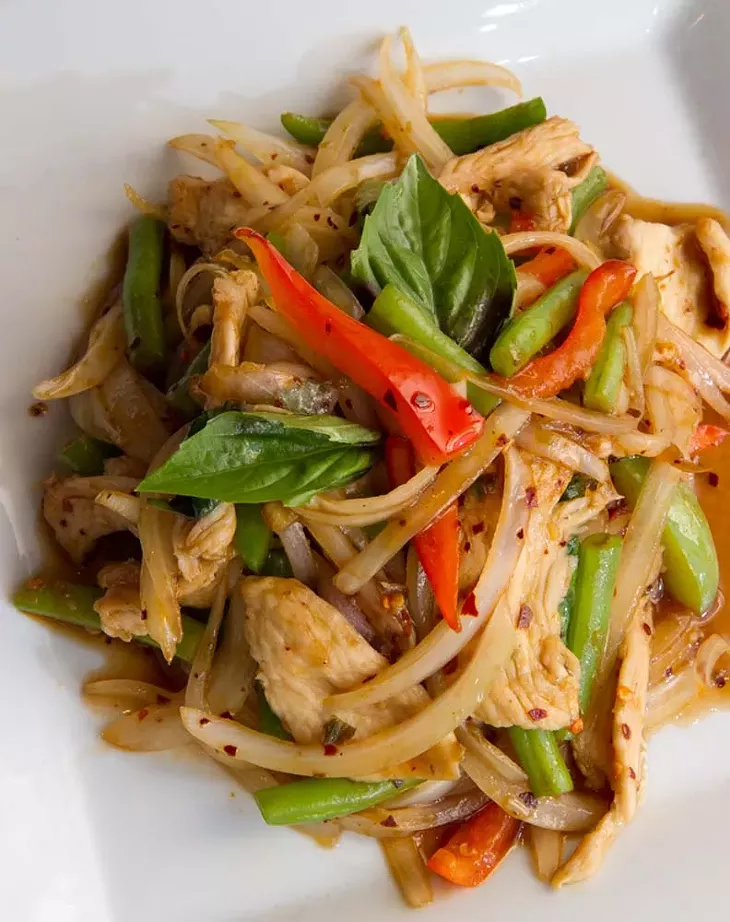 Shannon Cornman
Spicy Basil Chicken at Charm Thai Cuisine
Charm Royal Thai Cuisine 5805 NW 50th St. charmthaicuisine.com 792-2153
The exterior of this restaurant is deceiving. What looks like just another restaurant tucked into a strip mall space opens into an elegant, inviting space. The knowledgeable staff will happily guide you through the menu and adjust the level of spice to your liking. We highly recommend the spicy basil chicken. It has enough heat to get your blood pumping. For a break from the spice, try the house salad. The dressing is so good you'll want to do shots. Finish it all with a Thai iced coffee.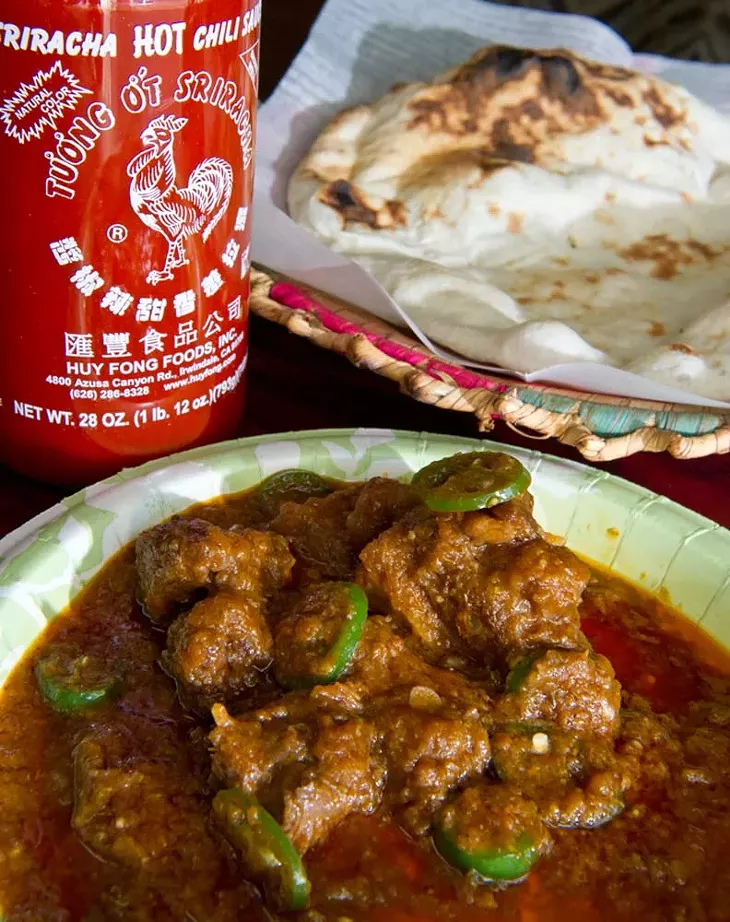 Shannon Cornman
Mutton Achaari at Kabob and Curry.
Kabob-n-Curry 4104 N. Portland Ave. kabob-n-curry.com 601-3454
This unassuming Pakistani restaurant is chock full of an array of items to satisfy your need for spice. There is a wealth of curries to choose from, and we recommend the mutton achaari to really start a fire. Make sure to order plenty of the perfect tandoori naan and a mango lassi, a sweet fruit-and-yogurt smoothie as a cooling treat for dessert. Kabob-n-curry also caters and can bring a taste of the exotic to your next gathering.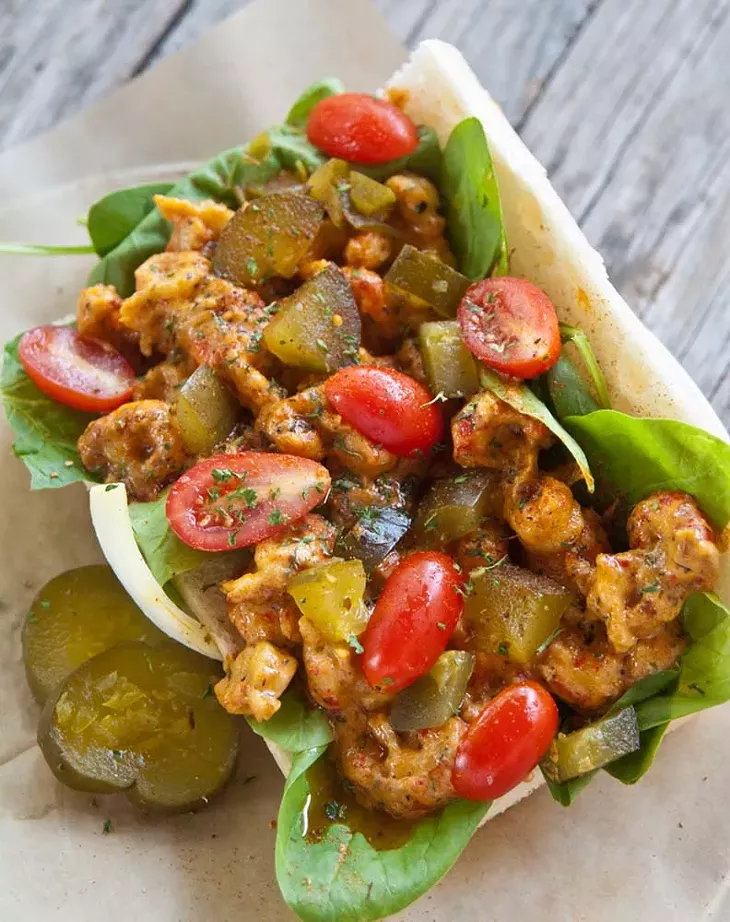 Mark Hancock
The Shank's Blackened Crawfish sandwich at Hiillbilly Po'Boys and Oysters.
Hillbilly Po'boysand Oysters 1 NW Ninth St. facebook.com/HillbillyPoBoysOysters 702-9805
With drinks in mason jars and generous portions, what's not to love about this place? The blackened crawfish po'boy definitely brings the spice, and the oyster nachos on house-made chips with orange sauce are one-of-a-kind. Wash it all down with one of its signature cocktails. We recommend the Honey Rider with organic honey and peach moonshine.
Mark Hancock
Rachel Fontanez works the window at the La Gumbo Ya Ya food truck, shown at corporate lunch event.
La Gumbo Ya Ya lagumboyaya.com 226-0746 With a rotating menu of some of the finest gumbos, po'boys and Puerto Rican food the city has to offer, there's nothing we've tried that we don't love. Make sure to remain flexible, as the menu is determined by what's available and fresh. The gumbo changes daily, but every choice is extraordinary. Paired with a shrimp or soft- shell crab, you'll be in heaven. If you can, save room for some of the bread pudding. You'll thank us later. Check out its website to find its current location.
Shannon Cornman
Blackened Catfish at The Big Easy New Orleans Cafe
The Big Easy NewOrleans Café 359 E. Main St., Yukon facebook.com/TheBigEasy66 350-8989
The Big Easy just got that much more authentic; it now serves beer. Wash down your blackened chicken or catfish with a Louisiana special Abita beer and you'll feel as if you stepped into the French Quarter. With a huge menu to choose from, you'll want to revisit The Big Easy any time you want to feel a little Mardi Gras spirit.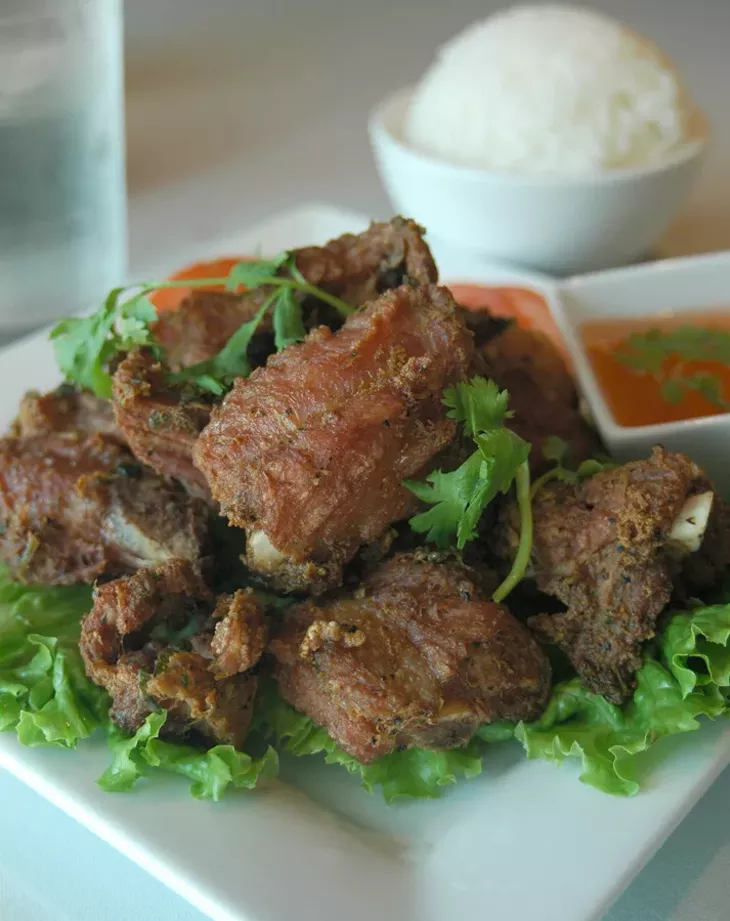 Lauren Hamilton
The spare ribs at Banana Island restaurant.
Banana Island 1117 NW 25th St. facebook.com/bananaislandrestaurant 602-1188
Banana Island is one of the few Asian restaurants that have Malaysian cuisine, which is a blend of Malay-style food with Indian and Chinese traditions. And there are plenty of options that turn up the heat. Get out of your comfort zone with a chef's special, such as the authentic spare ribs served with a sweet-and-spicy sauce, or the Evil Jungle Chicken, an aptly named spicy curry dish not for the faint of heart.